For the first time ever, Saildrone Inc. and NOAA have used an uncrewed surface vehicle to collect oceanic and atmospheric data from inside the eye of a hurricane. On September 30th, 2021 saildrone 1045 travelled directly into Category 4 Hurricane Sam.
Improving the accuracy and value of NOAA's operational hurricane forecasts requires complete real-time knowledge of atmospheric and oceanic conditions and realistic representation of key physical processes in hurricane forecast models. To meet these needs, a research team from NOAA's Pacific Marine Environmental Laboratory (PMEL) and Atlantic Oceanographic and Meteorological Laboratory (AOML) partnered with Saildrone Inc. to deploy five saildrones to observe conditions near the ocean surface during the 2021 Atlantic hurricane season.
The mission aims to improve understanding and predictability of tropical cyclone intensity changes and advance knowledge of the ocean-atmosphere interactions that fuel them. The vehicles transmit meteorological and oceanographic data in real time to the World Meteorological Organization (WMO)'s Global Telecommunication System (GTS) and all major forecast centers—some 20 agencies worldwide.
Saildrones are uncrewed surface vehicles (USVs) powered by wind and solar energy and remotely piloted via satellite telecommunication. They are equipped with sensors to measure solar irradiance, barometric pressure, air temperature, humidity, wind, waves, water temperature, salinity, chlorophyll, dissolved oxygen, and ocean current. They can also measure surface short- and long-wave radiation.
"PMEL has been working with Saildrone to develop the platform for specific ocean conditions since 2015. Sending a robotic vehicle into the eye of a hurricane, that's never been done before. It's an incredibly complex engineering challenge that could have a significant positive impact on our ability to predict extreme weather, for the benefit of communities facing these events," said Christian Meinig, Director of Engineering at NOAA/PMEL.
The saildrones deployed for the 2021 hurricane season were equipped with specially designed "hurricane wings" to enable them to operate in extreme conditions.
On September 30th, 2021 one of the five saildrones NOAA deployed in the western Atlantic was steered into position to intercept Category 4 Hurricane Sam. The Saildrone travelled through the inside eyewall of the hurricane about 10-15 miles from the center of the eye and measured wind speeds up to 120 mph and 46.5 ft (14.2 m) waves.
This is the first time that sea surface conditions near a hurricane eye were observed by an uncrewed vehicle. Its success is built upon years of partnership between NOAA and Saildrone, Inc. with testing in progressively more hostile environments and 5 years of innovative engineering on the platform, sensors, and data processing, months of preparation leading to the deployment, and dedicated efforts of operating saildrones by the NOAA science team and Saildrone pilots during the deployment.
The encounter required precise interpretation of hurricane forecasts and tight collaboration with saildrone pilots. The first ever drone camera images and video show a large amount of sea spray from the ocean surface and are a frightening display of the power of tropical cyclones.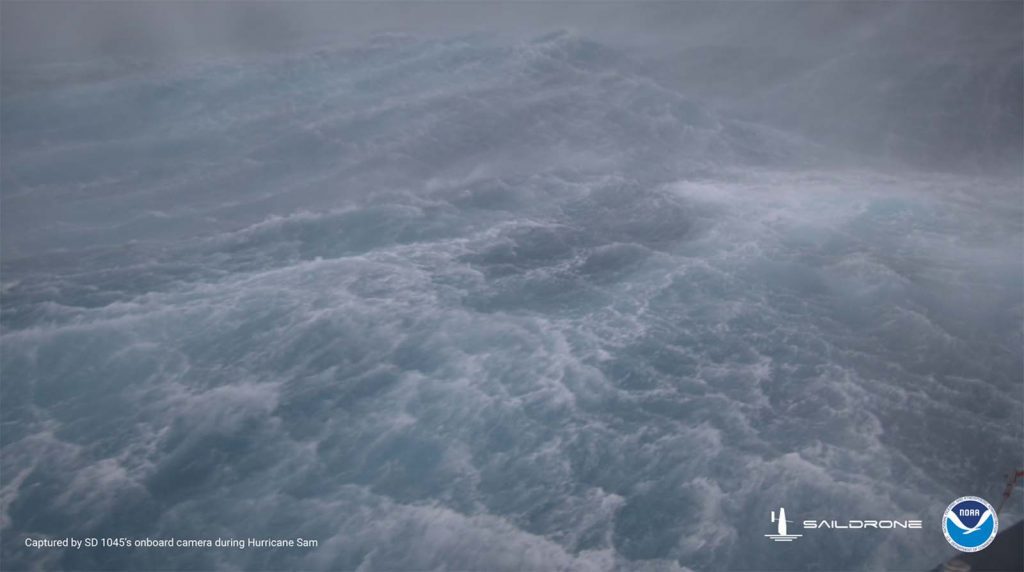 "Using data collected by Saildrones, we expect to improve understanding of how major hurricanes like Sam are able to maintain their strength over multiple days and advance forecast models that predict rapid intensification of hurricanes," said Greg Foltz, a NOAA/AOML scientist. "Rapid intensification, when hurricane winds strengthen in a matter of hours, is a serious threat to coastal communities. New data from saildrones and other uncrewed systems that NOAA is using will help us better predict the forces that drive hurricanes and be able to warn communities earlier."
Hurricanes don't only present a persistent threat to human safety in coastal cities, they also present a significant economic impact—hurricane damage in the US is estimated at around $54 billion annually. Understanding the physical processes of hurricanes is critical to improving forecasts of deadly storms, reducing property damage and loss of human life.
Prior to Hurricane Sam, the NOAA Saildrones also measured tropical storms Peter (9/21/2021), Henri (8/20/2021), Grace (8/17/2021) and Fred (8/13/2021).
Related Links:
NOAA's PMEL and AOML Saildrone webpage
Ocean Drones Brave Hurricanes to make Coastal Communities Safer
A world first: Ocean drone captures video from inside a hurricane