AOML is a global leader in atmospheric, ocean, and coastal research.
Join our Team.
At AOML, we pride ourselves on developing a workforce that celebrates diversity and inclusion, encourages exploration in research, and  encourages the career growth and mentorship. View our open positions on this page with links to apply at USA jobs, or learn more about AOML as an organization.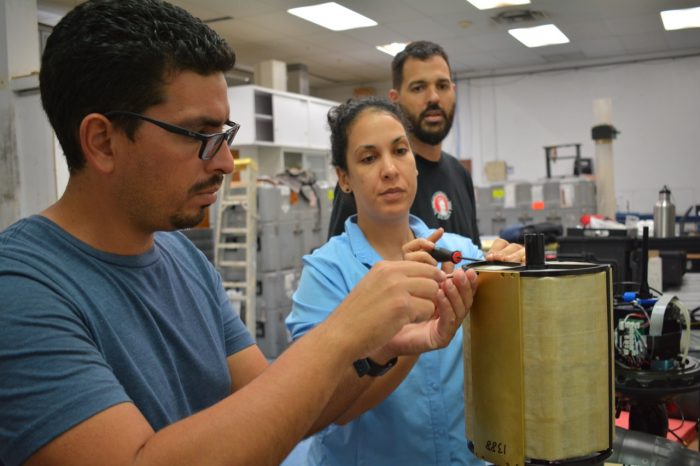 Employment through Partners
AOML regularly works with academic partners, contract, and research institutions to help execute our research portfolio. Please see the employment opportunities with our partners below if you are interested in non-federal positions that collaborate with AOML.
PhOD-  CIMAS Postdoctoral Associate- R100041514
The Cooperative Institute for Marine and Atmospheric Studies (CIMAS) of the University of Miami, Rosenstiel School of Marine and Atmospheric Science (RSMAS), invites applications for a Postdoctoral Associate position in Physical Oceanography. The incumbent will be responsible for analyzing MERRA2-aero reanalysis, satellite and in-situ observations of ocean parameters (e.g. sea surface temperature, sea level, upper ocean temperature and salinity, etc.), atmospheric observations, and devising and conducting numerical model experiments to explore how the reduced aerosol emissions by curtailed economic and social activities due to the Coronavirus outbreak and COVID-19 pandemic impact the climate system
HRD- Data Assimilation- Senior Research Associate II -R100042794
The work will be concerned with data assimilation (DA) in the tropical cyclone vortex and environment, including major contributions to NOAA's next-generation Hurricane Analysis and Forecast System (HAFS) in order to deliver improvements to forecast guidance. HAFS is based on the finite volume cubed-sphere (FV3) dynamical core based multi-scale model and DA system. he incumbent will be primarily responsible for developing inner-core DA capabilities in HAFS, including the necessary forward operators and strategies to maximize the impact of inner-core data.
HRD-  Senior Research Associate III- R100042751
The incumbent will contribute to applications of NOAA's Atlantic Oceanographic and Meteorological Laboratory (AOML) Hurricane Research Division (HRD) research to improve the communication of hazardous weather associated with landfalling tropical cyclones using the Forecasting a Continuum of Environmental Threats (FACETs) approach. FACETs is a next-generation hazardous weather paradigm that combines physical and social science research to support a system that is designed to communicate clear and simple hazardous weather, water, and climate information to serve society.
PhOD- Biogeochemical Argo Engineer- CIMAS Senior Research Associate II- R100040062
This is a CIMAS Senior Research Associate II position to work collaboratively with scientists involved in building the Biogeochemical Argo (BGC Argo) array at NOAA/AOML, MBARI, NOAA/PMEL, U. Washington, WHOI, and CIMAS. The successful candidate's duties will include, but are not limited to the following: 1) Software development and processing of biogeochemical data from profiling floats, 2) Developing and implementing automated quality control and adjustment procedures, 3) Analysis and interpretation of the processed data, and 4) Involvement in intercomparison efforts such as participating BGC-Argo deployment opportunities such as the GO-SHIP decadal repeat hydrography program.
Physical Oceanography- NRC Research Associateship Programs
Tropical Ocean-Atmosphere Variability and Extreme Weather
Physical Oceanography- NRC Research Associateship Programs
Inter-Hemispheric Variability of AMOC and its Impacts on Global Monsoon Circulations and Extreme Weather Events