AOML is a global leader in atmospheric, ocean, and coastal research.
Join our Team.
At AOML, we pride ourselves on developing a workforce that celebrates diversity and inclusion, encourages exploration in research, and  encourages the career growth and mentorship. View our open positions on this page with links to apply at USA jobs, or learn more about AOML as an organization.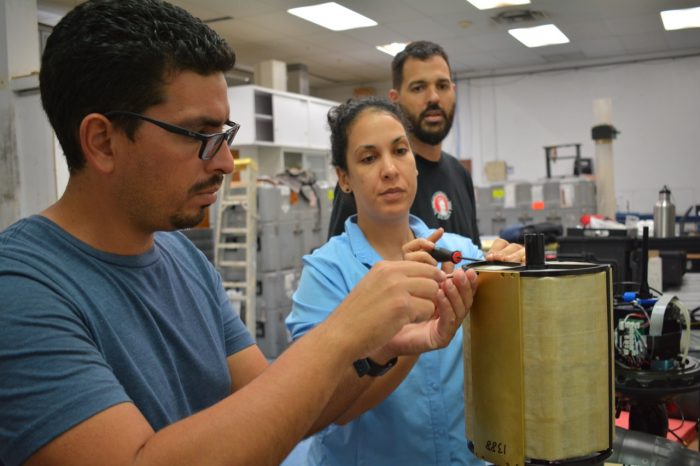 Biogeochemical Argo Researcher
NOAA's Atlantic Oceanographic and Meteorological Laboratory (AOML) is seeking to hire a term-limited Federal scientist to conduct ocean research focused in the Gulf of Mexico and Atlantic Ocean. AOML is deploying an array of Biogeochemical-Argo (BGC-Argo) ocean profiling floats in the chronically under observed Gulf of Mexico. The researcher will use the new Gulf of Mexico BGC-Argo data streams as well as other data sources to conduct their research.
The majority of the candidate's time (75%) will be dedicated to conducting research and communicating scientific results via presentations at scientific meetings and publishing results in peer-reviewed scientific journals. A portion (25%) of the researcher's time will be dedicated to supporting data quality assessment and advancing delayed-mode quality control procedures.
Download Full Position Description
Applicants should direct questions and/or send a cover letter and resume to Dr. Emily Osborne (Emily.Osborne@noaa.gov) and Dr. Chris Kelble (Chris.Kelble@noaa.gov).
Employment through Partners
AOML regularly works with academic partners, contract, and research institutions to help execute our research portfolio. Please see the employment opportunities with our partners below if you are interested in non-federal positions that collaborate with AOML.
OCED- 'Omics- CIMAS Research Associate II- R100048681
This position is situated within the Cooperative Institute for Marine and Atmospheric Studies (CIMAS) at the University of Miami's Rosenstiel School of Marine and Atmospheric Science (RSMAS). The work will involve close collaboration with scientists at NOAA's Atlantic Oceanographic and Meteorological Laboratory (AOML), where the applicant will be physically stationed. The principal objective of the position will be to build and manage a cutting-edge molecular biology laboratory to support NOAA's growing efforts in 'Omics. The incumbent will use a variety of 'Omics tools (e.g., metabarcoding, metagenomics, & transcriptomics) to help meet mission objectives, including work with harmful algal blooms (HABs), coral conservation, and fisheries. The incumbent will carry out a variety of tasks to ensure that AOML's 'Omics laboratories are both operational and compliant.
OCED- CIMAS Research Associate I- R100048821
The Cooperative Institute for Marine and Atmospheric Studies (CIMAS) of the University of Miami in Miami, FL, has an exciting opportunity for a full time Research Associate I position. We seek an individual to join the Ocean Chemistry and Ecosystems Division supporting coastal fieldwork, data management, data analysis, and IT support at NOAA's Atlantic Oceanographic and Meteorological Laboratory in Miami, FL. This position will be 50% fieldwork and 50% divisional technical support, and will utilize a solid foundation in coastal ecology fieldwork and data management. Beneficial experience can include work in environmental data analyses, data QA/QC, database management systems, general purpose scripting, and technical troubleshooting. Certification in small boat operations is preferred but not required.
PhOD- Argo- CIMAS Programmer II- R100047946
The Cooperative Institute for Marine and Atmospheric Studies (CIMAS) has an exciting opportunity for a full-time Programmer II position to work in Miami. The position is within the Physical Oceanography Division of NOAA/AOML. The incumbent will be developing software for the US Argo Data Assembly Center (DAC). Duties include but are not limited to: Writing software in higher level languages (mainly Fortran, Java, C/C++); Design/develop robust software packages; Writing shell scripts; Transition software to operational application; Document what the code does and how it needs to be used; Contribute to monitoring of the processing system as well as reprocessing of data.