Coral researchers from NOAA's Atlantic Oceanographic and Meteorological Laboratory (AOML) and the University of Miami Cooperative Institute of Marine and Atmospheric Science (CIMAS) recently organized into three teams and ventured into the field to tackle a multitude of research projects relating to sensitive coral ecosystems in Miami and the Florida Keys.
The first project, led by CIMAS scientist Michael Studivan, PhD, examines the genetic structure of different coral populations in urbanized, inshore habitats throughout southeast Florida compared to offshore reefs. The study's main focus is on coral species that are classified as endangered or more susceptible to stony coral tissue loss disease, a deadly disease spreading at an alarming rate. While in the field, samples of coral substrate, the coral's hard, rock-like foundation, were collected for ocean acidification experiments in the CIMAS Experimental Reef Lab.
A second project, led by CIMAS scientist Alice Webb, PhD, involves understanding the effects of microborers – small organisms that make microscopic holes in corals – living within coral substrate in different environments. Coral rubble was collected at Emerald and Rainbow Reefs offshore of Miami and at Cheeca Rocks, a long-term monitoring site in the Florida Keys. The rubble will be exposed to different pH levels, in the Experimental Reef Lab to help Dr. Webb and her team better understand how ocean acidification affects bioerosion on coral reef substrates.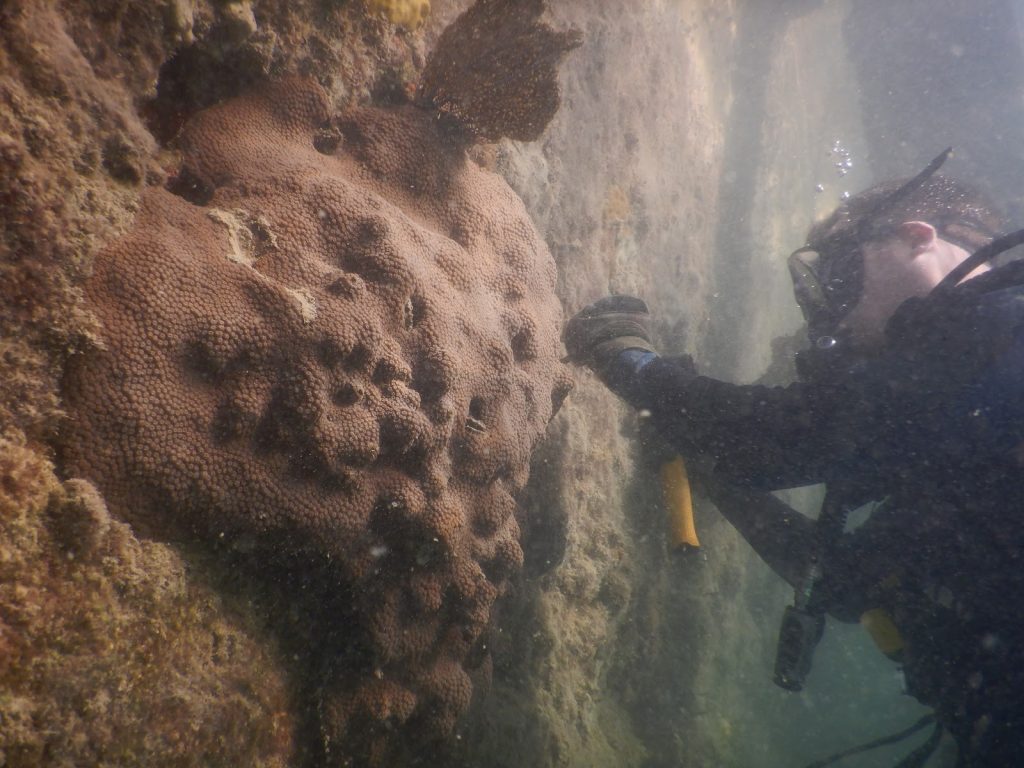 While on the research vessel, more fieldwork was conducted for University of Miami Rosenstiel/CIMAS PhD student Allyson Demerlis' dissertation, with help from AOML researchers. The team worked together to monitor and check deployed instruments that measure temperature and pH. These instruments are used to study the effects of different environments (urban versus non-urban sites) on coral reef resilience. Urban environments seem to mimic future ocean conditions, with higher temperatures and lower pH levels, meaning the corals residing in these areas are potentially more resilient to climate change.
"The ability to conduct field work like this in these different environments is critical for understanding coral resilience. The urban reefs around the Port of Miami are especially exciting to visit because the corals experience higher levels of stress than your typical coral reef. Despite this, certain species of coral seem to thrive." – Allyson Demerlis, AOML/CIMAS Researcher & PhD Student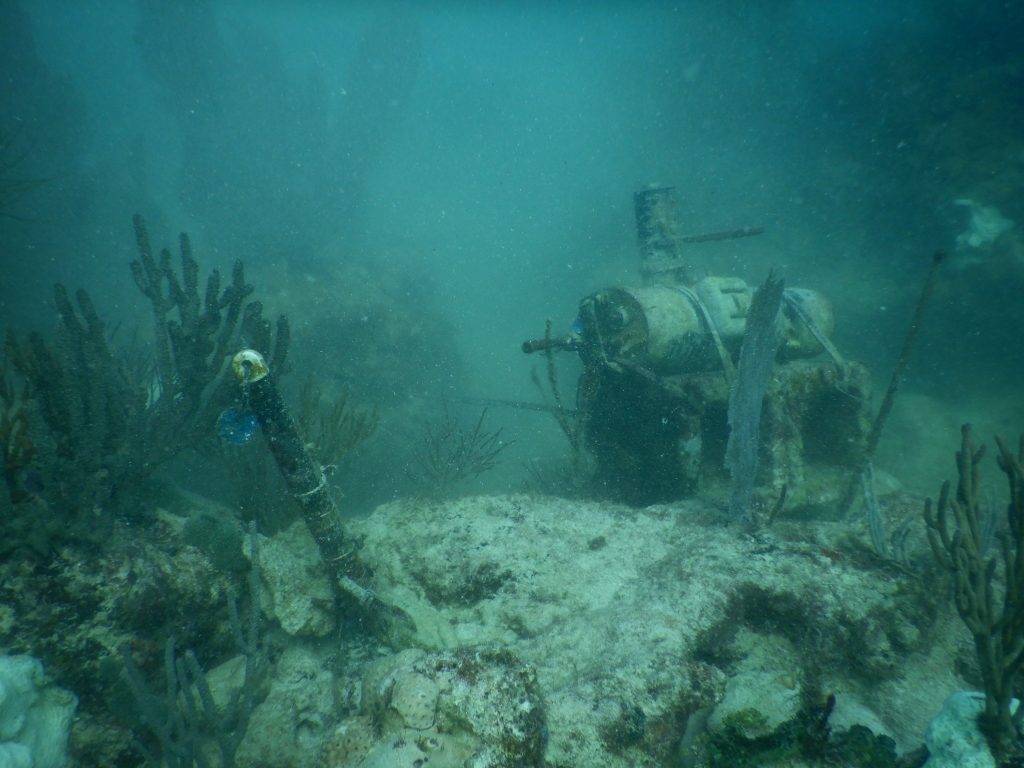 During this excursion, AOML/CIMAS researchers had the opportunity to meet with reporters from a local news station andshowed them the site where fellow Coral Program researchers sprang into action to rescue endangered coral colonies following the collapse of a seawall off Miami Beach in July 2022. While at the site, AOML/CIMAS coral researchers noticed construction was underway to rebuild the seawall, putting even more corals in danger. Miami field team members once again sprang into action, recovering 4 coral colonies that were relocated to AOML's Coral Program nursery at the Coral City Camera site.
In the Florida Keys, Coral Program researchers had two main objectives for their long-term National Coral Reef Monitoring Program (NCRMP) sites: swap out instruments and collect substrate samples at Cheeca Rocks.
Thanks to NOAA's Coral Conservation Program, NCRMP was created as an integrated and focused monitoring effort, with sites around the globe. These sites provide NOAA scientists an opportunity to collect vital coral reef data, as well as perform assessments that help them understand the status of coral reefs as their environments fall victim to anthropogenic and natural stressors. The Florida Keys field team visited various NCRMP sites to swap out instruments that monitor temperature and bioerosion, a task performed every 3 years to track the progression or regression of reefs.
During the first day of fieldwork, scientists Nicole Besemer, Graham Kolodziej, Morgan Chakraborty, and Tim Holland swapped five STR instruments that monitor temperature and 40 bioerosion monitoring units from four monitoring sites. On the second day, an all female team of researchers ventured into the field to swap out an additional five STR instruments at different NCRMP sites and to collect substrate samples at Cheeca Rocks for Dr. Alice Webb's study.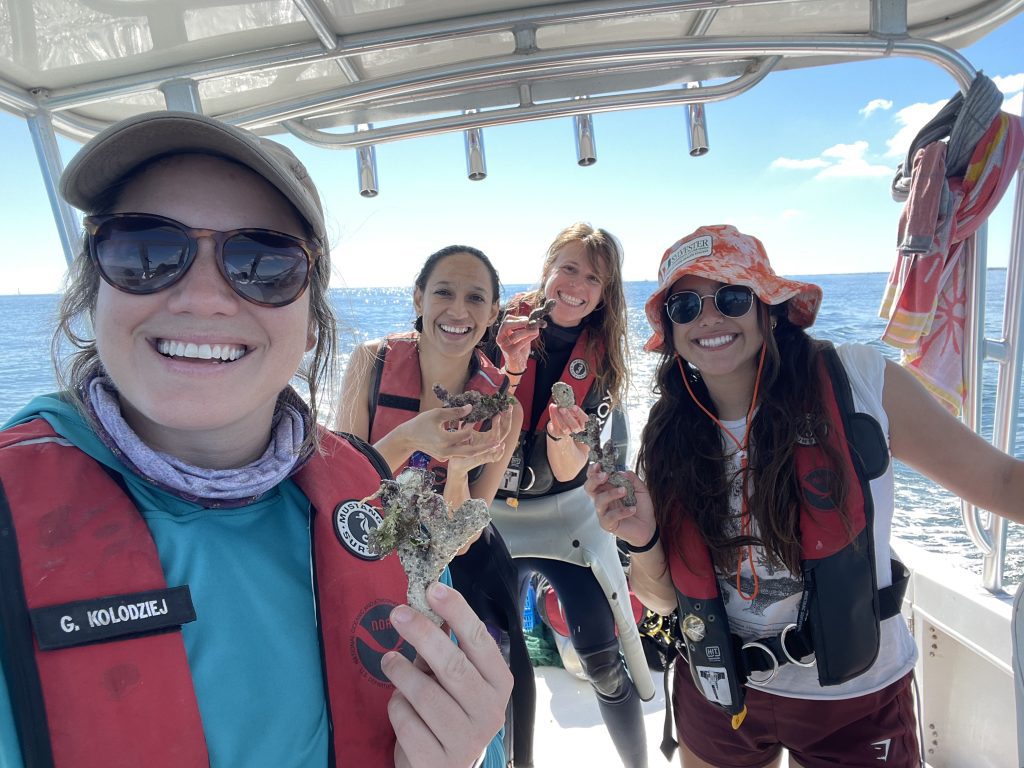 This research excursion demonstrated the importance of hands-on science and shows the dedication of our AOML/CIMAS scientists towards answering some of the most difficult questions about the ocean environment. At AOML, research is always occurring, whether it's behind the scenes at our Atlantic Laboratory or beneath the waves. These research accomplishments show the great partnerships and collaborations that occur between AOML scientists and their cooperative institute colleagues. This partnership allows scientists with both entities to conduct groundbreaking, vital research that capitalizes on the skills and knowledge of one another. At the end of the day, they are all working to conserve our ocean ecosystems in as many ways as possible. Stay tuned for more updates on these Coral Program research projects.