November 30th marked the official end to the 2022 Atlantic hurricane season. Scientists and forecasters from across NOAA worked tirelessly throughout the season to conduct critical tropical cyclone research. This year, NOAA's Atlantic Oceanographic and Meteorological Laboratory (AOML) coordinated the longest series of missions into a single tropical system, arranged multiple observing assets for simultaneous data collection, deployed new small uncrewed aircraft system technology, and included a novel "moving nest" capability to our next-generation hurricane model.
Staff from AOML's Hurricane Research Division and NOAA's Aircraft Operation Center flew 72 research and operational missions on Hurricane Hunter aircraft into nine tropical systems, with eight of those ultimately becoming named tropical storms (maximum sustained surface winds of 39 mph or greater), and two becoming major hurricanes (maximum sustained surface winds greater than 110 mph).
Research missions were conducted in partnership with NOAA's Office of Marine and Aviation Operations (OMAO), and the Office of Naval Research's Tropical Cyclone Rapid Intensification (TCRI) program. Operational missions were tasked by NOAA's National Hurricane Center (NHC), and NOAA's Environmental Modeling Center to collect data and observations that are crucial for improving track and intensity forecasts. The observations gathered were entered into NOAA's cutting-edge analysis and forecast models to help those in the path of these storms better prepare, and to help improve the understanding of tropical cyclone genesis, intensification, and dissipation.
2022 Season Statistics:
Named Atlantic tropical cyclones: 14
Tropical disturbances that AOML researched: 8
Research and operational missions: 68
Lockheed WP-3D (P-3) Orion missions: 49
Gulfstream IV-SP (G-IV) missions: 19
Operating locations: Aruba, Barbados, St. Croix, Sal, Cabo Verde, Ellington Field, Texas, Lakeland and Miami, Florida, and Mobile, Alabama
Over 12 consecutive days beginning in late August, AOML's hurricane scientists conducted 20 research missions into Invest AL91, which later formed into Hurricane Earl, marking the longest series of missions into a single tropical system ever conducted by NOAA. These missions completed research modules in the genesis, early, and mature stage science objectives of the Advancing the Prediction of Hurricanes Experiment (APHEX), the main component of NOAA's 2022 Hurricane Field Program.
In mid-September, the National Hurricane Center upgraded Tropical Storm Fiona to a Category-1 hurricane based on observations taken from the NOAA P-3 Hurricane Hunter aircraft. As Fiona continued to intensify into the season's first major hurricane, its path through the eastern Caribbean Sea coincided with several of NOAA's operational ocean assets, including underwater gliders, Saildrones, drifters, Argo floats and XBTs [Figure 2]. These technologies, supplied by AOML's Physical Oceanography Division, NOAA's Pacific Marine Environmental Laboratory (PMEL), CARICOOS (Caribbean Coastal Ocean Observing System), and the U.S. Navy, provided critical information about ocean conditions near the storm by receiving and transmitting the data to the National Hurricane Center, and assimilating it in real-time into operational forecast models. Scientists from AOML's Hurricane Research Division also deployed GPS dropsondes in close proximity to the Saildrones and gliders to gather a holistic view of the marine environment as the hurricane passed.
A few weeks later, AOML hurricane researchers deployed an Altius-600 small uncrewed aircraft system (sUAS) into the eye of Category-4 Hurricane Ian before its landfall along the west coast of Florida [Figure 3]. This marked the first time that Area-I's sUAS technology was used for hurricane research to acquire critical measurements from the lowest levels of the storm, a region rarely sampled due to the extreme turbulence encountered near the ocean surface. Missions like these show aircraft observations help improve the accuracy of future hurricane models by gathering more information about the storm's structure, track, and intensity.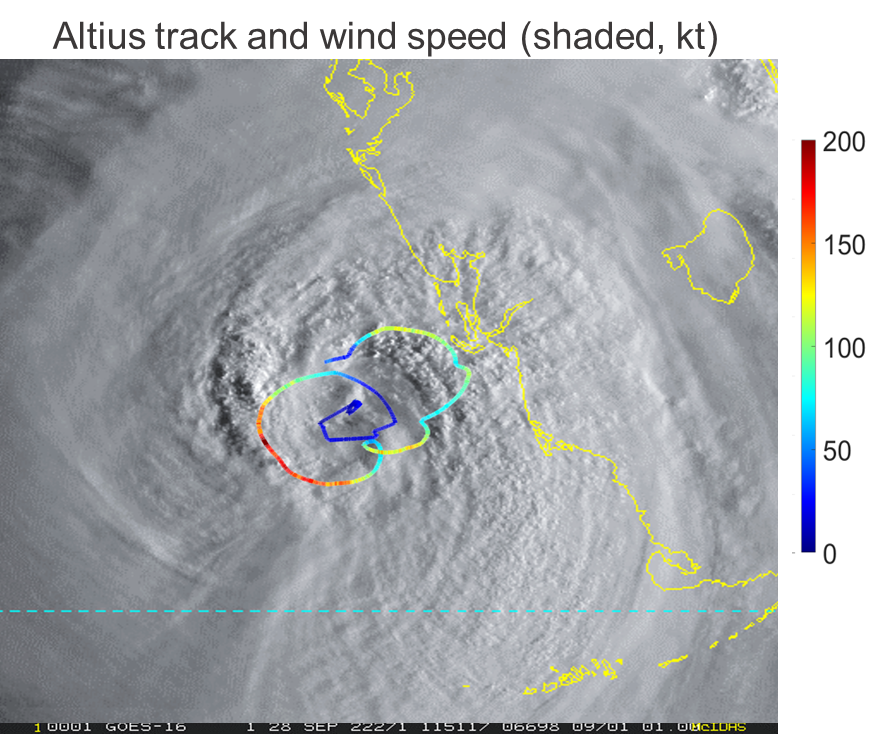 Additionally, scientists with AOML's Hurricane Modeling group completed real-time runs of the experimental Hurricane Analysis and Forecast System (HAFS), which is currently scheduled to be operational next season. This year's version of HAFS included a novel "moving nest", to provide fine-scale detail of environmental conditions following a hurricane. Throughout the year, our scientists monitored real-time runs, generated graphics for display on AOML's Hurricane Model Viewer, and diagnosed potential forecast issues. For example, scientists were able to identify and repair an issue with the ocean coupling component (a component of HAFS that shows how the tropical cyclone wind field cools the ocean beneath it) in time for the operational implementation of HAFS next season. The real-time HAFS runs were regularly used by scientists from AOML and other institutions during the Hurricane Research Division's map discussions in support of the Hurricane Field Program, and also cited multiple times by NHC forecasters in their forecast discussions. AOML scientists continue to work to finalize the version of HAFS that will be operational next hurricane season. The work continues throughout the off season as our scientists analyze the data collected from the 2022 season and prepare for the 2023 season.