Hurricane scientists at AOML sampled multiple storms this summer as the ­Atlantic entered its peak period for hurricane ­formation. From Elsa to Sam, the observations they gathered supported NOAA's mission of preparing the public for severe weather by providing critical data for ­accurate, up-to-date forecasts.
Missions aboard NOAA's P-3 and G-IV Hurricane Hunter aircraft began in early July as Elsa, the first hurricane of the 2021 season, approached the northwest Caribbean islands. They ended in late September as Hurricane Sam, the last and most ­powerful hurricane of 2021, plowed through the central Atlantic.
Observations collected in Elsa and ­subsequent storms enabled specialists at NOAA's National Hurricane Center to keep abreast of the changing temperature, moisture, and wind structure of each storm, providing invaluable information on the strength and direction of the wind, the ­regions of ­heaviest rainfall, and the ­atmospheric steering currents influencing their path and landfall ­location. They will also ­stimulate ­future studies to better ­understand how and why tropical cyclones form, intensify, and ­dissipate.
P-3 missions focused on gathering measurements from the dense bands of thunderstorms that ­circle the eye, while missions aboard the G-IV high-­altitude jet collected measurements from the ­surrounding ­atmosphere. AOML ground crews ­provided additional situational awareness, ­quality controlled data ­obtained from dropsondes, tail Doppler radar, and other instruments, and ensured the data were transmitted in ­real-time to NOAA's Hurricane Weather Research and ­Forecasting computer model to ­improve track and ­intensity forecasts.
Following Elsa, Fred, Grace, Henri, and Ida formed in quick succession, with Fred forming roughly a week after NOAA issued its updated seasonal outlook on ­August 4, reiterating that atmospheric and oceanic conditions would ­remain conducive for above-average hurricane activity for the duration of the 2021 season.
The first mission into Tropical Storm Fred occurred before the system had a well-defined center. Subsequent missions sampled the dry air and wind shear around Fred that inhibited its development, while tail Doppler radar data provided three-­dimensional depictions of the complicated structure of Fred's core.
Hurricane Grace developed in the north central Caribbean but moved westward into the Gulf of Mexico. The first P-3 ­mission began as Grace was becoming a tropical depression, with subsequent ­missions showing Grace's core becoming better ­organized into a single, coherent vortex.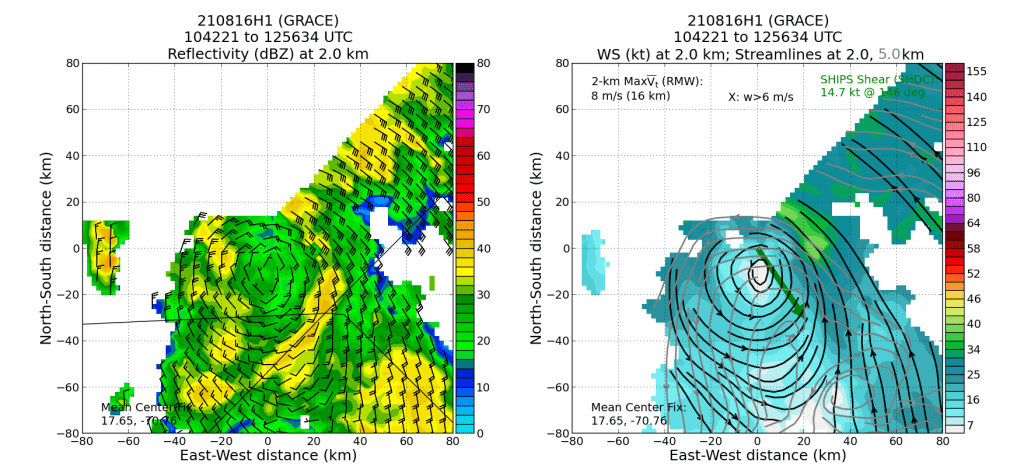 A highlight of these flights was the first-ever deployment of Air-Launched Autonomous Micro Observer (ALAMO) floats from the P-3. The release of two Navy ALAMO floats ahead of Grace ­allowed for observations of how much ­energy was in the warm surface water and water ­below to fuel Grace's intensification. One final P-3 (continued on page 3) flight was conducted in the Bay of Campeche as Grace emerged from the Yucatan coast and ­began its rapid intensification before final landfall near Veracruz, Mexico.
While the P-3s were still observing Grace, attention quickly turned to Hurricane Henri as it threatened the New ­England coast. The G-IV ­conducted three missions above and around the periphery of Henri to obtain information on the steering flow around the system that would determine Henri's track and landfall location.
A highlight of the Henri missions was flying over a saildrone uncrewed ­surface vehicle that samples both the ocean and the atmosphere. At its closest ­approach, the P-3 launched a dropwindsonde and an ­airborne expendable bathythermograph to validate the atmospheric and oceanic ­surface measurements being collected by this new instrument.
Hurricane Hunter missions resumed a few days after missions into Henri ended, as Hurricane Ida crossed over the Cayman Islands and western Cuba. Missions aboard the P-3 observed Ida during a ­critical time when the storm was reorganizing and ­developing an eye. Subsequent P-3 ­missions observed Ida's rapid intensification into a major hurricane and ended with the storm's ­devastating landfall near Port Fourchon, Louisiana with ­sustained winds of 150 mph.
The P-3 mission flown near the time of Ida's landfall was coordinated with land-based research teams from the University of Florida, University of Oklahoma, and Texas Tech University. These teams deployed an array of instruments, including ground-based radars and instrumented towers, to obtain wind, moisture, and rainfall measurements in support of the Coastal Act as Ida swept ashore.
Missions into Hurricane Larry enabled researchers to examine how day-night fluctuations in radiation affect the ­intensity and structure of hurricanes. One component of these oscillations is a phenomenon called the tropical cyclone diurnal cycle where the cloud fields of storms are seen to expand and contract each day.
Hurricane Hunter flight crews and ­aircraft deployed to St. Croix in late ­September to observe Hurricane Sam. Sam strengthened into a deadly ­Category-4 hurricane with top winds of 155 mph while ­moving through the central Atlantic, ­becoming the season's strongest storm. Although Sam remained at sea for the ­duration of its life cycle, the storm ­provided an ­excellent opportunity to collaborate with Office of Naval Research partners to study the ­process of rapid intensification.
A highlight of the missions was Sam's passage over a saildrone uncrewed surface vehicle, which captured the first data ever ­obtained from the ­surface of a ­hurricane. These data will help shed light on the ocean's role in hurricane intensification.
From Elsa to Sam, all missions were conducted in support of NOAA's annual Hurricane Field Program and its Advancing the Prediction of Hurricanes Experiment (APHEX). APHEX was developed in ­concert with numerous partners—NOAA's Environmental Modeling Center, National Hurricane Center, Aircraft Operations Center, and the Office of Naval ­Research—to improve the understanding and prediction of hurricane track, intensity, and structure, as well as associated hazards.
"NOAA's 2021 APHEX Hurricane Field Program was very successful," said Jason Dunion, the director of this year's field effort. "Highlights include collaborations with our Office of Naval Research, Navy, and NASA partners, and the first ever deployments of AOML and Navy ALAMO floats from NOAA's P-3 aircraft out ahead of three Atlantic hurricanes. We successfully conducted 85% of our planned APHEX experiments and modules and sampled a wide range of the tropical cyclone life cycle, from tropical depression to major hurricane."
In total, hurricane scientists at AOML participated in 53 missions aboard ­Hurricane Hunter aircraft, racking up 400 flight hours. The observations they collected in seven tropical cyclones supported NOAA's ­mission of building a more weather-ready nation, helping vulnerable communities better prepare for severe weather during a busy hurricane season.