NOAA aircraft reconnaissance continued for Hurricane Delta on October 6, capturing the system's quick maturation overnight. P-3 and G-IV missions are scheduled every 12 and 24 hours from Lakeland, FL. The National Hurricane Center (NHC) tasked NOAA's Hurricane Hunters to identify the location and strength of the circulation center, and to survey the atmospheric conditions nearby and ahead of Delta. Instrumentation onboard the aircraft have sampled the system's development, revealing a 55 knot rapid intensification in just 24 hours.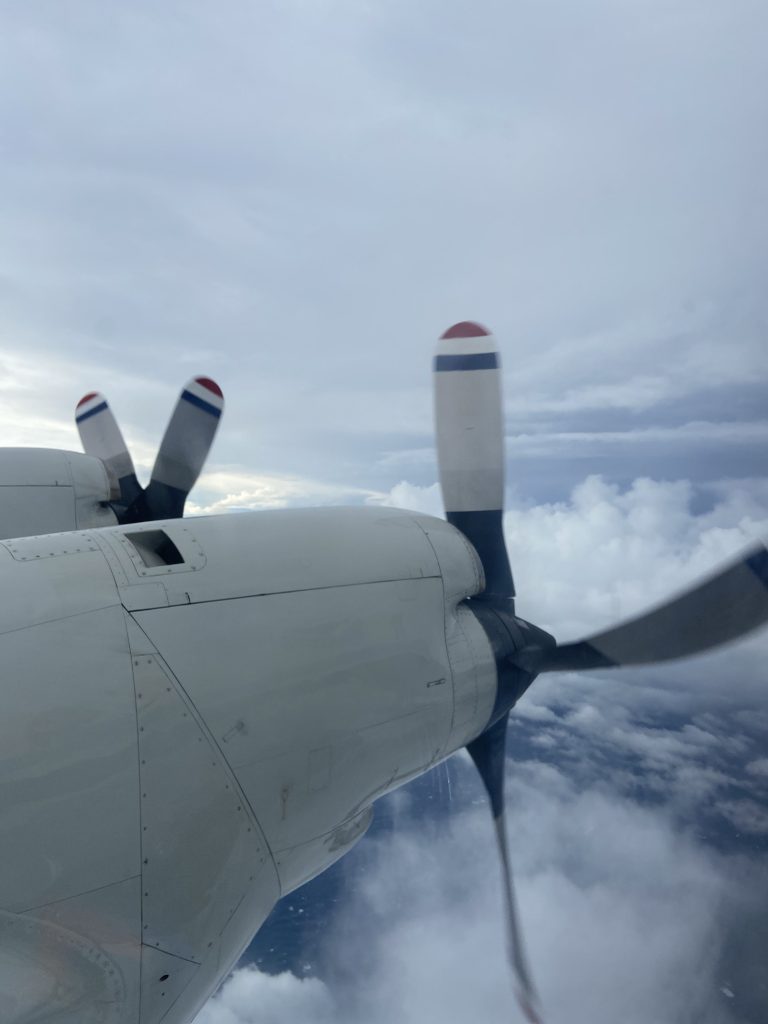 Scientists supporting these missions ensure that the data collected adequately reflects Delta's maximum surface wind speed, locates its center, and provides sufficient observation coverage for initializing numerical forecast models.
The most recent P-3 mission took off from Lakeland at 5:30 PM EDT on October 6 for regular assessments of the storm's structure and intensity. While NHC's operational tasking remains the focus, hurricane experts at AOML expected additional science objectives to be performed.
Goals outlined in AOML's Synoptic Flow experiment, Analysis of Intensity Change Processes Experiment (AIPEX), and Rainband Complex module were addressed as part of NOAA's Intensity Forecasting Experiment (IFEX).
Data collected using dropsondes, Tail Doppler Radar, Stepped Frequency Microwave Radiometer, and other onboard sensors allow experts to study processes important for intensification in this favorable environment. Measurements collected describing Delta's winds, pressure, and rainfall may be vital to understanding how Hurricane Delta evolves as it adjusts its precipitation and wind structure while interacting with the environment in which it's embedded.
NOAA's G-IV and P-3 aircraft will sample the conditions in Delta's core and its surrounding environment throughout the system's approach to the Yucatán Peninsula, extending into its future trajectory across the Gulf of Mexico. NHC notes that while the storm has experienced some dissipation, Hurricane Delta has the potential to make landfall along the Gulf Coast as a very large and dangerous tropical cyclone.
For details about reconnaissance aircraft missions, please see NOAA's official Plan of the Day.
For the latest information about tropical cyclones and other weather systems, visit the NOAA National Weather Service National Hurricane Center.
For information on numerical prediction of tropical cyclones, visit the NOAA National Centers for Environmental Prediction Environmental Modeling Center.