NOAA's P-3 aircraft wraps up its sequence of missions into Hurricane Sally prior to the system's eventual landfall along the central Gulf Coast. Tasked by the National Hurricane Center (NHC), its final flight took off on September 15 at 9:30 EDT from Lakeland, FL.
Hurricane scientists supporting P-3 missions into Hurricane Sally identified the location and strength of the system's circulation. Onboard instrumentation indicated that the storm's intensity remains unchanged, with surface winds measuring around 70 knots.
"The dense coverage of dropsondes allows hurricane experts to study how Sally intensified so quickly during a phase of strong pulsing convection and while in the presence of vertical wind shear," said Rob Rogers, PhD, Lead Project Scientist for G-IV missions into Sally.
Sampling atmospheric conditions before and after Hurricane Sally's rapid intensification revealed that vortex alignment played a role in the evolution of the system's development.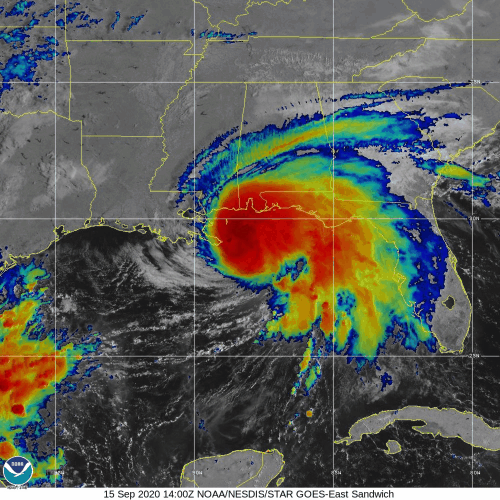 AOML's Hurricane Research Division and its partners tasked NOAA's G-IV to conduct reconnaissance into Tropical Storm Teddy. The aircraft took off at 12:00 EDT on September 15 from St. Croix, U.S. Virgin Islands to tackle science objectives defined in AOML's Synoptic Flow Experiment.
As part of one strategy outlined in AOML's Intensity Forecast Experiment (IFEX), this experiment focuses on collecting high-altitude dropsonde measurements within the storm and its surrounding environment.
It uses an experimental product that identifies regions where numerical models can benefit the most during their initialization. Dropsondes released at these locations can facilitate the assessment of this product for the use of dropsonde targeting in operational tropical cyclone prediction.
The P-3 aircraft plan to relocate to St. Croix for follow-on missions into Teddy on September 16.
For the latest information about tropical cyclones and other weather systems, visit the NOAA National Weather Service National Hurricane Center.
For information on numerical prediction of tropical cyclones, visit the NOAA National Centers for Environmental Prediction Environmental Modeling Center.