AOML's Hurricane Research Division tasked all three NOAA Hurricane Hunter aircraft to perform science operations into Hurricane Teddy, now a category-3 tropical cyclone and still intensifying in the mid-Atlantic.
Operations into Teddy began Tuesday with G-IV aircraft objectives defined in AOML's Synoptic Flow Experiment as part of NOAA's Hurricane Field Program. The G-IV took off for its second mission in the series of science taskings from St. Croix, U.S. Virgin Islands, at 12:30 PM EDT on September 16.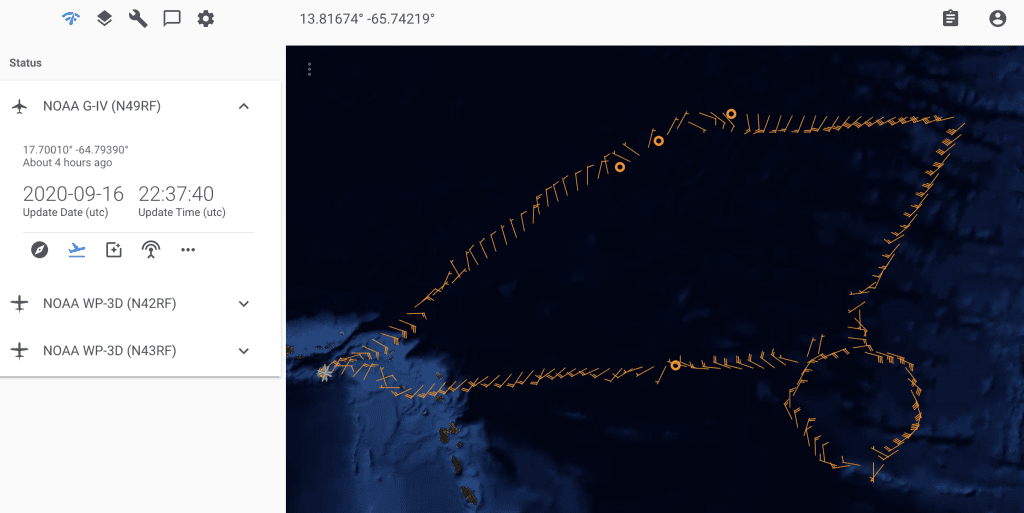 Dropsondes deployed from the G-IV during its first mission in the sequence indicated extremely dry conditions in the environment to the north of the storm. These data were used to initialize global weather models in real time and provide researchers with observations needed to determine the proper location of dropsondes for future missions.
P-3 aircraft missions into Hurricane Teddy will begin at 10 AM EDT on September 17, with subsequent flights conducted every 12 hours to obtain measurements throughout the system's lifecycle. AOML hurricane scientists will support these missions from the air and the ground, monitoring dropsondes, onboard Tail Doppler Radar, Stepped Frequency Microwave Radiometer (SFMR), and Wide Swath Radar Altimeter (WSRA) data in real time.
After completing National Hurricane Center (NHC) tasked missions into Hurricane Sally, NOAA's two P-3 aircraft departed for St. Croix on September 16 to coordinate with NOAA's G-IV on science objectives outlined in AOML's Intensity Forecast Experiment (IFEX) plan.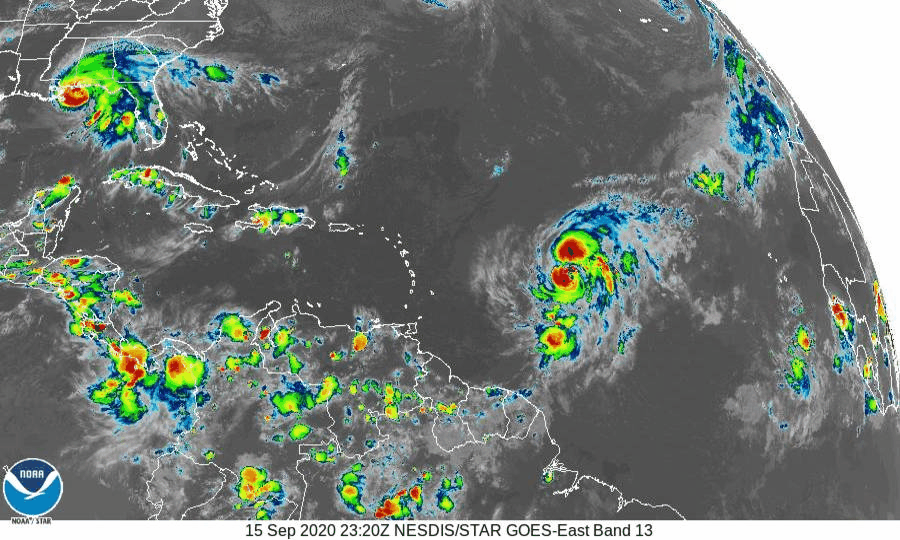 Upon reviewing the P-3 data collected in Hurricane Sally, hurricane scientists supporting reconnaissance flights into the system highlighted NOAA's commitment to protect life and property by supporting both operational forecasting and research of tropical cyclones.
"The last 8-hr mission provided real-time observations to forecasters at the National Hurricane Center and modeling centers from around the world, while also coordinating with university research teams who deployed towers and radars along the Gulf Coast to observe Sally's landfall," said Jason Dunion, PhD, Hurricane Field Program Deputy Director of Research and Lead Project Scientist onboard the P-3. "It really felt like we were making a difference to try and improve the forecasting and understanding of hurricanes like Sally."
Sally made landfall at 5:45 AM EDT on September 16 near Gulf Shores, AL. NHC and National Weather Service local offices continue to issue advisories for this system as heavy rainfall, strong wind, and storm surge affect portions of Alabama and western Florida. They expect the system to produce heavy rainfall in Georgia and the Carolinas before pushing out to sea over the weekend.
Hurricane Teddy remains over warm ocean waters and in a region favorable for rapid intensification. Numerical models agree on Teddy's trajectory, placing Bermuda in its path. As the storm tracks to the northwest, the system will encounter cooler ocean waters that Hurricane Paulette stirred up last week.
NHC indicates that a combination of ocean temperature and increased hostile atmospheric conditions may inhibit Teddy's intensification in the long term. Measurements from within and nearby the circulation allows hurricane experts to observe processes that may contribute to the system's development.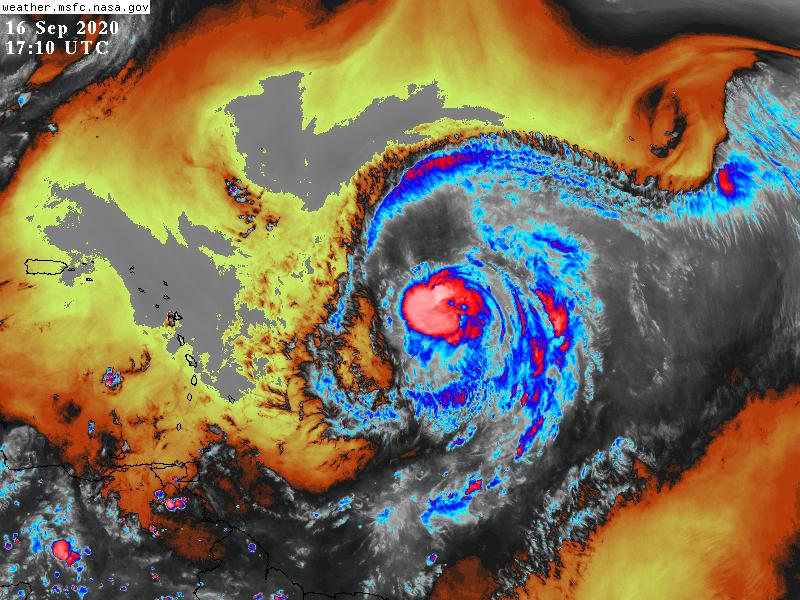 For the latest information about tropical cyclones and other weather systems, visit the NOAA National Weather Service National Hurricane Center.
For information on numerical prediction of tropical cyclones, visit the NOAA National Centers for Environmental Prediction Environmental Modeling Center.