International report details the global carbon budget
Originally published at NOAA Research on November, 14th 2022.
Global carbon dioxide emissions in 2022 remain at record levels and natural carbon sinks are being impacted by climate change, according to a report published last week by the Global Carbon Project.
The publication, produced by an international team of more than 100 scientists including many experts from NOAA, projects that atmospheric CO2 concentrations will reach an average of 417.2 parts per million in 2022, more than 50 percent above pre-industrial levels. The projection of 40.6 billion tonnes of CO2 emissions in 2022 is close to the 40.9 billion tonnes of CO2 noted in 2019, which is the highest annual total ever recorded.
If the current level of emissions persists, there is a 50 percent chance that global warming of 1.5 degrees Celsius (2.7 degrees Fahrenheit) will be exceeded in nine years, the opposite trend needed to reverse climate change.
The report also provides a detailed accounting of carbon storage in the ocean and land.
"Looking closely at the observational data, we have learned that the ocean's capacity to be a sink is finite," says Rik Wanninkhof, an ocean carbon cycle expert at NOAA's Atlantic Oceanographic and Meteorological Laboratory and a contributor to the report. "Natural sinks are not as steady and robust as we have believed in the past. Understanding human influence on the global carbon budget is extremely important, but we also have to understand the natural world's contributions to the budget. This report provides consensus on changes in our planet's carbon reservoirs."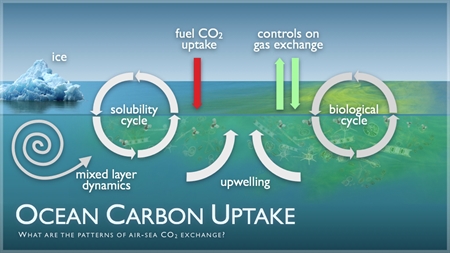 Carbon storage: Nature's role
The Global Carbon Budget is increasingly focused on the investigation of natural sinks, those processes on land and ocean which absorb and store carbon. The ocean and land CO2 sinks continue to increase in response to the atmospheric CO2 increase, although climate change reduced this growth by an estimated 4 percent (ocean sink) and 17 percent (land sink) over the 2012-2021 decade. Some of the reduction is due to climate change itself. The ocean is warming, and a warmer ocean will not take up as much.
Land-use changes, especially deforestation, are a significant source of CO2 emissions – equivalent to about a tenth of the amount of CO2 coming from fossil fuel emissions. Emissions from land-use change are projected to reach 3.9 billion tonnes of of CO2 in 2022.
Planting new forests counterbalances half of the deforestation emissions, and the report notes that there are opportunities to stop or slow deforestation and restore or expand existing forests to better balance the carbon budget.
The 2022 fossil fuel numbers
The report also accounts for emissions that add CO2 to the atmosphere.
In 2022, fossil CO2 emissions are projected to reach 36.6 billion tonnes of of CO2 – slightly above pre-COVID-19 levels.
Projected emissions from coal and oil are above their 2021 levels, with oil being the largest contributor to total emissions growth. The growth in oil-burning emissions is largely explained by the delayed rebound of international aviation following COVID-19 pandemic restrictions.
The report's authors note that it would now require a yearly decrease in fossil fuel consumption, or increasing the natural sinks by about 1.4 billion tonnes of CO2 to reach net-zero CO2 emissions by 2050. That decrease would be comparable to the observed drop in emissions resulting from the 2020 COVID-19 lockdowns, highlighting the scale of the action required.
This year's carbon budget does show that the long-term rate of fossil emission increases has slowed, however that trend is very small. The average rise peaked at 3 percent per year during the 2000s, while growth in the last decade has been about 0.5 percent per year.
About the Report
The Global Carbon Project is an international research project within the Future Earth research initiative on global sustainability, and a research partner of the World Climate Research Programme. It aims to develop a complete picture of the global carbon cycle, including both its biophysical and human dimensions together with the interactions and feedbacks between them.
NOAA contributed approximately half of all the of CO2 ocean and atmospheric observations made in this year's edition, including work from the Global Monitoring Laboratory, Pacific Marine Environmental Laboratory and the Atlantic Oceanographic and Meteorological Laboratory, with support from NOAA's Global Ocean Monitoring and Observing program (GOMO).
The Global Carbon Budget 2022 is the 17th edition of the annual update that started in 2006, and the 11th edition made available as a living data collection in the journal Earth System Science Data.
For more information, please contact Alison Gillespie, NOAA Communications, at alison.gillespie@noaa.gov