Researchers from AOML's Physical Oceanography Division and the Caribbean Regional Association for Coastal Ocean Observing System (CARICOOS) completed three underwater glider missions during the 2017 Atlantic hurricane season in support of NOAA's Hurricane Field Program. The gliders monitored ocean conditions and provided ocean data for improved hurricane forecasts. AOML partnered with NOAA's Environmental Modeling Center (EMC) to analyze the data and determined that subsurface ocean temperature and salinity data collected by the gliders improved initialization in NOAA's experimental forecast models and reduced error in intensity forecasts.
Scientists strategically deployed the gliders during the peak of hurricane season, from July through November 2017, collecting data in regions where hurricanes commonly travel and intensify. The gliders continually gathered temperature and salinity profile data, generating more than 4,000 profiles to enhance scientific understanding of the air-sea interaction processes that drive hurricane intensification.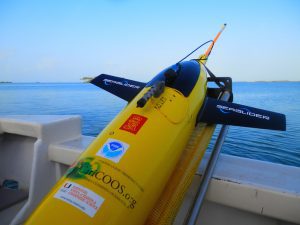 Throughout the active season, four major hurricanes—Harvey, Irma, Jose, and Maria—travelled directly above, or very close to, the location of the gliders. Underwater glider data was provided in real-time to data distribution centers for assimilation into hurricane intensity forecast models. The glider data provided valuable information on how storm force winds impact the ocean, and the potential impact of the ocean on hurricane intensification. Analysis of these data showed that cooler upper ocean temperatures partially contributed to the lack of intensification of Hurricane Harvey and the weakening of Hurricane Jose through this region.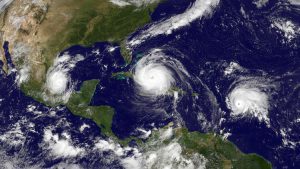 The gliders profiled the warm waters of the tropical Atlantic Ocean and Caribbean Sea to depths of up to 1000 meters as hurricanes passed overhead. These observations were continually transmitted in real-time into the Global Telecommunications System and used in operational forecast models. Additionally, expendable bathythermograph temperature profiles, Argo ­temperature and salinity profiles, and surface temperature observations from surface drifters were also available in the regions off Puerto Rico and will be used in a combined analysis of all data. "These data will give us an excellent idea of what is happening in the ocean and will help us verify the ocean models to guide forecasts," said Frank Marks, Director of the Hurricane Research Division at AOML.
Scientists from AOML, EMC, CARICOOS and Rutgers University are currently collaborating to explore opportunities for designing and implementing a sustained ocean observing system based on underwater gliders in support of hurricane intensity forecasts and to keep assessing the impact of subsurface ocean data to improve hurricane intensity forecasts. During the upcoming 2018 Hurricane Season, AOML will also collaborate with the NOAA/NWS National Data Buoy Center to enhance the monitoring of the tropical Atlantic Ocean.
We would like to extend our gratitude to the island of Puerto Rico and to the CARICOOS team, who were heavily impacted by Hurricane Maria.
"Having this buoy back in the water has enormous implications for us that go beyond the obvious value of having real-time ocean observations again at this site" says the CARICOOS team.
Originally Published February 2018 by Sierra Sarkis
Related: ESRI Story Map: Learn more about PhOD's underwater glider technology here.