The 2019 Atlantic hurricane season ended on November 30, marking the fourth consecutive year of above-normal activity. Overall, the season produced 18 named storms, six ­hurricanes, and three major hurricanes—Dorian, ­Humberto, and ­Lorenzo—that intensified to at least ­Category 3 strength with ­sustained winds above 110 mph.
NOAA accurately predicted the overall activity of the season, with its August ­outlook calling for 10-17 named storms, five to nine hurricanes, and two to four major hurricanes. An ­average ­season ­typically churns out 12 tropical storms, six ­hurricanes, and three ­major ­hurricanes.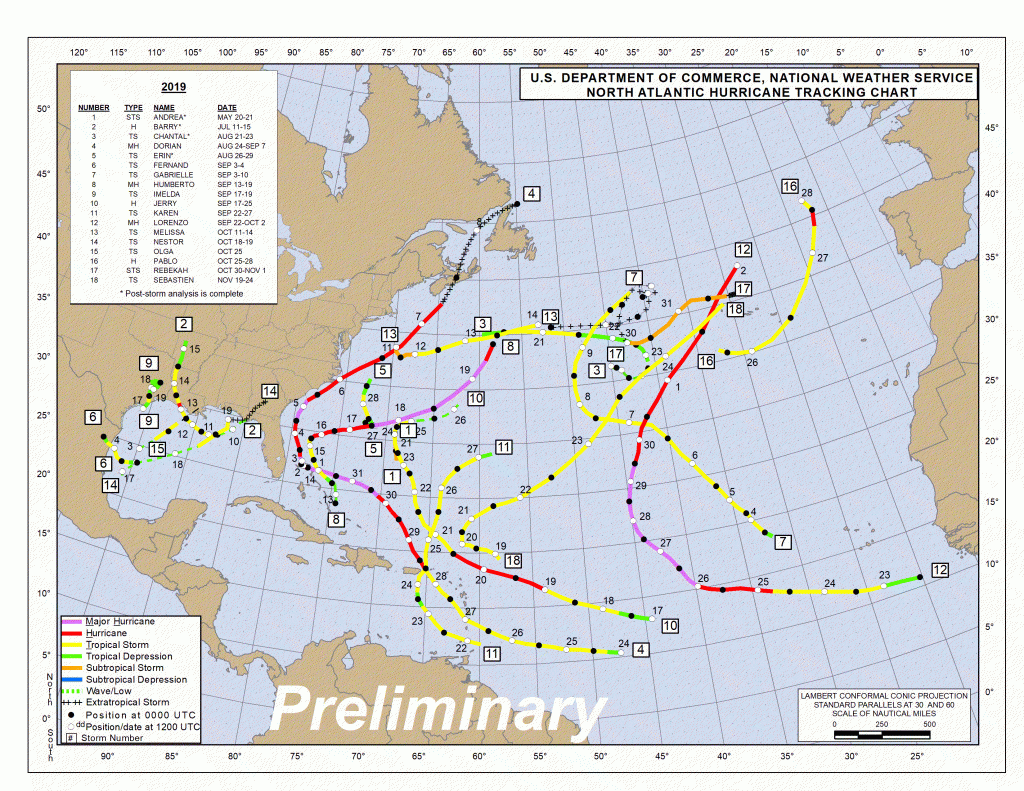 For the fifth year, hurricane season ­began before the official June 1 start, as Andrea formed southwest of Bermuda on May 20. Lasting all the way into ­November, Sebastien formed just 11 days before the season's end.
While spared from a major hurricane, four weak ­tropical ­systems impacted the US. Barry, Imelda, and Nestor brought ­blustery conditions and severe flooding to coastal communities as they plowed ashore in Louisiana, ­Texas, and the ­Florida ­Panhandle, ­respectively. Dorian flooded the eastern seaboard from Florida to the Outer Banks of North Carolina, passing over Cape Hatteras as a weak Category-1 hurricane before heading to the open ­waters of the Atlantic.
Throughout the season, AOML's hurricane scientists were at the forefront of NOAA's efforts to prepare the public for severe ­weather. From July through ­October, they flew 38 missions aboard NOAA's Hurricane Hunter P-3 aircraft, as well as supported 17 missions aboard NOAA's Gulfstream-IV jet.
The combined total of these missions resulted in more than 470 flights hours dedicated to keeping emergency ­managers, ­forecasters at the National Hurricane ­Center, and the public updated on the ­evolving, dynamic state of nine tropical systems. The missions also supported ­research to better understand how tropical cyclones form, intensify, and dissipate, as well as ­supported efforts to ­validate ­satellite measurements of the storms.
Data gathered in Barry, Dorian, ­Fernand, Humberto, Jerry, pre-Karen, Lorenzo, Nestor, and EP95/pre-Ivo (eastern Pacific) provided vital information about the ­damaging winds and rain ­embedded within these storms, as well as the atmospheric steering currents that influenced their track and landfall location. All data were collected in support of the Intensity Forecast Experiment, the main component of NOAA's Hurricane Field Program.
By far the most powerful storm of 2019 was ­Hurricane Dorian. AOML's hurricane scientists sampled almost the entire life cycle of Dorian, flying a record 15 ­missions aboard the P-3 over an 11‑day period. Dorian underwent two cycles of rapid intensification, strengthening into a Category-5 ­hurricane with ­sustained winds of 185 mph.
Recounting his experience of flying through Dorian's turbulent eyewall aboard the P-3, AOML hurricane ­scientist ­Jason Dunion remarked that "Dorian was like a roller coaster, but you couldn't see where the turns were. It was intense, like ­nothing I had ever felt. We had a storm already at its maximum potential and it pushed right past it."
Dorian's extreme winds and storm surge decimated the northwest Bahamas as it moved slowly across the island chain in early ­September, becoming the strongest storm on record to strike the ­Bahamas. The catastrophic hurricane will be remembered as one of the most ferocious ever observed in the region. Dorian marked the fourth year that a ­Category-5 hurricane has formed in the Atlantic.
Two additional major hurricanes—Humberto and Lorenzo—formed in ­September. Humberto grazed the island of Bermuda with 100+ mph gusts before ­dissipating harmlessly at sea, while ­Lorenzo briefly intensified to 160 mph, setting a record as the ­easternmost ­Category-5 hurricane to form in the ­Atlantic. ­Lorenzo passed over the Azores as a Category-1 hurricane before moving over the northwest coast of Ireland as a post-tropical cyclone.
In preparation for the upcoming 2020 Atlantic hurricane season, NOAA's team of hurricane specialists will meet to ­review environmental conditions and release a pre-season outlook in May of the overall expected activity.