With peak Atlantic hurricane season fast approaching, AOML scientists begin supporting NOAA Hurricane Hunter missions into Tropical Storm Laura.
The National Hurricane Center (NHC) and Environmental Modeling Center (EMC) have tasked NOAA's two P-3 aircraft to investigate the atmospheric conditions associated with the tropical storm. The instrumentation onboard will provide measurements capturing the characteristics of its circulation.
NOAA's P-3 Hurricane Hunter planes, named Miss Piggy and Kermit, will alternate on a twice per day mission cycle out of St. Croix, U.S. Virgin Islands pending further development of the system. The aircraft may have to reposition if Tropical Storm Laura threatens the island base.
Miss piggy departed St Croix for its 8 hour flight on Thursday, August 20 at 4:30 PM EST.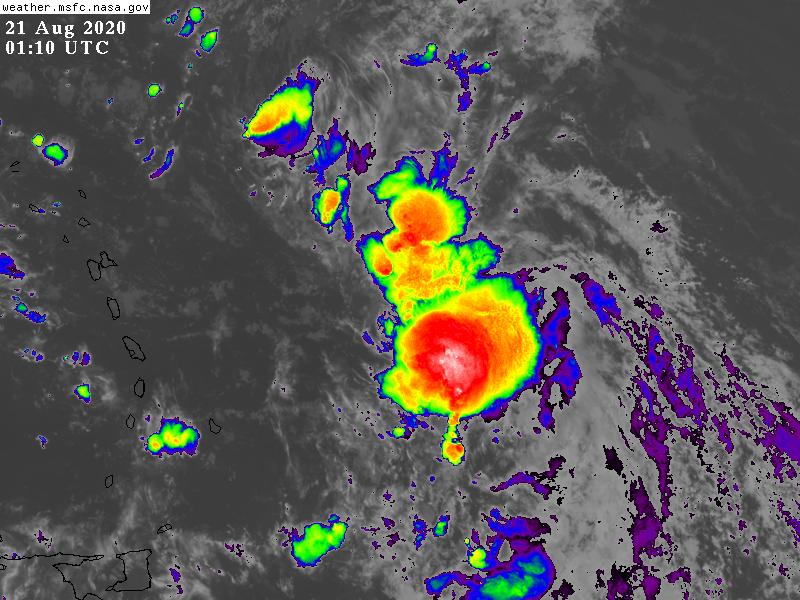 NHC and EMC coordinated with AOML's Hurricane Research Division (HRD) to determine the proper data coverage and flight strategy, which focuses on obtaining center location information and measurements to be ingested into operational forecast models.
Tropical Storm Laura may encounter environmental conditions that are conducive for continued growth, and according to NHC, impacts to South Florida could occur within 4 to 5 days.
If this forecast verifies, hurricane experts anticipate subsequent reconnaissance missions into the tropical cyclone to monitor its evolution.
While model guidance suggests that a building ridge in the eastern Atlantic will keep Tropical Storm Laura on a west-northwest track, forecast outcomes remain variable in terms of intensity and speed of the system. Hurricane forecasters and scientists will rely heavily on Tail Doppler Radar measurements from this series of missions to best capture the features of the system's circulation.
This week, NOAA's daily forecast discussion was led by AOML scientists Michael Fischer, PhD and Trey Alvey, PhD.
Fischer emphasized the favorable conditions that Tropical Storm Laura may experience as it propagates to the west. A combination of reasonable environmental winds and warm sea surface temperatures may allow for some intensification and potential impacts to the Greater Antilles.
However, another tropical cyclone, Tropical Depression 14, currently spins in the western Caribbean and may play a role in the progression of Tropical Storm Laura.
Alvey explains that as these two systems evolve, they could influence each other's development. The characteristics of their circulations can affect the environment itself, which complicates the forecast of their potential intensification.
Due to high uncertainty in NHC's official tropical cyclone forecast, interests in the Caribbean and along the Gulf and Southeast Coasts of the United States should watch both storms as new information becomes available.
For the latest information about tropical cyclones and other weather systems, visit the NOAA National Weather Service National Hurricane Center.
For information on numerical prediction of tropical cyclones, visit the NOAA National Centers for Environmental Prediction Environmental Modeling Center.