Congratulations to NOAA AOML scientist, Dr. Hosmay Lopez, for receiving the 2022 Federal Employee of the Year award for the Scientific category at the 58th annual South Florida Federal Executive Board's awards program. Hosmay was recognized for his groundbreaking contributions to the understanding of how El Niño-Southern Oscillation (ENSO) events will evolve with global warming, with significant implications for how residents of South Florida will experience climate change over the next several decades.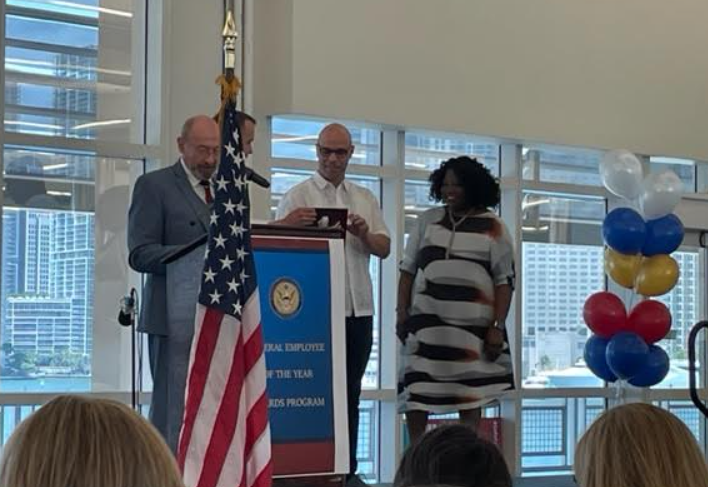 Dr. Hosmay Lopez is an oceanographer at NOAA's Atlantic Oceanographic and Meteorological Laboratory (AOML) in Miami, Florida. He is currently engaged in several research projects, which aim at studying the ocean-atmosphere interaction, climate variability, the occurrence of extreme weather events, and their economic and societal impact. One of Dr. Lopez's recent studies investigates the projected changes in the seasonal evolution of ENSO in the 21st century under the influence of increasing greenhouse gases.
ENSO is a recurring climate pattern that occurs on average from 2 to 7 years, which involves changes in the sea surface temperature in the central and eastern Pacific Ocean. The warm phase of ENSO, or El Niño, directly affects rainfall patterns in the tropics, as well as strongly influences weather across the globe.
The study found that global climate impacts on temperature and precipitation are projected to become more significant and persistent, due to the larger amplitude and extended persistence of El Niño in the second half of the 21st Century (2051-2100).
Read more: https://www.aoml.noaa.gov/noaa-aoml-scientists-project-future-changes-in-enso-variability/