The NOAA Commissioned Officer Corps is one of the nation's eight uniformed services and its officers are an integral part of the National Oceanic and Atmospheric Administration (NOAA). With approximately 330 officers and growing, the NOAA Corps supports nearly all of NOAA's programs and missions. The combination of commissioned service and scientific expertise makes these officers uniquely capable of leading some of NOAA's most important initiatives.
Officer Profile: Commander Tony Perry III, Associate Director of NOAA's Atlantic Oceanographic & Meteorological Laboratory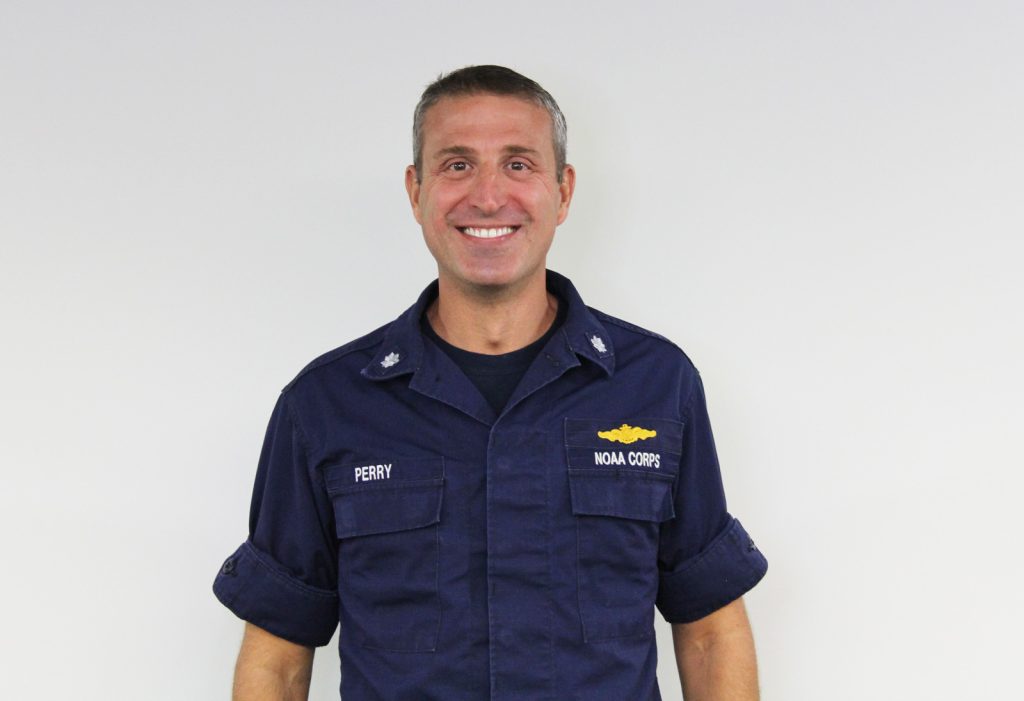 #1 – What inspired you to become a NOAA Corps officer?
My best friend in college graduated a year ahead of me and became a NOAA Corps Officer. I saw how much fun he was having while out to sea working in Alaska catching all different types of fish. I really wanted to be a shark biologist and was going to use the NOAA Corps to get my foot in the door for a NOAA shark lab, but I really enjoyed being a NOAA Corps Officer and never stopped.
#2 – Explain the different roles and responsibilities you held in the NOAA Corps and describe your current position?
In my 18 years of service, I have been a junior officer on the ship responsible for safety drills and navigation of the ship, all the way up to the captain of the ship. I have also served as a fisheries scientist installing underwater acoustic recorders, a NOAA Corps recruiter talking at colleges to promote NOAA Corps, a platform coordinator for NOAA Research making ship and aircraft schedules, and now the Associate Director of NOAA's Atlantic Oceanographic & Meteorological Laboratory (AOML) supervising the facilities team and promoting safety around the lab.
#3 – What operational moment sticks out to you the most and why?
We were at anchor near Silver Banks, north of the Dominican Republic, on a Humpback Whale tagging mission and I had reached a low point, questioning why I was still doing this job. I was asked to help recover an underwater acoustic recorder. We did the dive, nothing special. The dive only lasted about 5 minutes to get the recorder up but as we were exiting the water we heard this massive whale behind us blow her air. We both immediately went back underwater and a 40 foot female whale started diving and spinning around us. The whole time I'm just thinking, I'm getting paid to swim with whales! It was the moment I needed to refuel my passion for my job. The photo I took is still used in a lot of NOAA publications.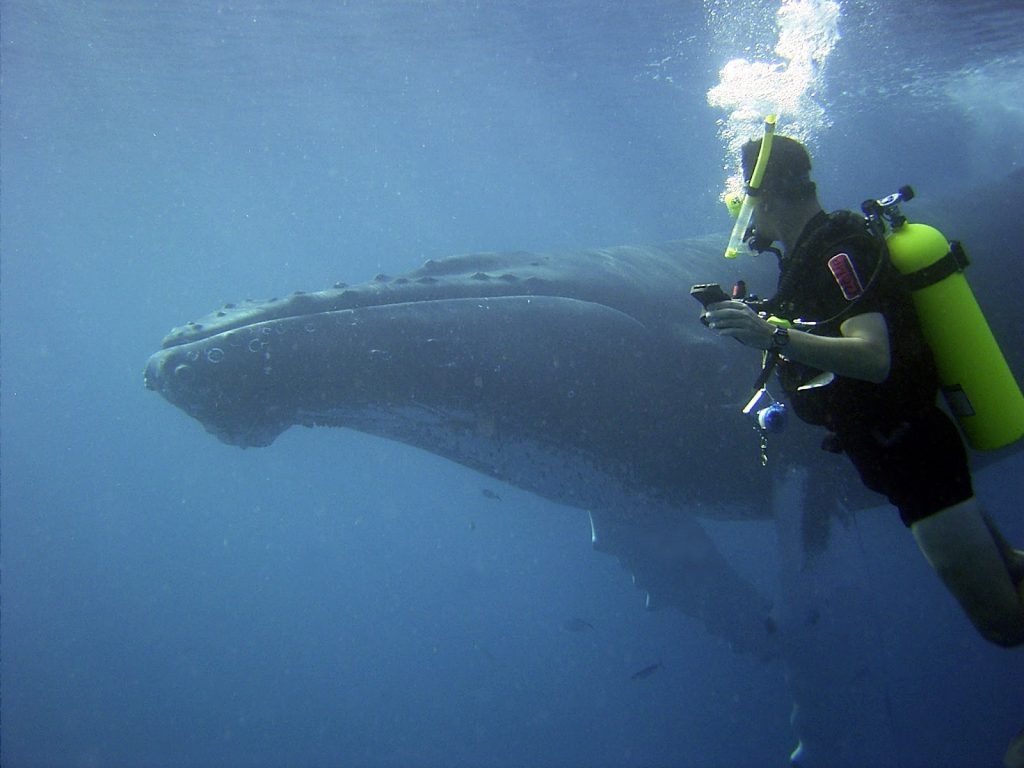 #4 – What NOAA Corps mission/project are you most looking forward to this year? What are your future plans/goals?
As supervisor for the facilities team, I am leading the construction efforts for many key renovations at AOML. The team has worked hard to secure funding and finally seeing it start will be a great accomplishment. Next year, I will move to Hawaii to start my next assignment as Commanding Officer (Captain) of the NOAA Ship Okeanos Explorer. Taking command is always a challenge but moving back to Hawaii, which has been my home away from home, is something I'm really excited for.
#5 – What advice would you give to someone who wants to be a NOAA Corps officer?
My advice is to do the following: reach out to NOAA Corps officers to start a conversation about what it takes to become a NOAA Corps officer. Ask about visiting a NOAA ship that might be in your area. Intern at a NOAA office to get your foot in the door and work hard in college to get good grades in classes that relate to math and science.