NOAA's P-3 Hurricane Hunters concluded their Environmental Modeling Center (EMC) tasked reconnaissance into Tropical Storm Isaias with real-time support from AOML's Hurricane Research Division. The aircraft took off Monday, August 3 at 5 AM EDT, from Lakeland, Florida.
After facing difficulty locating the center of Isaias, AOML scientists coordinated with the flight's onboard navigator to readjust the aircraft's path for proper surveillance of the circulation. Once repositioned, airborne wind and thermodynamic measurement coverage verified a highly tilted and disorganized vortex.
The diffuse and elongated nature of the storm's precipitation field indicates that its characteristics continued to fluctuate as it wrestled with unfavorable conditions imposed on the circulation by an approaching trough. Satellite and coastal radar presentation of Isaias' cloud and rainfall structure indicated periodic attempts by the storm to reorganize, consistent with NOAA P-3 observations.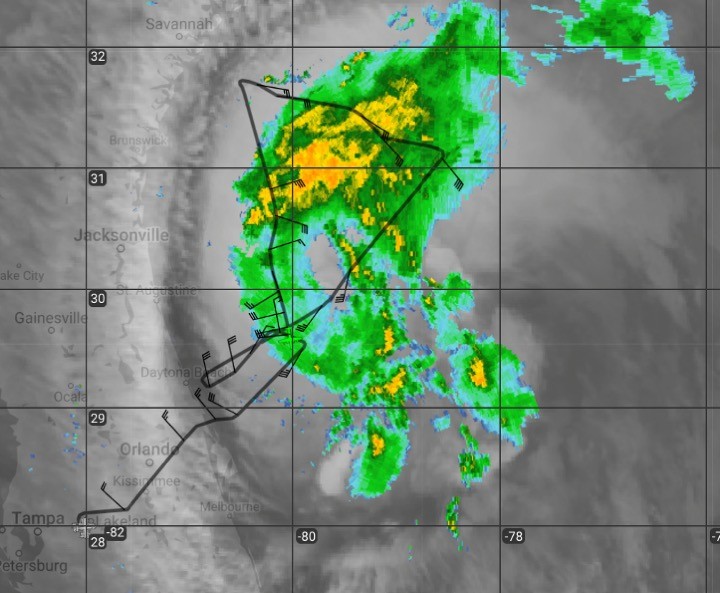 Isaias has maintained its intensity due to warm ocean waters despite its interaction with the imposing shortwave trough to its west. The National Hurricane Center (NHC) has issued tropical cyclone hazard watches and warnings along the eastern U.S., extending from Georgia through the mid-Atlantic seaboard, to Maine.
NHC forecasted some intensification as Isaias repositioned itself in the flow of its environment over the last few hours. The new meteorological configuration reoriented the changing of wind with height, known as vertical wind shear, to align with the motion of Tropical Storm Isaias. This relaxed the effect of hostile conditions on the circulation, and allowed the system to intensify before its eventual landfall in southern North Carolina.
Tropical Storm Isaias is expected to impact the entire east coast of the U.S., bringing heavy rainfall, strong winds, and storm surge to the region as it accelerates up the I-95 Corridor. The National Weather Service offices have issued local advisories, which have resulted in road closures.
While landfalling tropical cyclones typically dissipate, Isaias' circulation is expected to enhance due to strong upper-level winds. This may result in sustained tropical cyclone conditions while Isaias continues its trajectory towards the northeast US, weakening slowly as it tracks up the coast.
For the latest information about tropical cyclones and other weather systems, visit the NOAA National Weather Service National Hurricane Center.
For information on numerical prediction of tropical cyclones, visit the NOAA National Centers for Environmental Prediction Environmental Modeling Center.