NOAA's Atlantic Oceanographic and Meteorological Laboratory (AOML) participated in Ocean Sampling Day on June 21, the first global simultaneous sampling for microbes in ocean, coastal and Great Lakes waters. Over time, sampling will support international and NOAA missions to provide a snapshot of the diversity of microbes, their functions, and their potential economic benefits. Among other economic applications, microbes have been used for novel medicines, as biofuels, and to consume spilled oil. Organized and led by the European Union's MicroB3 organization, NOAA coordinated twelve sampling sites for Ocean Sampling Day 2014 within U.S. coastal waters.
"Small organisms make up the majority of the ocean's biomass and drive the cycles that sustain life on earth, but not until recently have we had the tools to reveal their diversity and function," said Kelly Goodwin, a microbiologist at AOML. "Ocean Sampling Day and future efforts in Genomic Observatories will employ state-of-the art 'omic technologies to uncover how the oceans are adapting to a multitude of stressors and how those changes translate up to ecosystem services – including seafood supply and healthy swimming waters and coastal habitats."
NOAA's Marine Microbes Working Group coordinated 12 sampling locations, part of more than 150 international sites, and supported cross-line NOAA efforts to include NOAA Research centers, including AOML, NOAA Fisheries centers, and NOAA's National Ocean Service Sanctuary locations (Grays Reef and Humpback Whale National Marine Sanctuaries). NOAA's Office of Ocean Exploration and Research coordinated the broader NOAA science and outreach/education aspects. Sampling sites are expected to be monitored long-term as part of the international ocean Genomic Observatories Network and the database will serve as a baseline, accessible to the research community, industry, policy makers and the public. The Smithsonian's Global Genome Initiative will archive samples.
AOML staff, with support from a cadre of summer interns, coordinated five locations in south Florida and in California. Sites included Port Everglades, Tennessee Reef offshore of Long Key in the Florida Keys National Marine Sanctuary, and near the mouth of Tampa Bay at Fort DeSoto in Saint Petersburg. AOML collaborators from the University of Southern Mississippi conducted sampling at Horn Island offshore of the Mississippi Coast. AOML scientists also coordinated the sampling the OSD site at the Scripps Institute Pier in La Jolla, California.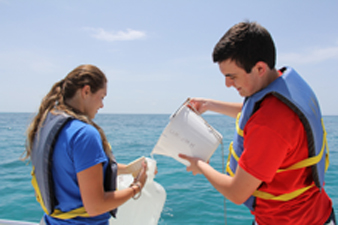 Citizen Scientists all over the world also collected environmental data (water and air temperature, salinity, oxygen, etc.) to support the microbial sampling collected globally on the summer solstice. In La Jolla, CA, one of AOML's remote employees worked with a local scout troop to guide them in collecting similar environmental data. These local efforts were designed to raise general awareness about Ocean Sampling Day.