AOML researchers have entered into a collaborative agreement with Reef Check Foundation to deploy an AOML-designed temperature sensor at coral reef sites around the world. Measuring only six inches in height, the inexpensive, highly-accurate sensors will greatly enhance efforts to more precisely monitor small-scale temperature fluctuations that occur at reefs over time and at various depths.
The partnership between NOAA and Reef Check Foundation, an international organization dedicated to preserving coral reefs, has been dubbed the Opuhala Project in honor of the Hawaiian goddess of corals and spiny creatures. As part of this joint endeavor, NOAA will supply the sensors and Reef Check Foundation will coordinate their deployment. The Opuhala Project brings together divers, scientists, managers, and conservationists from around the globe to create a community of practice that can learn from their shared experiences.
Throughout 2019, teams of volunteer Reef Check Foundation divers are expected to deploy and maintain more than 400 of the sensors at 95 selected reef sites throughout the Caribbean Sea, Atlantic Ocean, and Indo-Pacific at three depths and at three different types of reefs, i.e., fringing, barrier, and atolls. The sensors will remain in place for up to four months, collecting hourly measurements to help scientists track changes in ocean temperatures over time.
Each sensor costs approximately $9 to build, collects accurate temperature measurements to ±0.05-0.1°Celsius, is powered by two AA batteries, and can be built by anyone who knows how to solder. Other "off-the-shelf" sensors can cost $130, not including the software or data reader which need to be purchased separately and only yields temperature measurements with ±0.2°C of accuracy. Coral researchers at AOML tested the sensors for more than a year at reef sites in south Florida in water depths as great as 75 feet.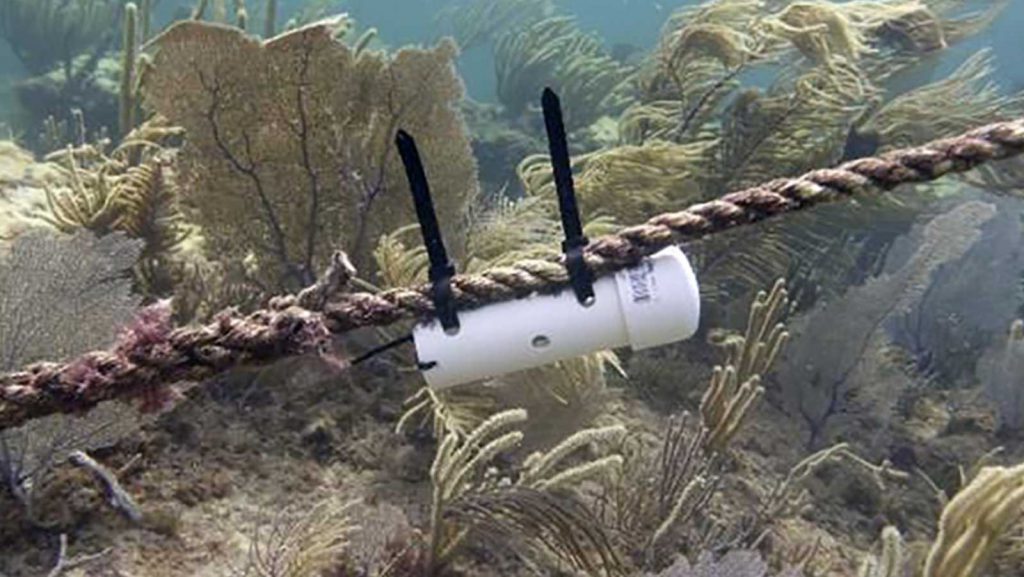 The sensor was designed by University of Miami and AOML scientists to better understand the bleaching dynamics that occur at reefs sites. Data from the sensors will help AOML scientists better understand why some coral species undergo bleaching while other species are more resilient. Coral bleaching occurs when the colorful algae that live in coral limestone are ejected due to stressors such as prolonged exposure to warm ocean temperatures.
Scientists and marine environmental managers currently rely on satellite-derived sea surface temperature measurements from polar-orbiting satellites to predict regional and/or global scale incidences of coral bleaching. However, these measurements are often not representative of the actual water temperatures that occur at deeper depths where corals reside.
The expanded number of global observations from the new sensors will help fine-tune satellite algorithms to better predict sea temperatures under the conditions and locations of where the sensors are deployed. Data from the sensors will also be combined with other in situ coral observations to derive more accurate temperature thresholds for coral bleaching, enabling scientists to better understand the physiological dynamics of this phenomenon and other biological events.
Data from the sensors will be jointly shared with both Reef Check Foundation and NOAA, as well as uploaded to NOAA's CHAMP website using specialized software developed at AOML.