On February 24, researchers with NOAA's Atlantic Oceanographic and Meteorological Laboratory returned to land, docking in Key West after nearly six weeks aboard the NOAA ship Ronald H. Brown. The scientists were at sea for the PIRATA (Prediction and Research Moored Array in the Tropical Atlantic) Northeast Extension (PNE) cruise, a joint effort between AOML and NOAA's Pacific Marine Environmental Laboratory to maintain an expansion of the PIRATA array of surface moorings into the northern and northeastern sectors of the tropical Atlantic. This project is funded through the Global Ocean Monitoring and Observation program.
PIRATA consists of 18 open-ocean moorings and is a collaborative effort between Brazil, France, and the United States to study and improve predictability of ocean-atmosphere interactions that affect regional weather and climate variability on seasonal, inter­annual, and longer time scales. The PNE project has accomplished a research cruise nearly each year since 2006.
The effort aboard the ship was led by AOML oceanographer Greg Foltz, PhD, as Chief Scientist. Diego Ugaz, an University of Miami Cooperative Institute technician, served as the Night Watch Leader. Diego recorded his time aboard the ship and provided a look into his daily life at sea.
During the 2021 PNE cruise, scientists recovered and re-deployed four PNE buoys, serviced a sensor on one French-maintained buoy, and deployed one replacement buoy for a lost Brazilian-maintained buoy. The buoys measure subsurface ocean temperature, salinity, and velocity and sea surface variables like wind direction and speed, air temperature, humidity, solar radiation, and rainfall.
In addition, scientists performed over 60 CTDs, which measure conductivity, temperature, and depth from the ocean's surface to 1500 meters below. These measurements yield a detailed profile of the properties of the water column, which can be used to support oceanographic and meteorological research. Additionally, 12 Argo floats were deployed to augment Argo's international oceanographic data collection program.
This was by far the longest and most remote cruise on a NOAA ship since the NOAA fleet was called home due to the COVID-19 pandemic. The four PNE buoys were scheduled for replacement in May-June 2020, but that cruise was canceled because of COVID-19. As a result, by the start of the cruise in January 2021, the buoys had been in the water 21-23 months, far beyond their expected lifetimes of 12-14 months and in desperate need of replacement.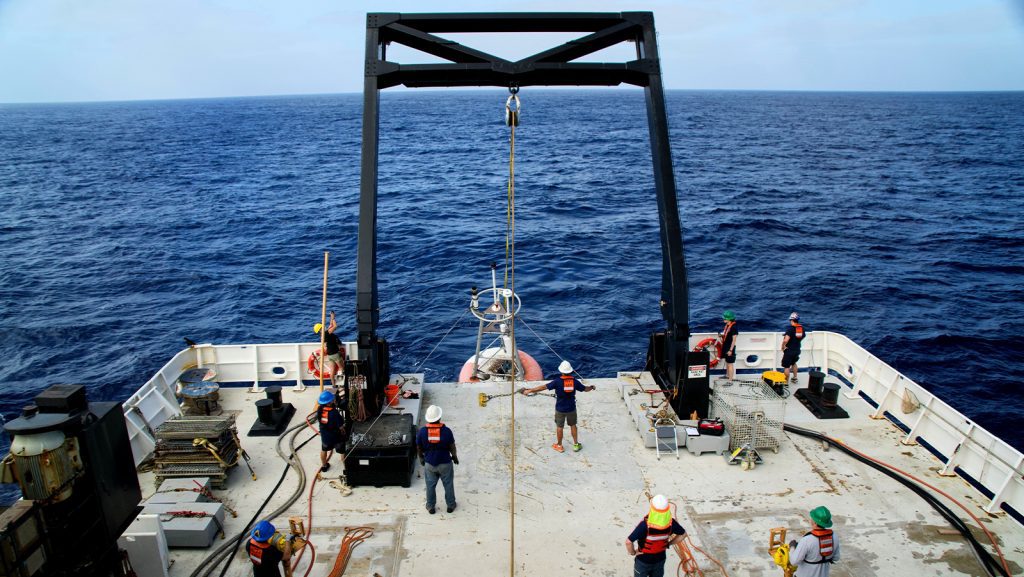 In addition to the AOML and PMEL teams, two other groups of scientists utilized the capabilities of NOAA Ship Ron Brown to complete research during the 2021 PNE cruise.
A group from Virginia Union University measured vertically-integrated atmospheric aerosol loads and near-surface concentrations of carbon monoxide, sulfur dioxide, and ozone throughout the cruise. The data are in support of AEROSE (Aerosols and Ocean Science Expeditions), which has participated in PNE cruises since 2006. AEROSE measurements monitor African dust, smoke emission, transport, their impacts on the environment and provide crucial in-situ calibration and validation of satellite data.
A new addition to the PNE cruise this year was Fearless Fund, a nonprofit organization supported by the US Department of Energy, in conjunction with NOAA, to produce macroalgae at an energy (or carbon dioxide removal) scale. You can read more about this effort and collaboration here.
NOAA Ship Ron Brown returned to Key West, FL. at the end of February after spending 41 days at sea. This successful mission will ensure that the PNE buoys continue to effectively and accurately collect data to contribute to a multinational collaborative effort to better understand ocean-atmosphere variability in the tropical Atlantic region.