Meet NOAA AOML's Administrative Officer, Dalynne Julmiste
In honor of Women's History Month, NOAA's Atlantic Oceanographic and Meteorological Laboratory (AOML) spoke with our Administrative Officer, Dalynne Julmiste, about her leadership role at AOML and the advice she has for women just starting out their careers.
As Administrative Officer, Dalynne works alongside the Director, Deputy Director and Divisional Leadership to execute the mission of AOML. This routinely involves personnel management, acquisition management, fiscal resource management and Cooperative Institute management. The work routinely involves building networks that include federal, public and private sector professionals allowing for comprehensive execution of AOML operational missions. Dalynne has been with AOML since April 2014.
Q: What drew you to your current career?
A: Seemingly, my career chose me. Since high school I have worked in local government in the administrative area. At 17, I held an internship position with the city's utility department as an administrative assistant. Others aware of my innate ability in administration and organization often referred me to positions working with local political officials and high-end financial firms.
I am naturally excited at the application of law to resolve issues, and the capacity to use the same regulation to change it if need be.
Q: What projects are you working on now that you are excited about?
A: My biggest endeavor at the moment is the reorganization to a centralized administrative structure at AOML. This work is very challenging to myself, the organization, and the staff intimately involved. Embarking on this transition during the height of the pandemic compounded the challenge and required me to tap into my administrative wheel house for skills I had not sharpened in a few years. There is extensive work involved, but I look forward to the reward of a highly functioning administrative team filled with peer support, growth, and development opportunities.
Q: What do you want people to know about your work within NOAA? How does your work contribute to the broader mission?
A: A large part of my federal career has been the impact I have made in the area of Diversity and Inclusion. In more than one position for which I was selected, I was the first minority woman to hold the position. As expected with any first, there were challenges and cultures that had to be confronted and closely examined for evaluation.
Q: What do you enjoy most about your work?
A: I enjoy working on public interests. Helping to restore our oceans and our ecosystem makes me very proud.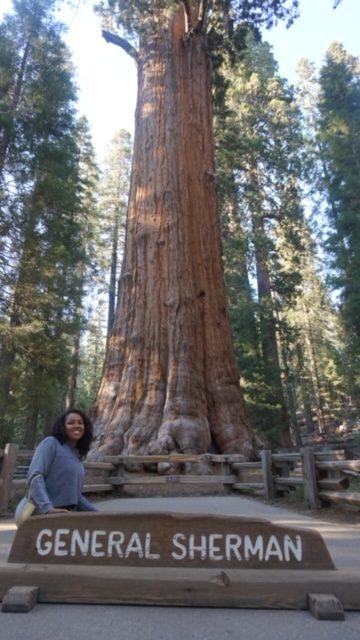 Q: What challenges have you faced as a woman in your career and how have you overcome them?
A: I find myself facing a number of challenges as a minority, foreign-born woman in the federal government. I do not feel they are unique to me, although I find that they can be compounded and can create an inflation of the challenge when it is present. I hope that allyship in the workplace grows, and colleagues take the time to truly explore their coworkers' challenges to better appreciate how they can aid and enhance their organizations. As I have grown in my career, I am more aware of the lack of diversity and the potential resistance I may face in these arenas.
Q: Do you have a favorite moment or accomplishment?
A: I hosted a disability awareness event in 2015 for a group of high functioning high school students with disabilities. They had the opportunity to tour the building, perform scientific experiments, and speak with scientists at AOML.
Q: What gives you hope?
A: I look forward to making the workplace better for those who come after me.
Q: Looking back, what would you tell yourself when you were 12 years old? Any advice you would give to a woman starting in her career?
A: I would definitely encourage 12 year old me to be more explorative and reach as far out of my comfort zone as possible. Going under the radar and playing safe seemed like the right thing to do back then. Now I realize that was the perfect opportunity to explore, make mistakes, and rebound better with a lot more experience and a better way forward.