January 12, 2020, NOAA's Tropical Atlantic Current Observation Study (TACOS) will reach a milestone: the 25,000th hourly upper-ocean velocity profile will be collected in the tropical North Atlantic Ocean.
TACOS has added 10 acoustic current meters to the Prediction and Research Moored Array in the Tropical Atlantic (PIRATA) buoy, moored at 4N, 23W. Profile measurements are taken every 1-10 minutes, depending on depth. Prior to the addition of the TACOS upper ocean observations in March 6, 2017 velocity profiles were only collected at this location during shipboard surveys. These measurements are important because ocean currents influence temperature, salinity, and air-sea fluxes in the tropical North Atlantic, which affect weather, climate, and fisheries of the surrounding continents.
TACOS will next be deployed at the 20N, 38W PIRATA mooring in the Atlantic hurricane development region. The real-time data collected from these observations will give insight to scientists regarding sea surface temperatures, which can be used to improve understanding and prediction of hurricane intensification. TACOS will also help informalities future augmentations to the tropical Atlantic observing system.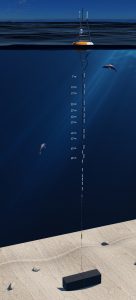 TACOS is led by NOAA AOML scientists in collaboration with NOAA PMEL and NOAA OOMD, and the multinational PIRATA program.