NOAA is turning 50! The federal science agency that provides daily weather forecasts, severe storm warnings, fisheries management, and coastal restoration, is celebrating by opening its doors to the south Florida community with a free open house on April 25th, 2020 from 10:00 a.m to 3:00 p.m. What better way to celebrate Earth Day than seeing science in action with friends and family!
The open house will be a fully interactive experience, rotating throughout the two NOAA facilities on Virginia Key, the Southeast Fisheries Science Center and the Atlantic Oceanographic and Meteorological Laboratory. Visitors will also get the chance to tour the University of Miami Rosenstiel School's Fish Hatchery, engage in the MAST Academy mobile outreach programs, visit educators from the Miami Seaquarium, and speak with NOAA weather forecasters during the open house.
Science topics will include hurricane research, oceanography, local fisheries, coral ecosystems, and endangered species research. Please join us as we celebrate NOAA's 50th anniversary, with scientists on-hand to share their passion for research and answer your questions.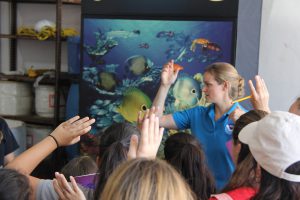 For more information on the 2020 NOAA Open House please visit our Outreach and Education page or read about previous years open house's here!