Meetings
09/01/2012 - 10/31/2012
AOML Contribution to the 2012 U.S. AMOC Meeting
Several AOML and CIMAS scientists participated in the annual U.S. Atlantic Meridional Overturning Circulation (AMOC) held in Boulder, Colorado on August 15-17, 2012. The U.S. AMOC meeting brought together approximately 90 U.S. and international scientists to discuss advances in understanding the state, variability, and predictability of the AMOC from observational and numerical modeling perspectives.
Full story
01/20/2011 - 08/01/2011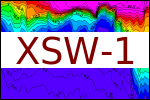 First XBT Science Workshop (XSW-1):
Building a Multi-Decadal Upper Ocean Temperature Record
Physical Oceanographers Molly Baringer and Gustavo Goni, together with scientists from CSIRO in Australia are organizing the First International XBT Science Workshop (XSW-1) in Melbourne, Australia, July 7-8, 2011.
Full story
Research Highlights