Biogeochemical Argo Program
Using ocean robots to observe biology, chemistry, and physics of the ocean
The Biogeochemical-Argo (BGC-Argo) research mission is built on the backbone of the long-standing Argo ocean observing program, which has been centered on deploying autonomous ocean profiling floats that measure temperature and salinity in the open ocean (0-2000 m water depth) to study physical oceanography over the last two decades. Ocean engineers have built out the capacity of core Argo float models to allow them to carry a suite of additional sensors allowing these floats to observe ocean physics, biology, and chemistry simultaneously. The One Argo vision projects that of the 4,000 Argo floats deployed in the ocean, that one quarter of them will be BGC-Argo floats in the future to allow for the first ever in situ, water column view of ocean biogeochemistry on a global scale.
Biogeochemical Argo floats are capable of measuring up to six biogeochemical variables (oxygen, nitrate, pH, chlorophyll-a, irradiance, and particles, in addition to temperature and salinity) and provide data coverage within the upper 2000 m of the water column. Data from these sensors allow researchers to monitor important ocean biogeochemical processes such as patterns of global ocean deoxygenation, the progression of ocean acidification, and the dynamics of primary production that allow the oceans to draw down carbon dioxide. The GOM array will observe harmful algal blooms, seasonal hypoxia, and complex water mass interactions, including extensive freshwater input and the biogeochemical signatures of extreme weather events such as hurricanes.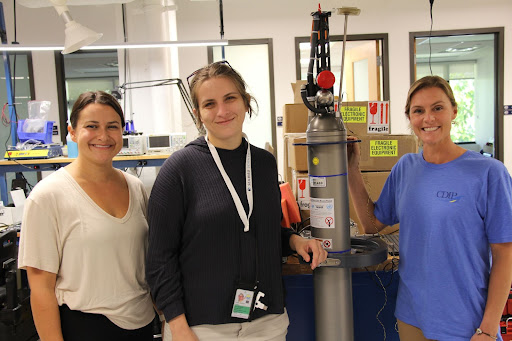 Research Impacts & Key Findings
What makes this work important?
Argo floats provide an unprecedented freely available quality-controlled dataset for climate change research and ocean monitoring. Argo floats are battery powered and operate autonomously for an average of 4-5 years after deployment, vastly increasing the spatial and temporal coverage of global open ocean observations, previously only delivered by ships. While ship-based observations remain critical to collecting the highest-quality ocean observations, autonomous technologies have alleviated our reliance on ships and their associated carbon emissions. Argo float data has the potential to be used to validate biogeochemical models and to serve as a data source for assimilation into ocean models on regional to global scales. Forecasts generated by these real-time, data informed models have the potential to serve marine resource managers of fisheries, protected species, and coral reef ecosystems as well as researchers, by providing environmental data to understand links with dynamics like distribution, recruitment, catch, and disease.
Explore The Sensors of a BGC Argo Float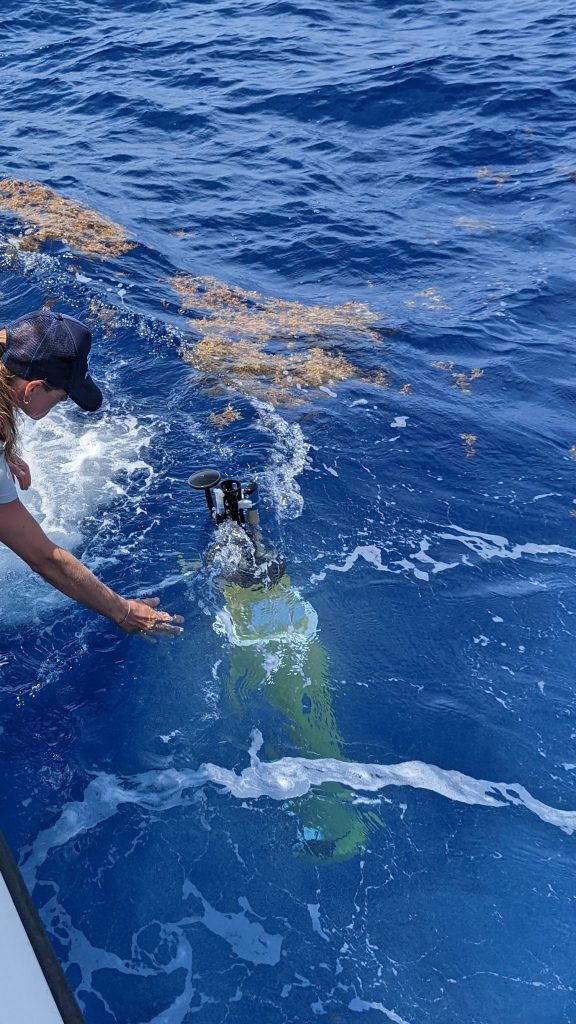 Tested the first AOML in-house tests of four new Apex BGC-Argo floats in August 2020
Launched four Apex BGC-Argo floats in the Gulf of Mexico in Fall of 2020
Recovered a drifting Apex BGC-Argo float near the shallow Florida Straits Region to re-deploy in the deep Gulf of Mexico in June 2021
Rapid cycled (12-hour cycles) two Apex BGC-Argo floats in the wake of Hurricane Ian that passed over the Gulf in October 2021
Hit 100 profiles for the Gulf of Mexico Array in October 2021
Feature Publication:
Roemmich, D., L. Talley, N. Zilberman, E. Osborne, K.S. Johnson, L. Barbero, H.C. Bittig, N. Briggs, A.J. Fassbender, G.C. Johnson, B.A. King, E. McDonagh, S. Purkey, S. Riser, T. Suga, Y. Takeshita, V. Thierry, and S. Wijffels. 2021. The technological, scientific, and sociological revolution of global subsurface ocean observing. Pp. 2–8 in Frontiers in Ocean Observing: Documenting Ecosystems, Understanding Environmental Changes, Forecasting Hazards. E.S. Kappel, S.K. Juniper, S. Seeyave, E. Smith, and M. Visbeck, eds, A Supplement to Oceanography 34(4), https://doi.org/10.5670/oceanog.2021.supplement.02-02.
BGC Argo Data Access and Visualization
All Argo data are distributed through the Argo Global Data Assembly Centers (Coriolis, USGODAE) in NetCDF format.
Argovis is a tool that allows new users to visualize basic float locations and data via API
EuroArgo Selection Tool allows users to click on individual floats or make regional selections in an interactive map space and to download selected data in csv, Argo netCDT, or Copernicus netCDF format. (Map components built with leaflet https://leafletjs.com/)
OceanOPS Dashboard allows users to visualize the current global ocean Argo arrays by mission, program, transmission system, sensor etc and generate performance maps.
Tutorials and scripts can be found on the getting started with GO-BGC page. Toolboxes are available in MATLAB, python, and R.