Who we are
The Physical Oceanography Division (PhOD) is a part of the Atlantic Oceanographic and Meteorological Laboratory (AOML) together with the Ocean Chemistry and Hurricane Research Divisions. The Physical Oceanography Division carries out interdisciplinary scientific investigations of the physics of ocean currents and water properties, and on the role of the ocean in climate, extreme weather events, and ecosystems. The tools used to carry out these studies range from sensors on deep ocean moorings to satellite-based instruments to measurements made on research and commercial shipping vessels and autonomous vehicles, and include data analysis and numerical modeling as well as theoretical approaches.
Major areas of research
Meso-to-large scale dynamics and variability of ocean currents;
The redistribution of heat, salt and momentum through the oceans;
The interactions between oceans, atmosphere, and coastal environments;
The influence of climate variability on the ocean ecosystems, hurricanes and tornadoes;
Videos
NOAA's Global Drifter Program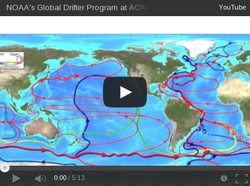 Research Highlight
A recent paper published in Nature Climate Change by PhOD researchers, in collaboration with researchers at the Ocean University of China and at the University of California, found a common pattern of global SST biases in 22 climate models. The global SST biases for different regions are commonly linked with a weak AMOC simulated by these models. The paper suggests that an improvement of the simulated AMOC in climate models is needed for better climate predictions and projections. Go>>
Recent publications
Mean vertical and horizontal structure of the subtropical circulation in the South Atlantic from three-dimensional observed velocity fields. [link]
Accuracy of Florida Current volume transport measurements at 27&degN using multiple observational techniques [pdf]
Basin-Wide Oceanographic Array Bridges the South Atlantic https://global.gotomeeting.com/meeting/join/523989589
Attribution of Deep Western Boundary Current variability at 26.5&degN [link]
Oceanographic conditions in the Gulf of Mexico in July 2010, during the Deepwater Horizon oil spill [pdf]
Do the North Atlantic winds drive the nonseasonal variability of the Arctic Ocean sea level? [link]
A global perspective on CMIP5 climate model biases [link]
Complete list of publications>>
News
Panel Discussion on the Future of Fort Lauderdale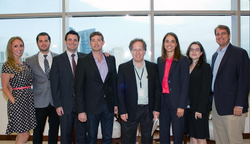 Dr. Renellys Perez, a CIMAS scientist working in PhOD, gave a presentation on "Sea Level Rise" during a panel discussion on "The Future of Fort Lauderdale: Protecting our Paradise against Rising Seas and Stronger Storms" to foster discussion on the impact of sea-level rise on the Ft. Lauderdale coastal community. Go>>
Physical Oceanography Seminars
Dr. Rick Lumpkin: Influence of nonstationary mean flow on Lagrangian diffusivity calculations - September 4, 2pm
Dr. George Halliwell: OSSE evaluation of Ocean Observation Strategies for Improving Coupled Hurricane Forecasts - September 16, 2pm
Joaquin Trinanes: OceanWatch and CoastWatch data and products - Sptember 22, 3pm
Dr. Libby Johns: title TBA - September 26, 3pm
Janet Sprintall: Climate Variability Observed in the Drake Passage - October 16, 10am
Dr. Claudia Schmid: title TBA - October 16, 2pm
Dr. Chunzai Wang: The AMO and AMOC in Climate Models: Variability, Mechanism and Impact - November 4, at 2pm
Dr. Molly Baringer: title TBA - November 18, 10am
All seminars are held at the AOML first floor conference room, unless otherwise stated.
A list of recent PhOD seminars can be found here.
Current Job Opportunities
Numerical Modeling, Ocean Analysis, and Forecasts

Programming - Argo Data Assembly Center

Climate, and Physical Oceanography

Ocean Dynamics, Hydrography, and Satellite data

Ocean Dynamics, Hydrography, and Numerical Models outputs
For questions regarding these CIMAS positions, please contact Gustavo Goni at (305) 361-4339.