Who we are
The Physical Oceanography Division (PhOD) is a part of the Atlantic Oceanographic and Meteorological Laboratory (AOML) together with the Ocean Chemistry and Hurricane Research Divisions. The Physical Oceanography Division carries out interdisciplinary scientific investigations of the physics of ocean currents and water properties, and on the role of the ocean in climate, extreme weather events, and ecosystems. The tools used to carry out these studies range from sensors on deep ocean moorings to satellite-based instruments to measurements made on research and commercial shipping vessels and autonomous vehicles, and include data analysis and numerical modeling as well as theoretical approaches.
Read here about ways in which divisional work and projects benefit society [pdf]
Major areas of research
Meso-to-large scale dynamics and variability of ocean currents;
The redistribution of heat, salt and momentum through the oceans;
The interactions between oceans, atmosphere, and coastal environments;
The influence of climate variability on the ocean ecosystems, hurricanes and tornadoes;
Videos
NOAA's ARGO Float Program at AOML
Research Highlight
Pathways and hydrography in the Mesoamerican Barrier Reef System
The results of two oceanographic cruises conducted in the Mexican and Belizean shelf waters over the Mesoamerican Barrier Reef during 2006 and 2007 show that the circulation can be divided into two distinct regimes: a northern region dominated by the strong, northward-flowing Yucatan Current, and a southern region with weaker southward coastal currents and the presence of the Honduras Gyre. Go>>
Recent publications
Complete list of publications>>
News
Welcome Aboard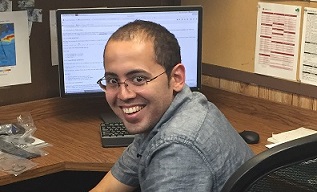 Patrick Halsall has started as a new CIMAS Research Associate employee in PhOD.Go>>
Physical Oceanography Seminars
Dr. Matthieu LeHenaff - Tuesaday, Sepetember 29 at 3pm - "Mississippi waters reaching South Florida reefs under no flood conditions: synthesis of observing nd modeling system findings".

Please join https://global.gotomeeting. com/join/580413389

Dr. Sudip Majumder - Tuesday, Ocober 27 at 3pm - "An Observation and Model Based Analysis of Meridional Transports in the South Atlantic".

Please join https://global.gotomeeting. com/join/364277717

Dr. Chunza Wang - Tuesday, November 10 at 11am - title TBA

Dr. George Halliwell - Monday, November 16 at 3pm - title TBA

All seminars are held at the AOML first floor conference room, unless otherwise stated.
A list of recent PhOD seminars can be found here.
Current Job Opportunities
For questions regarding these CIMAS positions, please contact Gustavo Goni at (305) 361-4339.