Who we are
The Physical Oceanography Division (PhOD) is a part of the Atlantic Oceanographic and Meteorological Laboratory (AOML) together with the Ocean Chemistry and Hurricane Research Divisions. The Physical Oceanography Division carries out interdisciplinary scientific investigations of the physics of ocean currents and water properties, and on the role of the ocean in climate, extreme weather events, and ecosystems. The tools used to carry out these studies range from sensors on deep ocean moorings to satellite-based instruments to measurements made on research and commercial shipping vessels and autonomous vehicles, and include data analysis and numerical modeling as well as theoretical approaches.
Read here about ways in which divisional work and projects benefit society [pdf]
Major areas of research
Meso-to-large scale dynamics and variability of ocean currents;
The redistribution of heat, salt and momentum through the oceans;
The interactions between oceans, atmosphere, and coastal environments;
The influence of climate variability on the ocean ecosystems, hurricanes and tornadoes;
Videos
NOAA's ARGO Float Program at AOML
Research Highlight
Global Characteristics of Coherent Vortices from Surface Drifter Trajectories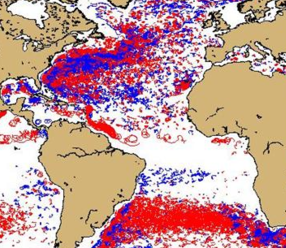 In a recent study by Lumpkin (2016) looping trajectories of surface drifting buoys were extracted from the global drifter dataset and analyzed in order to examine the distribution of submesoscale to mesoscale vortices. Over 15,000 looping trajectory segments were identified worldwide. Go>>
Recent publications
Complete list of publications>>
News
AOML scientists lead and participate in workshop on South Atlantic circulation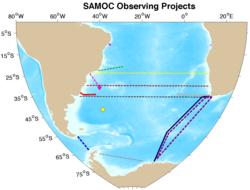 Drs. Christopher Meinen and Renellys Perez of AOML's Physical Oceanography Division led a one-day workshop for the international South Atlantic Meridional Overturning Circulation ("SAMOC") initiative on February 21, 2016 in New Orleans, LA. Full Story>>
Physical Oceanography Seminars
Marlos Goes, July 19 at 2:00PM (EST), title TBA.
Sang-Ki Lee, August 10 at 10:00AM (EST), title TBA.
Claudia Schmid, August 16 at 3:00PM (EST), title TBA.
Gregory Foltz, September 8 at 2:00PM (EST), title TBA.
George Halliwell, September 13 at 2:00PM (EST), title TBA.
Silvia Garzoli, October 4 at 11:00AM (EST), title TBA.
Fabian Gomez, October 10 at 10:00AM (EST), title TBA.
Nathan Putman, October 13 at 3:00PM (EST), title TBA.
Yanyun Liu, October 27 at 3:00PM (EST), title TBA.
Matthieu Le Henaff, November 3 at 2:00PM (EST), title TBA.
Shenfu Dong, November 11 at 3:00PM (EST), title TBA.
Libby Johns, November 17 at 2:00PM (EST), title TBA.
Current Job Opportunities
For questions regarding these CIMAS positions, please contact Gustavo Goni at (305) 361-4339.