Environmental Microbiology
Christopher D. Sinigalliano, Kelly D. Goodwin, Maribeth L. Gidley
The Environmental Microbiology Program at AOML is a highly collaborative multi-disciplinary research program which investigates the distribution, physiology, ecology, community structure, and function of microorganisms in the coastal and oceanic environment, and studies the interactions of these microbial communities with marine ecosystems and with humans.

Microbes help control the flow of energy and matter on the planet. They cycle nutrients, decompose pollutants, control the composition of the atmosphere, and produce bio-active compounds important to a wide variety of medicines and commercial products. Microbes also degrade water quality and cause infections in humans, protected species, and critical habitats, such as coral.
Research Focus
The AOML Environmental Microbiology Laboratory uses traditional microbiology and cutting-edge molecular techniques for a variety of projects, with a focus on coastal water quality and the microbiological inter-relationships between ecosystem health and human health. Applications of work include:
Provide new understanding of biodiversity to aid exploration and stewardship
Improve evaluation of baseline and changed ecosystem function
Help stakeholders manage and mitigate contamination issues to protect health and economies
Develop and validate new methods and technologies to improve current capabilities
Provide research mentorship and training to the next generation of the nation's environmental research workforce.
Dr. Sinigalliano shows hemolysis activity by pathogenic Staphylococcus on a blood agar plate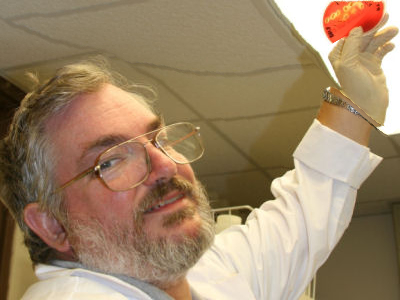 Dr. Goodwin collects necropsy tissue samples from dead dolphin to test for MRSA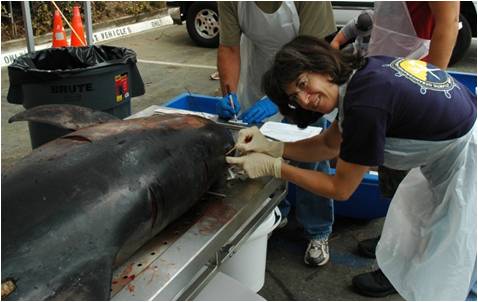 Dr. Gidley presents on microbial contaminants in beach sand at the National Beach Conference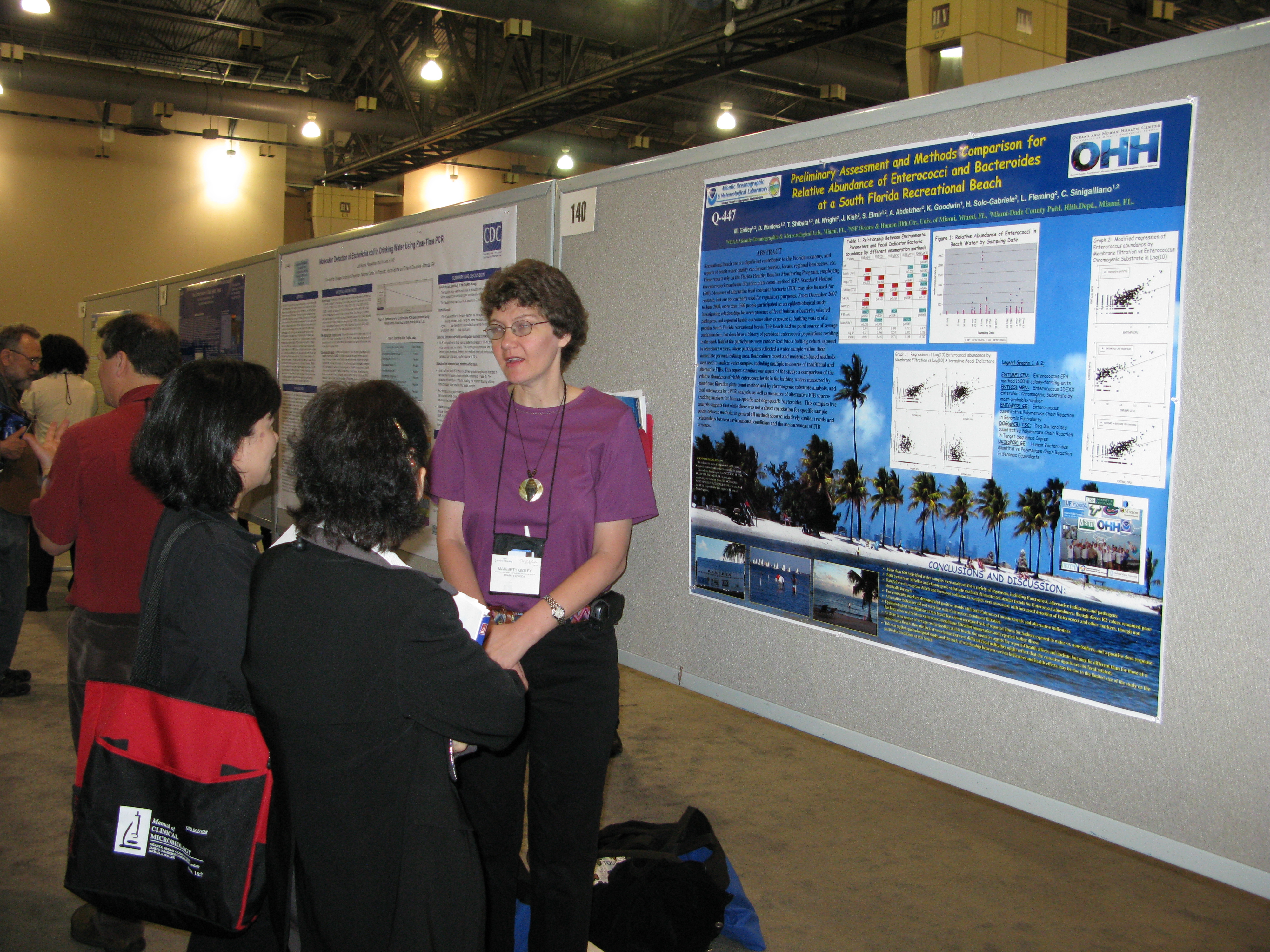 Dr. Gidley and OHH students collect water quality samples from the Everglades Shark River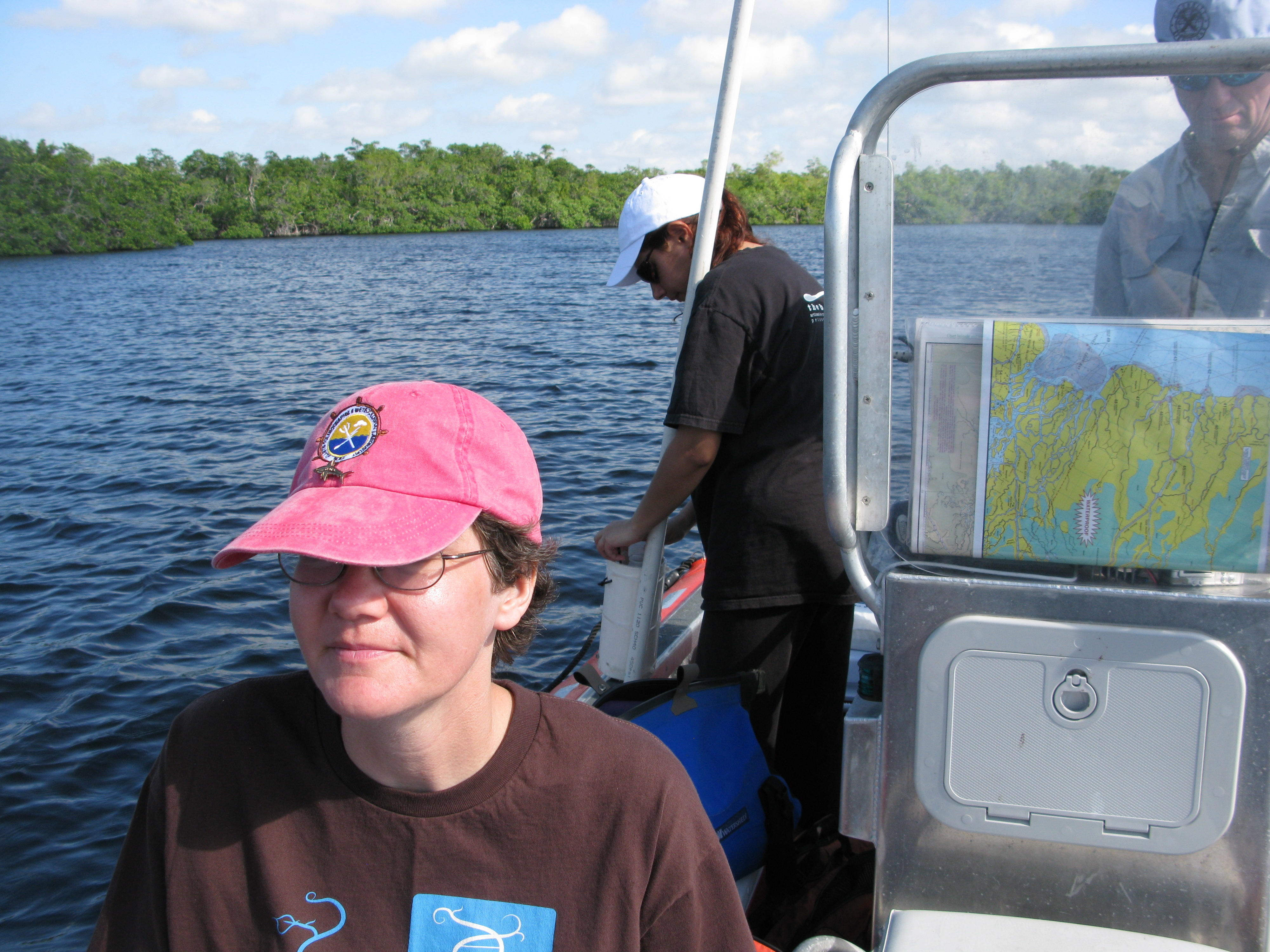 NOAA Hollings Scholar Frank Johnson sets up quantitative PCR reactions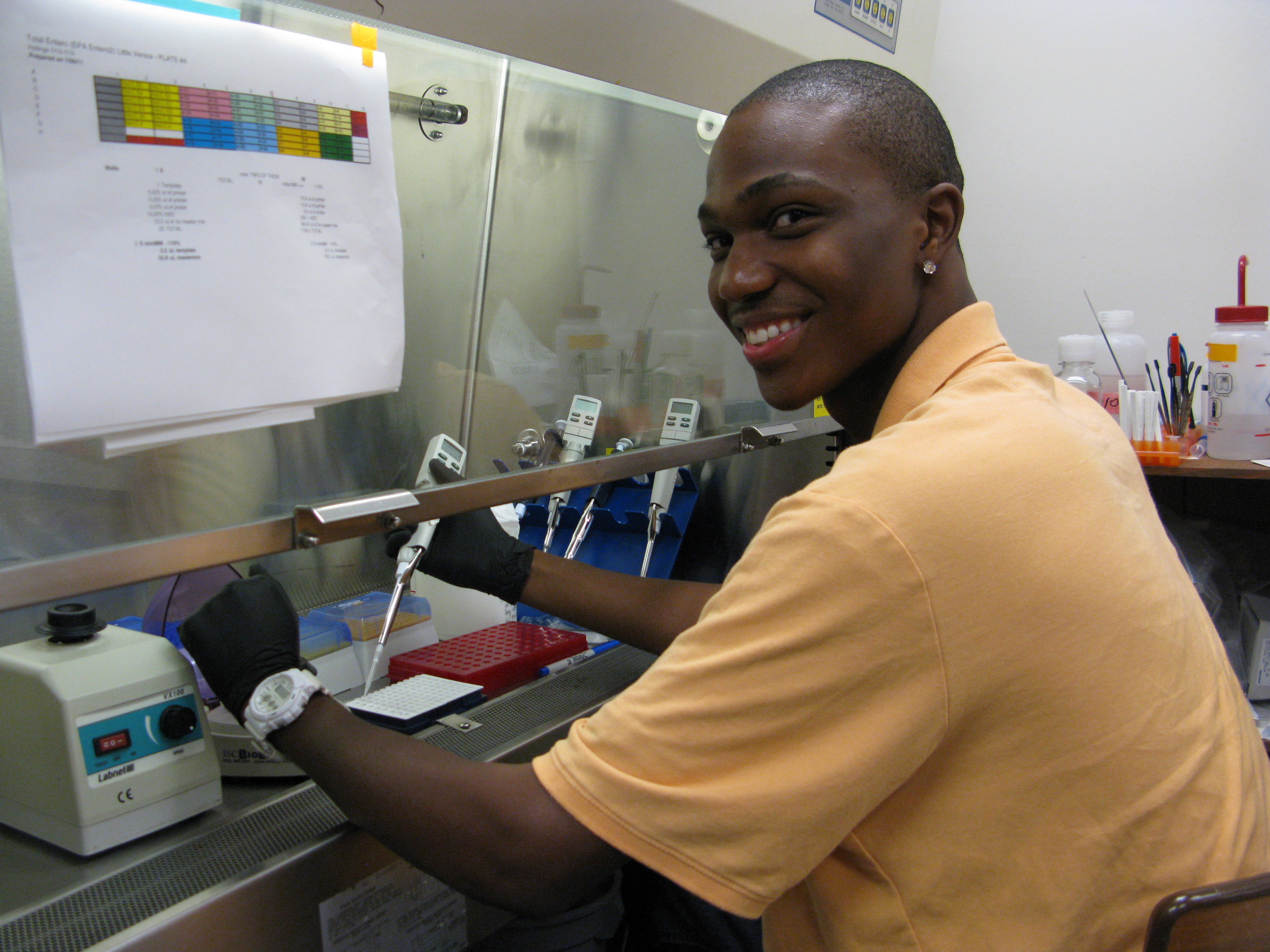 AOML Environmental Microbiology Program wins the 2012 NOAA Technology Transfer Award for their work on Molecular Microbial Source Tracking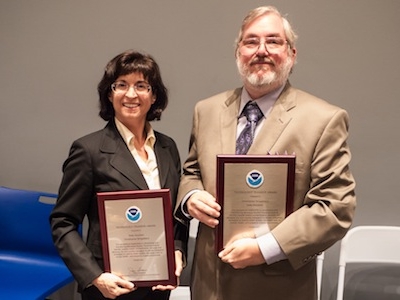 Quantitative PCR data curves for dog fecal contamination assay developed by AOML

AOML summer intern students set autosampler to test microbial water quality in the Florida Keys residential canals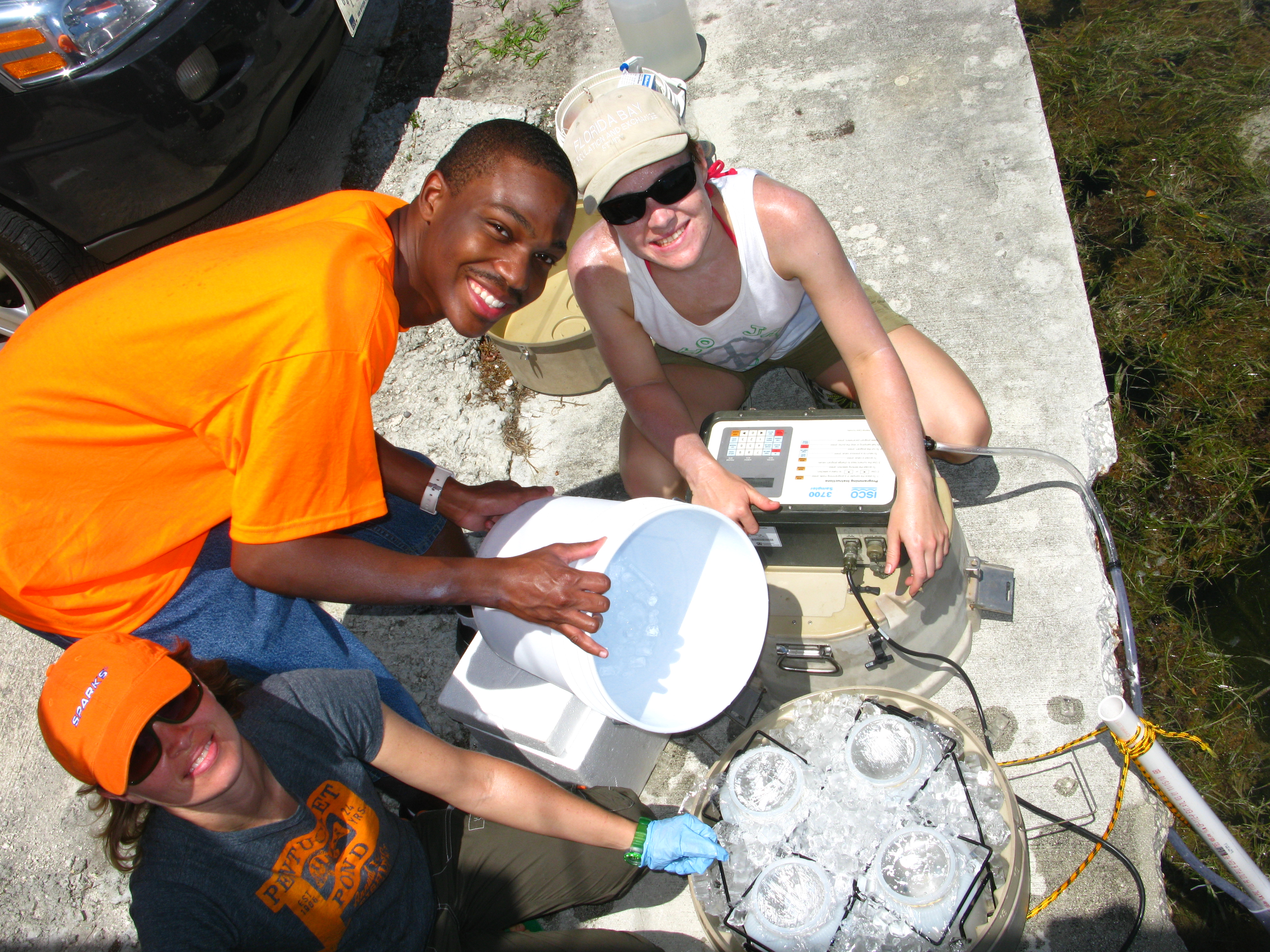 Zoonotic Transfer study tests marine mammal rehabilitation workers by nasal swabs for potential colonization by MRSA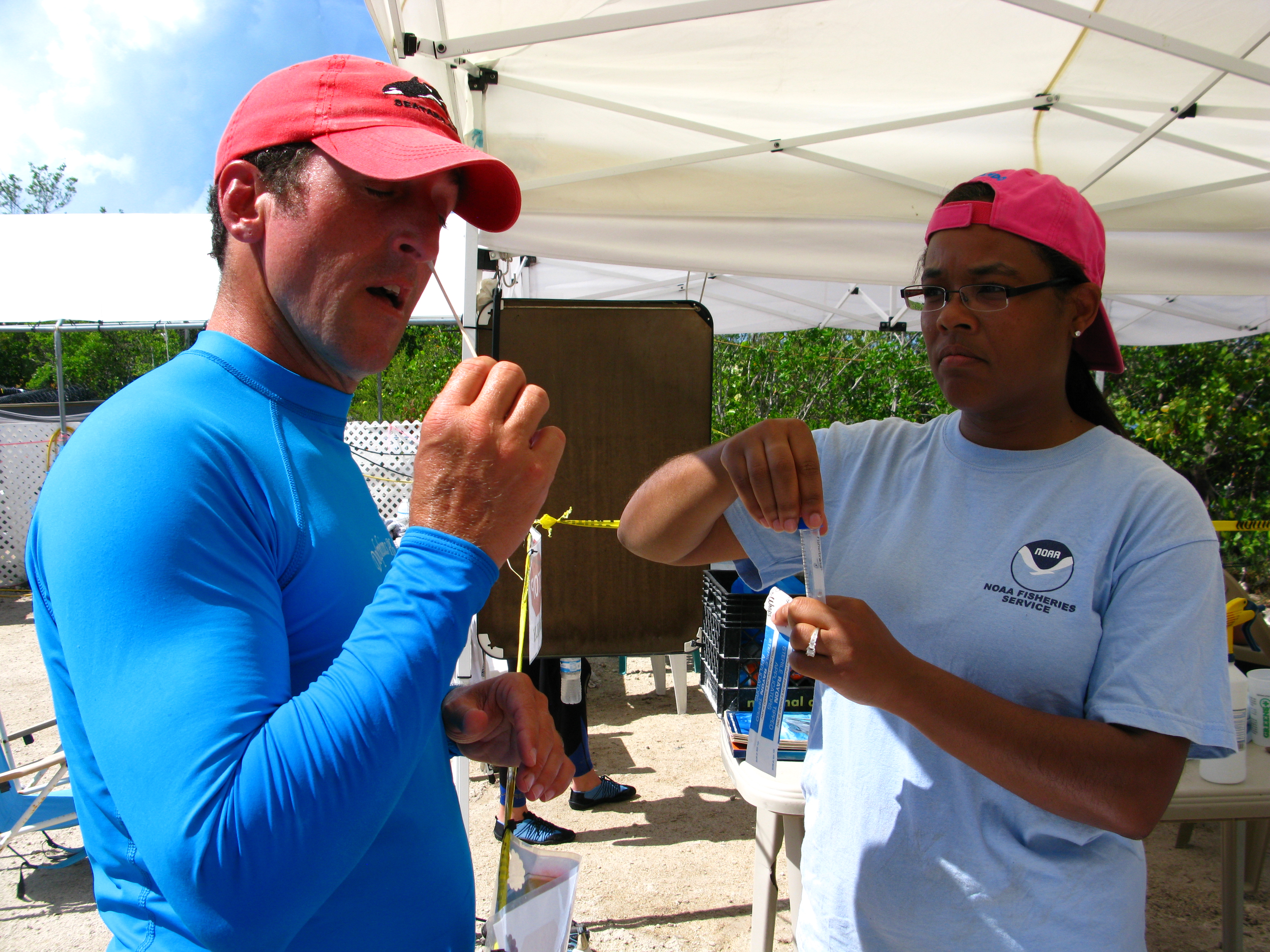 AOML technician Dave Wanless teaches visiting scientists how to set up qPCR samples for microbial source tracking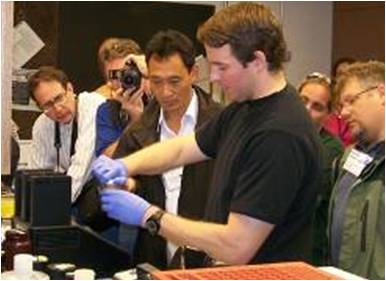 AOML collaborates on the development and optimization of the ESP Environmental Sensor Platform for automated in-situ genetic testing of microbial water quality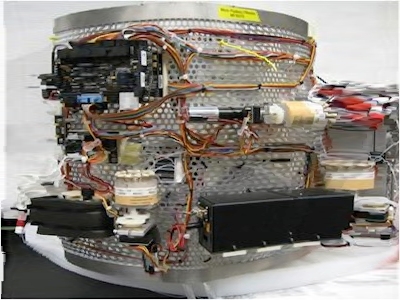 High School Student Intern Sarah Greenhaus filtering samples aboard research vessel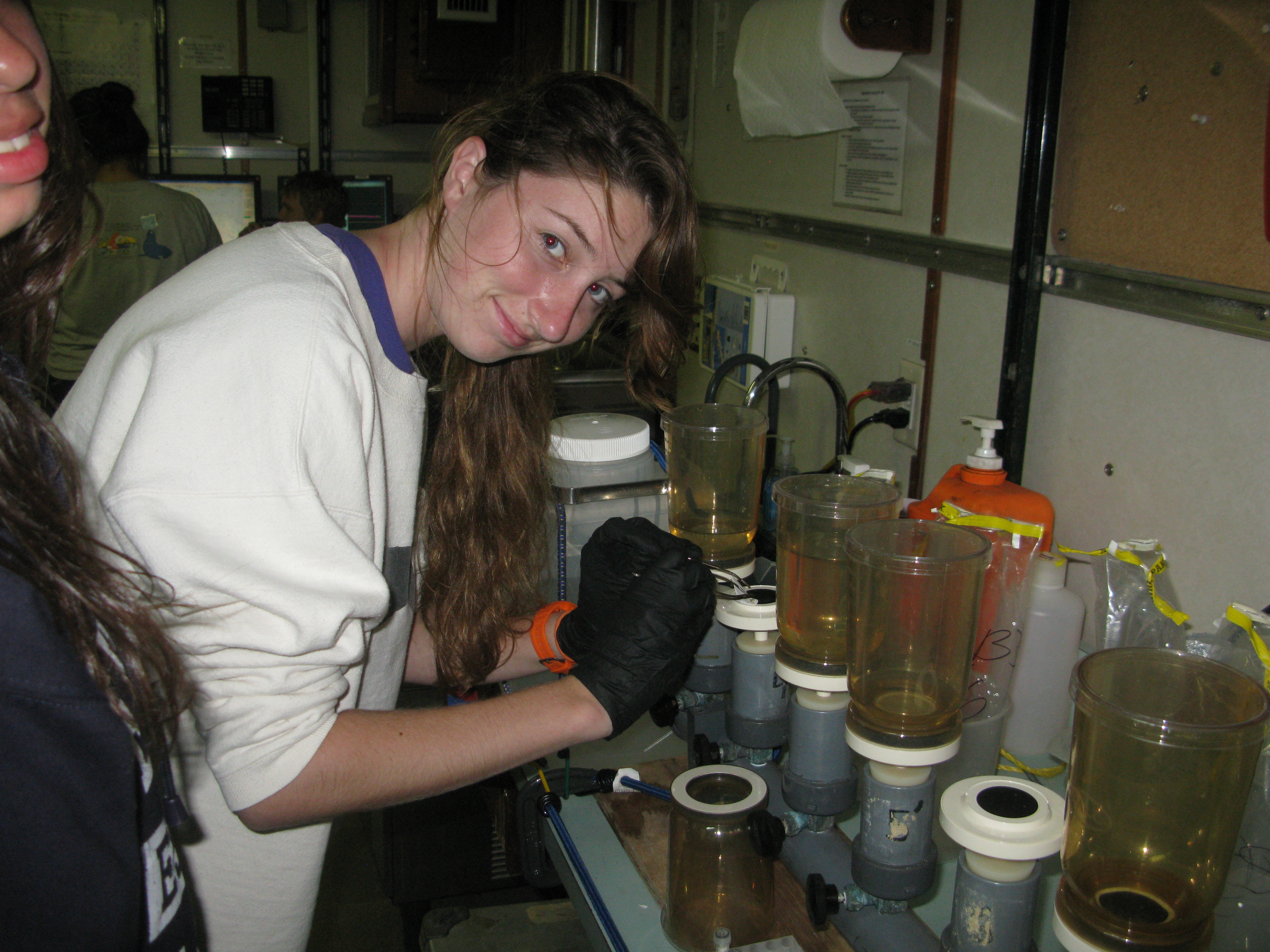 High School Student Intern Aditya Shetty loads samples into real-time qPCR instrument to test seaweed sample for microbial source tracking markers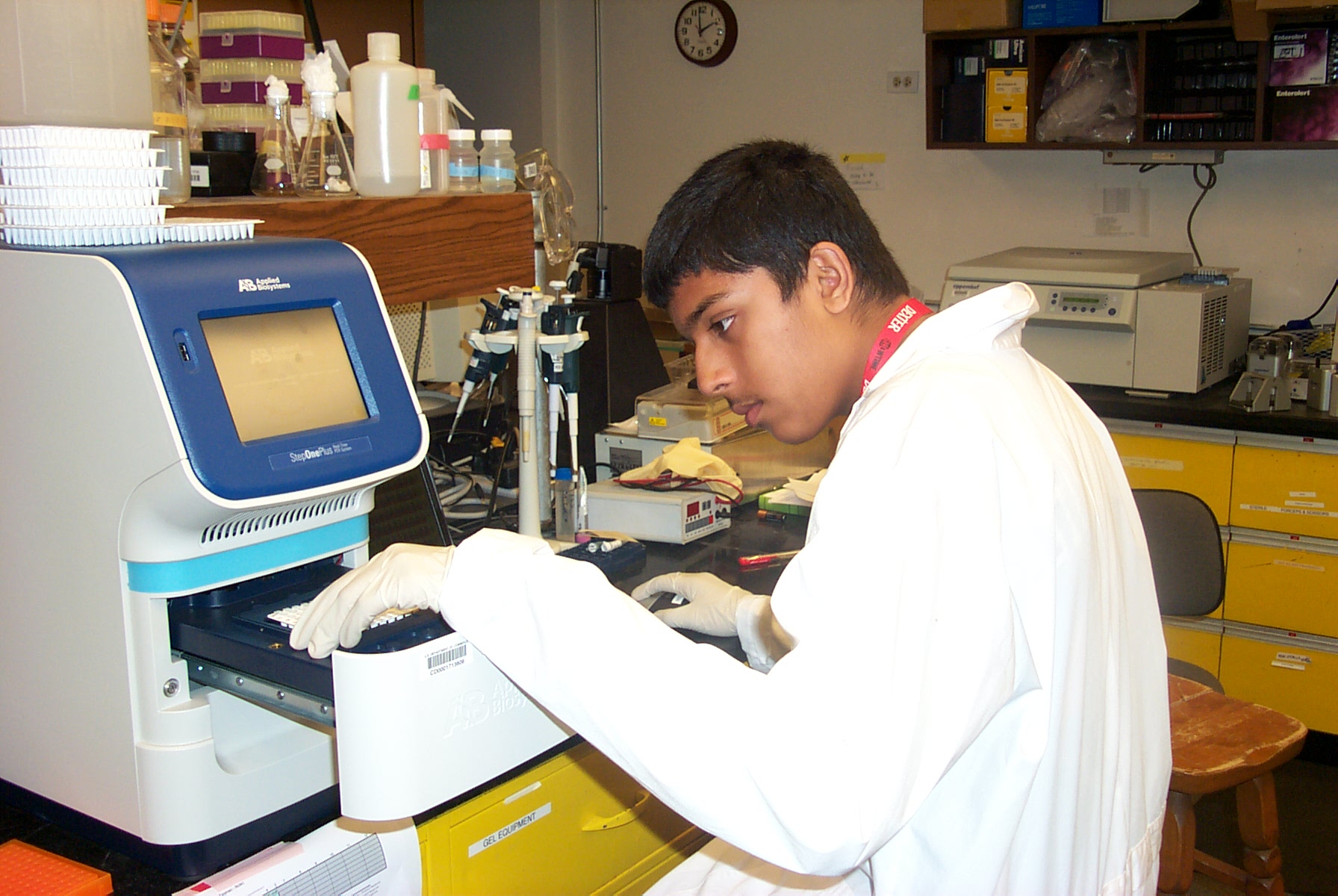 The real-time qPCR instrument at AOML for molecular microbial source tracking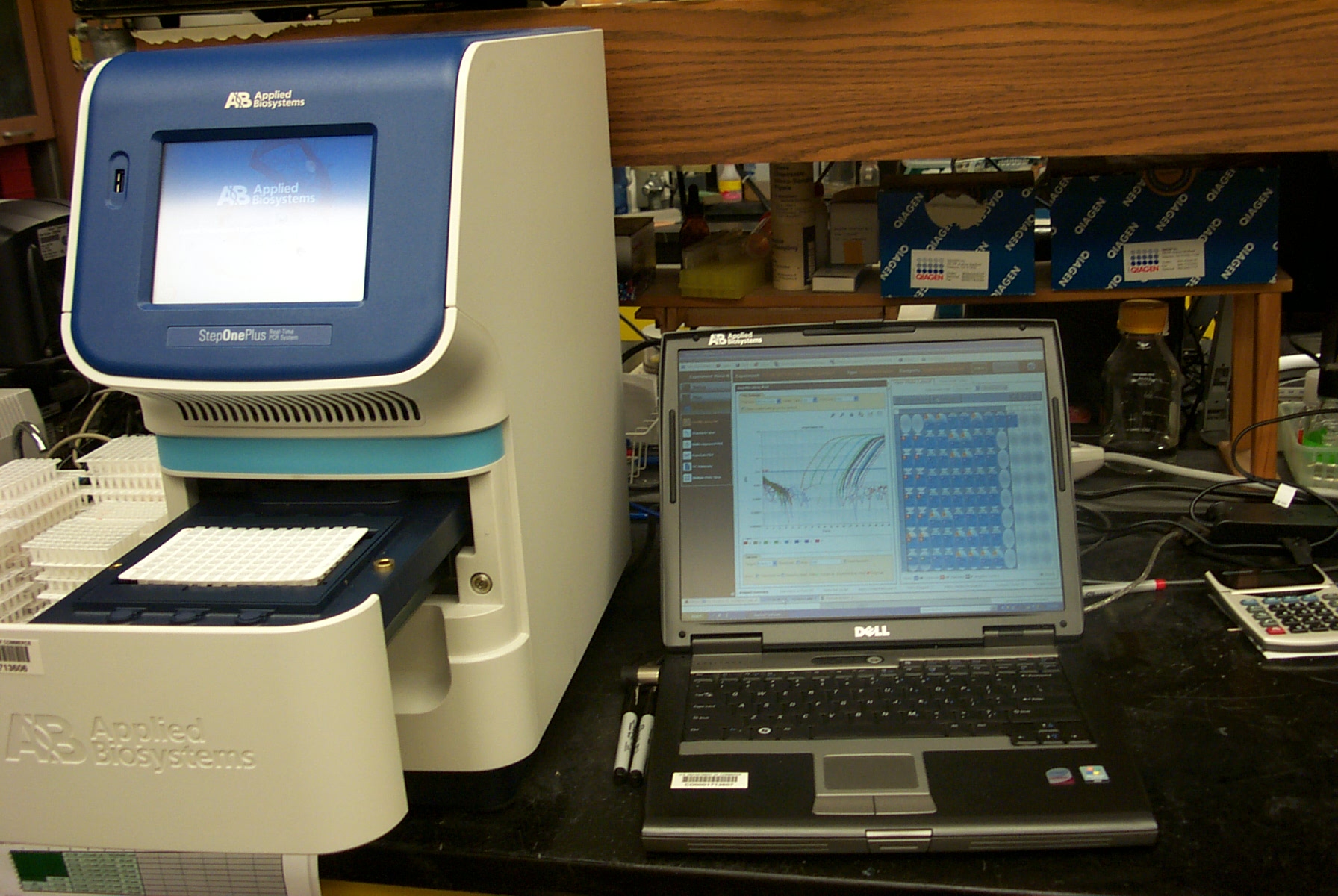 NOAA-Smith College Intern, WeI Xin working at Cabrillo Beach in Los Angeles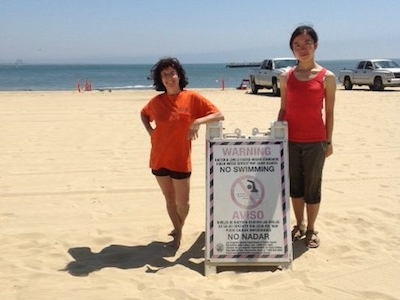 Dr. Goodwin sampling a sewage overflow
The research activities of the Environmental Microbiology Program help address the NOAA mission goal of Healthy Oceans and Resilient Coastal Communities and Economies by improving the capability to measure and understand the sources of degradation in coastal ecosystems and their impact on ecosystem health and resilience including the relationship of the oceans to human health. This work also enhances and increases the incorporation of science into ecosystem restoration and ecosystem-based management decisions
Activities and Projects:
NOAA Partners Join CalCOFI to Examine the Potential of 'Omics Research. AOML researcher Dr. Kelly Goodwin has teamed with colleagues at the J.C. Venter Institute and Scripps Institution of Oceanography to integrate modern, genome-based technologies ('omics) into the 65-year-old California Cooperative Oceanic Fisheries Investigations (CalCOFI) program. CalCOFI is a multi-partner, long-term ecosystem and fisheries study off the coast of California. Click one of the following links to learn more about this project: Web Page. or PDF.
The Development, Testing, and Validation of Molecular Microbiology Methods for Beach and Water Quality Monitoring. AOML is at the forefront in the development and testing of cutting edge molecular technologies for the detection and enumeration of microbial contaminants in the marine environment, including development and optimization of molecular extraction and processing controls for beach, sediment, coastal, and oceanic samples, molecular microbial source tracking methods, and development and testing of molecular biosensors for portable and autonomous monitoring of microbial water quality. We provide a wide variety of field trials and test-beds for new technologies developed by NOAA and by other partner agencies such as the EPA, as well as by collaborating academic institutions. With our wide array of collaborative partners, the Environmental Microbiology Lab also participates in a variety of large-scale multi-laboratory validation testing for such new molecular technologies in marine microbiology.
Microbial Beach and Coastal Water Quality Surveys provides environmental assessments on the presence, abundance, and impacts of microbial contaminants in the marine environment. This work utilizes both traditional and new molecular technologies to enhance environmental quality assessments for a variety of studies. This includes the Florida Area Coastal Environment Program (FACE) to assess environmental impacts from microbial contaminants into critical coastal areas, research on the presence and persistence of fecal bacteria and other microbial contaminants in environmental reservoirs such as beach sand and marine debris, research on the impacts of hurricanes and storm surge on water quality and the microbial landscape, regional beach surveys utilizing molecular tools to provide microbial source tracking resources for stakeholders, and research on the environmental parameters that influence the transport, activity, and fate of microbial contaminants in the marine environment.
Oceans and Health research focuses on the microbiological inter-relationships between oceans, ecosystem health, marine animal health, and human health. This work includes participation in a number of collaborative epidemiological beach studies, particularly at non-point-source beaches in both Florida and California, to better understand environmental factors influencing exposure and potential risk to bathers from microbial contaminants in beaches and recreational marine waters, studies on the shedding of bacteria by bathers at beaches and in recreational water, surveys of microbial pathogens in beaches and the coastal environment (such as Staphylococcus aureus, including Methicillin-Resistant Staphylococcus aureus or MRSA), research on the potential for zoonotic transfer of pathogens between humans and marine animals, investigation of bacterial pathogens from remote biopsies taken from free-living and stranded marine mammals, and studies on harmful algal blooms (particularly "red tide" caused by the dinoflagellate Karenia brevis).
Environmental Microbiology for the Coral Reef Health And Monitoring Program (CHAMP) involves investigating and assessing the discharge of land-based microbial contaminants to the coastal environment and coral reefs that can negatively impact both human health and coral reef health. People and coral can be affected by similar pathogens (for example Herpes virus and the bacterium Serratia marcescens), and many of the bacteria and viruses in sewage and septic discharge can cause disease in coral, while harmful algal blooms can also hurt coral health. As a part of the NOAA CHAMP effort, the Environmental Microbiology lab uses Traditional culture-based and molecular tools, including microbial source tracking and community metagenomic sequencing, to measure the presence and relative abundance of various microbial contaminants in the waters near coral reefs, in reef sediments, and in coral tissues themselves. In conjunction with nutrient monitoring, and other water quality measures, this can provide a useful tool to managers for better assessment and monitoring of coral reef health. The microbiological research on coral health represents an intersection between the CHAMP and FACE programs.
Research on the Microbial Biodiversity and Ecosystem Function of marine microbial communities utilizes next-generation high capacity metagenomic community sequencing technology in combination with classical microbiology and ecology methods to tell us more about the baseline function, community structure, and potential resilience of marine microbial communities to changing stressors such as land-based sources of pollution, fluctuating water quality, oil spills, climate change, ocean acidification, etc.
Science Education and Research Mentorship with the AOML Environmental Microbiology Program provides opportunities for the transfer of cutting edge molecular technology to commercial applications, and for the development of the next generation high-technology workforce. AOML provides for technology transfer to other researchers, agencies, and stakeholders, provides training for visiting scientists, and summer internship experiences in environmental microbiology research for teachers, college students, and high school students. This includes NOAA Hollings Scholars, NOAA Nancy Foster Scholars, Oceans & Human Health Program Interns, NOAA-Smith College Program Interns, Environmental Protection Agency Interns, University Research Assistants (undergraduate and graduate), students from NSF Research Experience for Undergraduates (REU), and High School Research Interns.
PUBLICATIONS List resulting from research conducted by the AOML Environmental Microbiology Program. Our research has been presented at a variety of academic meetings, in NOAA technical reports, and in peer-reviewed scientific journals.
Contact Information for AOML Environmental Microbiology Researchers:
Christopher D. Sinigalliano, PhD (NOAA Fed)
Office Phone: 305-361-4384, Cellular Phone: 954-801-7789
Fax: 305-361-4447, Email: Christopher.Sinigalliano@noaa.gov
Kelly D. Goodwin, PhD (NOAA Fed)
Stationed at Southwest Fisheries Ceince Center, La Jolla, CA
Office Phone: 858-546-7142, Fax: 858-546-7003
Email: Kelly.Goodwin@noaa.gov
Maribeth L. Gidley, DO, MPH (NOAA Affiliate - CIMAS)
Office Phone: 305-361-4445, Cellular Phone: 786-202-1607
Fax: 305-361-4447, Email: Maribeth.Gidley@noaa.gov