Moored Acoustic Array Deployed between Puerto Rico and St. Thomas in March 2010
By Ryan Smith
Scientists from AOML's Physical Oceanography Division, the Southeast Fisheries Science Center's Early Life History Laboratory (SEFSC/ELH), and the University of the Virgin Islands Center for Marine and Environmental Studies (UVI/CMES) successfully deployed an array of acoustic Doppler current profilers (ADCP) in the waters of Puerto Rico (PR) and the US Virgin Islands (USVI) in March from the NOAA Ship Nancy Foster. Instruments were positioned across the eastern end of Vieques Sound, between Vieques and Culebra (PR), and across Virgin Passage, between Culebra and St. Thomas (USVI). The 6-mooring array is designed to quantify mass transport across the region over a 12-month period, and is a component of the recently funded Vieques Sound and Virgin Passage Transport Study. This collaborative project, which is supported by NOAA's Coral Reef Conservation Program (CRCP), seeks to gain a better understanding of the physical and biological linkages between Marine Protected Areas (MPA) south of St. Thomas, such as Red Hind and Grammanik Banks, and coastal areas east of PR (within Vieques Sound) and north of St. Thomas, St. John, and the British Virgin Islands (BVI).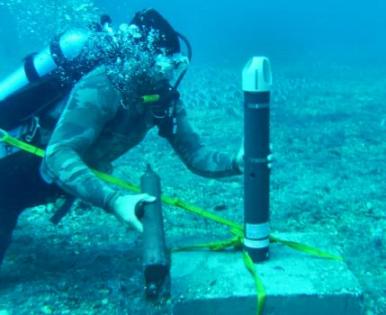 Grant Rawson (PhOD) installs a Nortek Aquadopp ADCP and a Sea-Bird MicroCat salinity/temperature recorder on a Virgin Passage mooring base.
Previously collected current velocity data, Lagrangian surface drifter trajectories, and model simulations (North Eastern Caribbean Circulation Model) suggest connectivity between these coastal ecosystems. However, larval transport of economically important reef fish across the PR/USVI shelf and through passages between the islands is poorly understood. The natural dispersal of these newly spawned larvae is affected by many factors, including bottom regime, island/shelf/bank geometry, tides, small-scale retention mechanisms, mesoscale gyres, and larger-scale mean fields such as wind-driven transport. These processes may carry larvae off the shelf to unsuitable habitat, or relocate them to nearshore areas where settlement is favorable. Quantifying ichthyoplankton flux through Virgin Passage and into and out of Vieques Sound will provide scientists and managers with broader insights into the connected nature of the catch found in Vieques Sound and on the northern USVI/BVI banks with the established MPAs south of St. Thomas.
Project partners will utilize data recovered from the moored array with repeat hull-mounted (shipboard) ADCP data collected across the moored sections quarterly to construct a detided velocity section and mass transport time-series for each passage. The 4-year USVI Larval Reef Fish Distribution and Supply Study biophysical dataset collected during joint AOML-SEFSC shipboard surveys of the region will be combined with these results to determine ichthyoplankton flux across the moored array. Additionally, these in situ data will be incorporated into the University of Miami's North Eastern Caribbean Circulation Model. Ground-truthed model output will supply a tri-dimensional representation of flow across the banks between these areas of interest, providing an additional tool to assess ecological connectivity and MPA effectiveness.
For further information, contact Ryan.Smith@noaa.gov.