XBT Analysis - Indonesian Throughflow
Data from XBT deployments carried along IX01 (Fremantle to Indonesia) are routinely used to monitor the transport of the Indonesian Throughflow. The strength of this transport has a major influence on the climate of Western Australia and is a central factor on the distribution of ocean properties around the global ocean.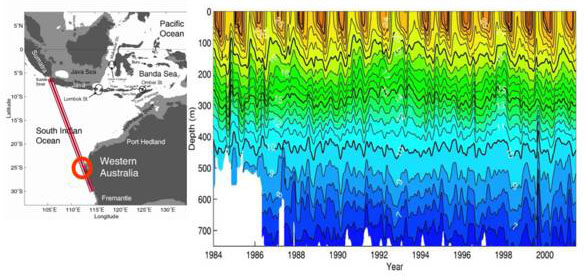 Year to year changes in temperature in the upper 700m of water since 1984 off Western Australia from the IX01 section. Data was sourced from the Integrated Marine Observing System (IMOS). IMOS is supported by the Australian Government through the National Collaborative Research Infrastructure Strategy and the Super Science Initiative.
Additional information about this product and about other products along the repeat XBT transects in the Pacific and Indian Ocean can be found here.
The XBT data along IX01 can be obtained here>>