Looking Back -


The attached letter is a personal look back at the U.S. Navy's air craft support to the
National Hurricane Center and how they contributed to the nation's hurricane warning system prior to 1974.
The account provides insight into how the Navy conducted their weather reconnaissance flights.
The essay was written by Frank Nelson, Lt. CMDR (retired) who flew many of these missions as a
pilot and aircraft commander.
John Pavone
Chief Ariel Reconnassaince Coordinator
---

Hurricane Research Division - Atlantic Oceanographic and Meteorological Laboratory


Re-Analysis Project

-
August 16th,
1943 marked the very first time an aircraft reconnaissance mission




provided real-time information to the hurricane forecasters in


the Weather Bureau. (This followed the curiosity tow flights by

Col. Duckworth into a Texas landfalling hurricane a month previously.)



This is from the unique microfilm archives in the NHC library,


which NHC interns, Sandy Delgado and Astryd Rodriguez, are using on nearly
a daily basis for

the reanalysis work.




Chris Landsea, Hurricane Specalist

Feb.8,2013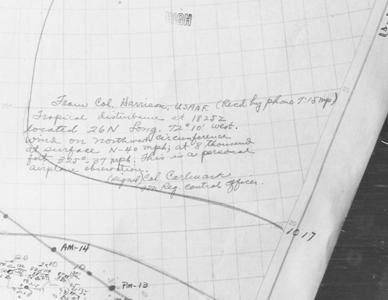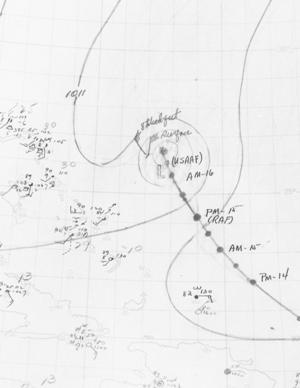 click for larger images
Related

Monthly Weather Review

report on first recon data.