NOAA's Hurricane Hunters continue reconnaissance for Major Hurricane Teddy, conducting numerous science experiments developed by AOML and its collaborators.
The two P-3 aircraft will take off from St. Croix, U.S. Virgin Islands at 10 AM and 6 PM EDT on September 18 as tasked by AOML's Hurricane Research Division. Hurricane scientists at AOML will guide and provide onboard and remote support for these missions.
The P-3s will pass through the center of Teddy multiple times and obtain data coverage in all quadrants of the storm, performing objectives outlined in NESDIS Ocean Winds, Rainband Complex Survey, Eye-eyewall mixing and Gravity Wave Module experiment descriptions.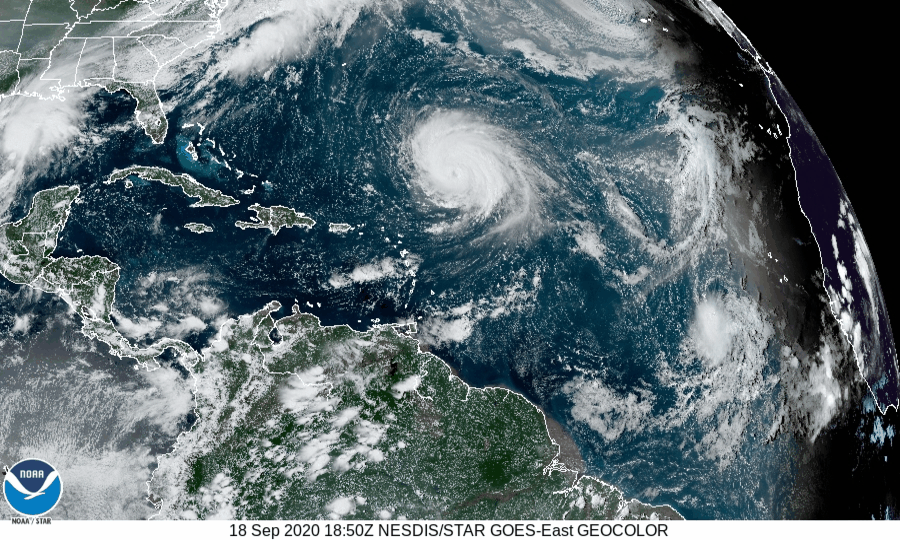 Overnight, Hurricane Teddy maintained a well-defined precipitation structure and category 3 strength surface winds. Hurricane scientists used this opportunity to conduct microphysic spirals as part of their Rainband Complex Survey. NOAA's P-3 measured the circulation's conditions using Tail Doppler Radar and other onboard sensors to learn about processes important to the development of clouds, rainfall, and their cumulative characteristics, like rainbands. 
For this configuration of the Rainband project, NOAA's P-3 climbed from 8,000 to 20,000 feet on the northwest side of the circulation. At this altitude, the instrumentation onboard the aircraft can gather data above the freezing level where few observations exist. Measurements in this region are crucial for understanding the microphysics processes that contribute to a tropical cyclone's evolution.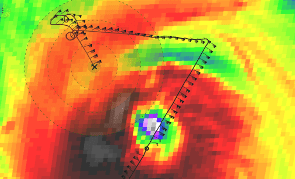 "This is the first time since I've been at AOML that we've done a pattern like this," said project Principal Investigator Rob Rogers, PhD. " It will get us some much-needed observations above the freezing level."
The orientation of rainbands and timing of the flight allowed for the sampling of a potential "primary" rainband, which connects to the eyewall at a specific location relative to the direction of vertical wind shear that Hurricane Teddy was experiencing.
Stratiform rain in this region consists of homogenous rainfall and wind characteristics, where similar conditions exist over a large area. The P-3 targeted this location and successfully accomplished goals outlined for the project.
The dataset obtained during this mission in Major Hurricane Teddy can result in major advances in the understanding of cloud processes that may dictate the configuration of convection and its effect on the progression of a hurricane's lifecycle. Knowledge learned from this project will inform adjustments to microphysics parameterization schemes that numerical weather models use to approximate the effect of small-scale processes on the overall development of tropical cyclones.
NOAA's P-3 Hurricane Hunters will continue reconnaissance into Teddy over the weekend before relocating in Lakeland, FL for potential missions in the Gulf of Mexico for Tropical Depression 22.  The G-IV will begin flying Tropical Depression 22 tomorrow afternoon for NHC-tasked missions.
For the latest information about tropical cyclones and other weather systems, visit the NOAA National Weather Service National Hurricane Center.
For information on numerical prediction of tropical cyclones, visit the NOAA National Centers for Environmental Prediction Environmental Modeling Center.