The pathways of recently ventilated North Atlantic Deep Water (NADW) are part of the lower limb of the Atlantic Meridional Overturning Circulation (AMOC). In the South Atlantic these pathways have been the subject of discussion for years, mostly due to the lack of observations. Knowledge of the pathways of the AMOC in the South Atlantic is a first order prerequisite for understanding the fluxes of climatically important properties.
Historical and new observations, including hydrographic and oxygen sections, Argo data, and chlorofluorocarbons (CFCs), are examined together with two different analyses of the Ocean general circulation model For the Earth Simulator (OFES) to trace the pathway of the recently ventilated NADW through the South Atlantic. CLIVAR-era CFCs, oxygen and salinity clearly show that the strongest NADW pathway in the South Atlantic is along the western boundary (similar to the North Atlantic). In addition to the western boundary pathway, tracers show an eastward spreading of NADW between ~17-25°S. Analyzed together with the results of earlier studies, the observations and model output presented here indicate that after crossing the equator, the Deep Western Boundary Current (DWBC) transports water with the characteristics of NADW and a total volume transport of approximately 14 Sv (1 Sv = 10 6 m 3 s -1 ). Crossing 5°S and mostly concentrated west of 30°W, the DWBC carries NADW along the coast of South America and, in the model in agreement with previous results, breaks up into rings near 8°S, a region where the flow is mostly "non-steady." Analyses of the eddy kinetic energy (EKE) at different depth levels in the model indicate high levels of energy spreading further offshore south of 8 ° S, consistent with the formation of energetic rings. This "ring-dominated" flow continues southward to the Vit ó ria -Trindade Ridge (near 20°S). When the ring-dominated flow reaches the Vit ó ria -Trindade Ridge, the NADW is forced to flow to the east due to the topography. The branching of the flow in this area is due to the preservation of potential vorticity (Zangenberg and Siedler, 1998). Theory suggests that part of the along-slope southward flow turns into a zonal flow to the east at the latitudes where the change in planetary vorticity is sufficiently large to compensate for the change in potential vorticity due to the initial depth changes. The main portion of the NADW flow continues along the continental shelf of South America in the form of a strong reformed DWBC, while a smaller portion, about 22% of the initial transport, flows towards the interior of the basin.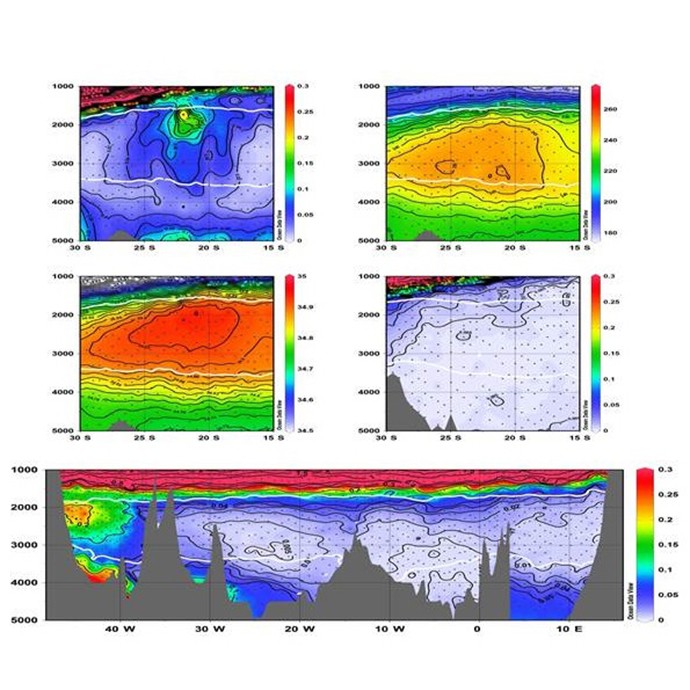 Garzoli, S.L ., S. Dong , R. Fine, C. Meinen , R.C. Perez , C. Schmid , E. van Sebille, and Q. Yao. The fate of the Deep Western Boundary Current in the South Atlantic. Deep-Sea Res.I, , doi: 10.1016/j.dsr.2015.05.008.