NOAA Miami Regional Library at AOML
A Branch of the NOAA Central Library
---
NOAA/NOS/Equipment Development Laboratory
---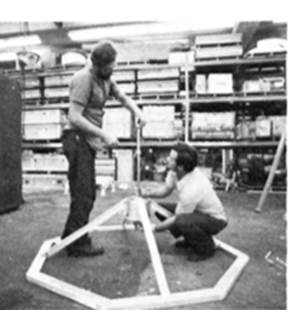 John Jennings and Donny R. Sharp, of the NOAA/NOS/ Ocean Engineering Branch in Miami, preparing a bottom platform to receive the current meter being tested by Jack Falkenhof (1975) [Posey, C. A. (1975) "NOAA in Miami." NOAA Magazine, 2(2):24-34, April.]
Next to the Southeast Marine Support Facility was the Ocean Engineering Branch of the NOAA/NOS/Equipment Development Laboratory (EDL). This facility designed, built and tested a family of unique instruments designed to operate in the severe, equipment-digesting environment of the ocean. Charles Kearse (EDL, Director) stated that they had good success with instrumentation and that one of the greatest sources of satisfaction was the adoption of a system concept based on their equipment. Kearse also realistically stated, "Failures, well, failures mostly stay in the ocean." Posey* described the engineering laboratory thus:
"Over there, welding torches seam steel spheres and tripods, metal-bound boxes carry the advisory: "RECORDING INSTRUMENT. HANDLE WITH GREATEST CARE." and there is the racket of lathes and the other tools of the mechanical engineering trade. Out back is the boneyard, an old folks' home for buoy hulls and floats and weights and meters."
The NOAA/NOS/EDL facility moved to Maryland in the late 1970s and became the NOAA/NOS/Engineering Development Office.
---
*Posey, C. A. (1975) "NOAA in Miami." NOAA Magazine, 2(2):24-34, April.
---