NOAA Miami Regional Library at AOML
A Branch of the NOAA Central Library
---
NOAA Southeast Marine Support Facility
---
Ship Base (1971). The masts of a ship, probably the NOAA ship RESEARCHER, can be seen beyond the building.
---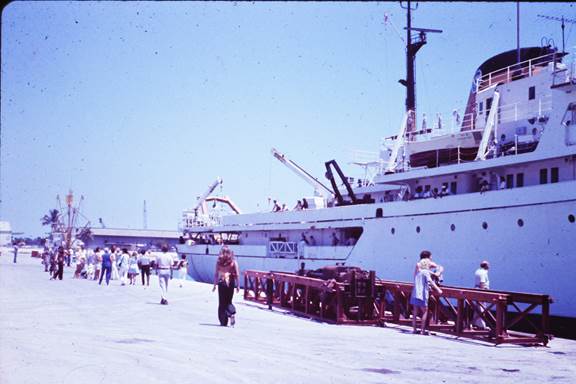 NOAA ship RESEARCHER at dock on Dodge Island (Port of Miami).
---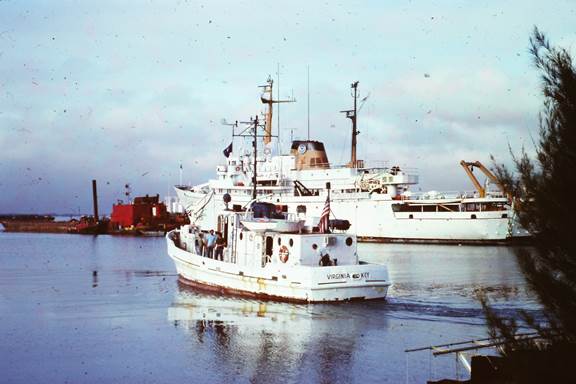 NOAA ships RESEARCHER and VIRGINIA KEY at the basin on the south side of the Port of Miami (April 1979).
Dodge Island was built for the Port of Miami, located south of the end of Miami Beach and crosswise on Biscayne Bay. The port is heavily used by tourist and cargo vessels. The NOAA Southeast Marine Support Facility, a southern extension of the NOAA Marine Center -Atlantic in Norfolk, VA, occupied part of the south side of Dodge Island, and was home to some of the world's best-known research ships: NOAA's DISCOVERER, RESEARCHER, GEORGE M. BOWERS, and OREGON II; AOML's R/V VIRGINIA KEY; and the University of Miami ships GILLIS and COLUMBUS ISELIN. The facility provided space and technical services for visiting research ships of all flags. Many laboratories staged their projects at the Support Facility. For example, for GATE, the ships OCEANOGRAPHER, RESEARCHER, GILLIS, COLUMBUS ISELIN and the US Coast Guard ship DALLAS were outfitted at the Dodge Island facility.
---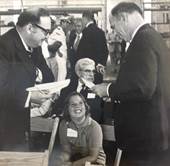 LEFT TO RIGHT: "Bob White who runs NOAA in Washington, Otho Bruce who runs Miami, and Daddy who runs 737 N. ........... Drive, and of course, me [DODIE STEWART]."
Source: Harris B. Stewart (AOML The Ship Base, inaugurated on September 2, 1971)
The Dodge Island facility was easily seen from Rickenbacker Causeway on Virginia Key. The brilliant white shape of the bow of the RESEARCHER was a welcome sign that the ship was in home port.
---