NOAA Miami Regional Library at AOML
A Branch of the NOAA Central Library
---
ESSA Institute for Oceanography
---
The Washington Science Center, ESSA headquarters in Rockville, MD (1967).
The Environmental Science Services Administration (ESSA) was created in 1965 as part of the Department of Commerce. Under the 1965 reorganization, the U.S. Coast and Geodetic Survey was subordinated to ESSA but retained its distinct identity and continued to carry out its responsibilities for coastal and oceanic hydrographic surveys, geodetic work in the interior of the United States and at sea, and other scientific work, such as in seismology. The Coast and Geodetic Survey also continued to operate its fleet of survey ships and research ships while subordinate to ESSA.
ESSA had four Institutes for Environmental Research based in Boulder, CO. To more precisely reflect the scope and mission of the individual elements of the institutes, ESSA reorganized them into the ESSA Research Laboratories in 1967 and ESSA headquarters was re located to the Washington Science Center in Rockville, MD (Washington Science Center, 6010 Executive Blvd., Rockville, MD. ).
The research laboratories included the Atlantic Oceanographic Laboratory at Miami, Florida, which studied oceanography, with an emphasis on the geology and geophysics of ocean basins, oceanic processes, sea-air interactions, hurricane research and weather modification; and the National Hurricane Research Laboratory at Miami, Florida, which examined tropical cyclones scientifically in order to improve predictions.
In 1970, ESSA was replaced by the National Oceanic and Atmospheric Administration (NOAA).
---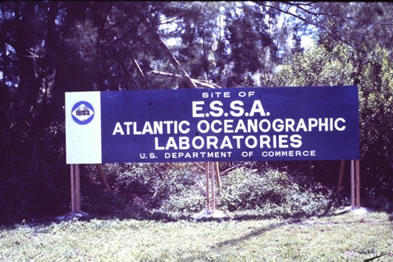 Future site of AOML in Virginia Key (August 1969).
---