NOAA Miami Regional Library at AOML
A Branch of the NOAA Central Library
---
AOML Construction
---
The new NOAA sign and construction activities at the site (March 19, 1971) (Photo original has a strip of Scotch-Tape just off center.)
---
Dodie Stewart in front of the scaffolding of AOML (March 27, 1971)
---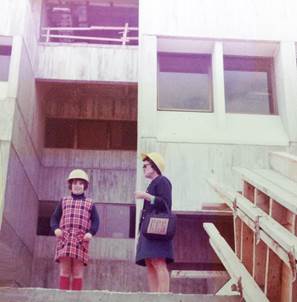 Mrs. Harris B Stewart and Dodie Stewart wearing yellow hard hats visiting AOML (February 21, 1971). They are at the top of the main stairs unto the first floor.
---
Construction progress (April 17, 1971).  
By March 19, 1971, the "ESSA" at the building site sign was replaced with "NOAA," and the first floor of the building was poured. Later in the month, scaffolding went up and by April the first floor had been poured.
---