Northeastern Caribbean:
USVI Larval Reef Fish Distribution and Supply Study
Vieques Sound and Virgin Passage Transport Study
Transport of larval reef fish across the Puerto Rico and US Virgin Islands (PR/USVI) shelf and through passages between the islands is poorly understood. The natural dispersal of these newly spawned larvae is affected by many factors, including bottom regime, island/shelf/bank geometry, tides, small-scale retention mechanisms, mesoscale gyres, and larger-scale mean fields such as wind-driven transport. These processes may carry larvae off the shelf to unsuitable habitat, or relocate them to nearshore areas where settlement is favorable.
These programs are designed to help scientists and resource managers gain a better understanding of how managed and non-managed areas of the US Caribbean and surrounding region (British Virgin Islands and Leeward Islands) are linked via the highly variable flow across this region, and to determine what economically important larval reef fish dispersal and recruitment pathways exist as a result. An improved understanding of region-wide coral reef ecosystem connectivity is required for the development of effective long-term adaptive fisheries management strategies in the US Caribbean.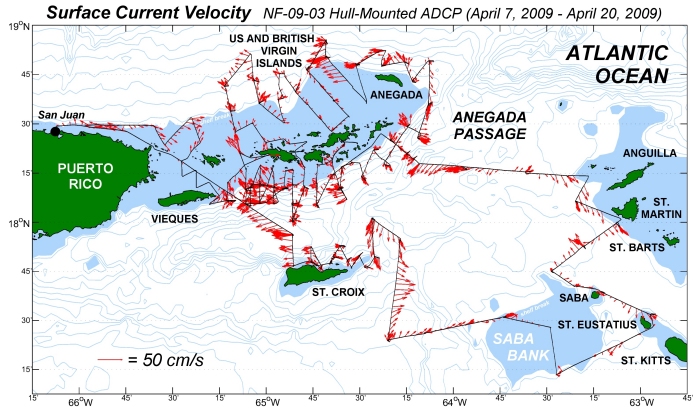 Figure 2. Ocean surface current velocities are shown, as observed during the third USVI Larval Reef Fish Distribution and Supply Study research cruise in 2009. Data were collected using a 150 kHz vessel-mounted acoustic Doppler current profiler (ADCP). The velocity vectors shown reveal the highly variable nature of surface currents in the region (click on image to enlarge view).