AOML conducts sea trial of new underwater glider
AOML researchers met with partners from NOAA's National Data Buoy Center, the University of Puerto Rico at Mayaguez, and ANAMAR in the Dominican Republic on March 25-26 to plan for how they will deploy, pilot, recover, refurbish, and store the underwater gliders. During the second day of the meeting, participants conducted an at-sea test to train for how to deploy and recover the underwater gliders.
AOML's new SeaGlider is a remotely-operated autonomous underwater vehicle (AUV) developed for continuous and long-term measurement of oceanographic parameters such as salinity, temperature, chlorophyll, and ocean currents. Rather than using electricity to drive a propeller, the underwater glider uses small changes in the buoyancy and it's wings to achieve forward motion. Directional changes are achieved using the glider's adjustable ballast. This allows the glider to operate for up to 10 months or around 3000 miles at a speed of .5 kts at a time, which is a much longer period of time than a standard AUV can operate. The glider navigates using a combination of GPS while at the surface and it's internal sensors that monitor vehicle heading, depth, and angle during a dive. These autonomous vehicles provide a cost-effective means for gathering ocean observations, and will be used for a two-year project that begins in July 2014.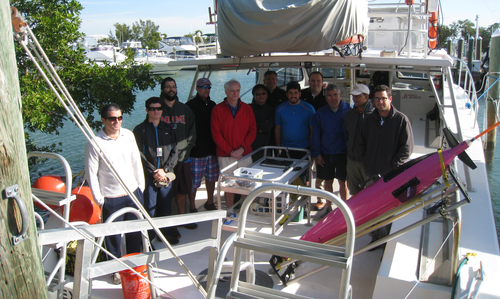 Researchers will use the observations collected by the underwater gliders to help improve the national hurricane seasonal and intensity forecasts. In the first year of this multi-institutional program, a pilot network of gliders will be deployed in the Caribbean and Western tropical North Atlantic Ocean, and the impact of their observations on the hurricane intensity and seasonal forecasts will be assessed. The project expects to collect five to six thousand temperature and salinity profiles per year in the region. During a hurricane, data from the P3 flights within hurricanes will be analyzed in combination with the data collected by the underwater gliders in the area to create a more complete picture of the ocean-atmosphere interaction during a hurricane, targeting the hurricane intensification process. The data collected by these deployments will also be analyzed alongside with other in situ observations from argo floats, surface drifters, thermistor chains, and XBTs and with satellite observations of sea surface temperature, sea surface height, and ocean color.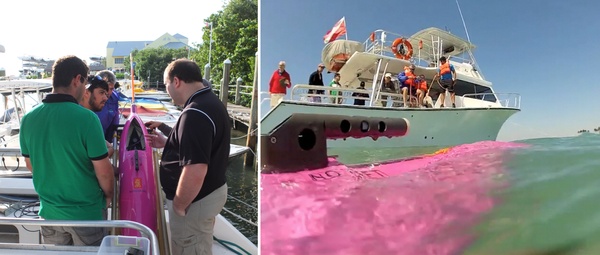 This work is expected to help improve the NOAA operational seasonal model, to maximize its application for an enhanced seasonal hurricane forecast of hurricane track, intensity, formation regions, and regional landfalling probability. This will help decision makers adequately organize social resources for hurricane preparedness.
More information about AOML's "Sustained Ocean Observations with Gliders" project can be found here