South American visitors enhance current divisional observational partnerships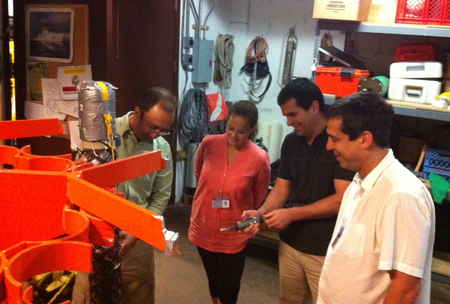 Francis Bringas and Nelson Melo from the Physical Oceanography Division together with Camila Caricchio and Ivan Perez Santos while touring some of the AOML engineering facilities.
Camilla Caricchio, a Brazilian Navy Officer, will be visiting several science and science support personnel in PhOD from July 22 - 31 to learn about the operational aspects of several ocean observing platforms including drifters, XBTs, Argo floats and LADCP/ADCP. During her visit, Camilla will receive training in the deployment, data management and processing of these platforms.
Dr. Ivan Perez Santos, from the University of Concepcion, Chile, will be visiting PhOD for two weeks beginning on Monday, July 22nd. He will be working with Nelson Melo and Libby Johns to apply Ocean Data View software methods for organizing and analyzing hydrographic data acquired as part of the south Florida project.