The 2016 Atlantic Oceanographic and Meteorological Laboratories' (AOML) cadre of summer interns inspired us with a very promising group of motivated individuals. Fourteen students came from all over the country to complete a wide array of projects in different thematic areas of AOML's workforce; Physical Oceanography, Ocean Chemistry and Ecosystems, Hurricane Research, Engineering, and Communications.
AOML is home to some of the nation's leading scientists, and internships offer a great opportunity for students to learn alongside these experts and develop skills that they will take with them in the future. The summer internships also expose students to careers at a federal research laboratory. NOAA offices are located all across the country, so students who enjoy their summer internship can consider NOAA or other federal science agencies for future employment when they enter the workforce.
From Stanford to the Massachusetts Institute of Technology (MIT) to Florida State University, students came to AOML from many different educational institutions to work in a very unique and engaging environment. AOML also plays host to high school students from MAST Academy, a local maritime and science technology focused high school. Gabrielle Garcia, a rising senior in the school's STEM Cambridge Program, is using her internship working in the Nutrients Lab and Oxygen Lab to further work towards her goal of becoming an engineer at a top tech company.
Students are placed with a mentor who guides them through the internship, with each student assigned projects to develop their skills based on their interests. Eduardo Garcia-Montes, a mechanical engineer major at the Massachusetts Institute of Technology (MIT), will be working on a a Cruise Simulator coding project and several 3D CAD modeling projects, and conducting Iridium Modem wiring and testing. Dylan Gates, a senior studying applied mathematics at SUNY Oswego, is studying the interactions between the Atlantic Meridional Mode and the Atlantic Nino Mode. The most exciting part of his internship so far has been working with MATLAB, a software typically used for computations and creating plots, and gathering meaningful results.
The opportunity to work in the field is one of the most exciting parts of the internship program for many students. Through field work, students are able to gain hands on experience with data collection. Ian Smith, an Oceanography major at the University of Washington in Seattle, was able to experience scientific cruises doing water quality monitoring. Hanna Payne, an Environmental Science major at Stanford, used her photography skills to document several research cruises in order to develop photo-essay articles to promote visual storytelling.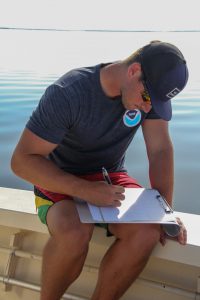 Research can prove to be a very tough and challenging task, but the mentors are here to help students transition into the world of research as smoothly as possible. AOML is very excited for this great group of 14 students to have a very positive internship experience. By the end of their summer internships, students will have gained research skills and developed relationships with scientists and professionals that can help further their career.
Originally Published by Nicholas Komisarjevsky, June 2016