Published: October 30, 2018
Authors: Kristina Kiest, Chris Kelble
AOML recently led a multi-agency (NOAA/AOML, NOAA/SEFSC, State of Florida Fish and Wildlife Research Institute, Florida Fish and Wildlife Commission, NOAA/NESDIS, University of South Florida, MOTE Marine Laboratory and Aquarium, and University of Miami) research cruise to study the effects of Southwest Florida's ongoing red tide. To address such a complex problem as red tide, the cruise brought together a diverse team of experts consisting of commercial fishermen, oceanographers, systems ecologist, phytoplankton ecologist, and fish population biologist. This cruise allowed researchers to take a holistic approach to characterize the extent of the red tide and its impacts. The goal of the cruise was to understand why these blooms happen to better inform effective future response measures and hopefully improve Florida's resilience to these coastal events.
Red tide is a type of Harmful Algal Bloom that occurs regularly on the shelf of Southwest Florida. Harmful Algal Blooms are blooms of algae that produce toxins which affect humans and marine life. Algal blooms can become intense enough that the bacteria decomposing the bloom material can reduce the amount of dissolved oxygen in the water (which marine life needs to survive).  These negative effects of algal blooms result in serious harmful consequences on people, the ecosystem, fisheries, tourism, and South Florida's economy. The goal of this research was to study the direct (toxins) and indirect (ecosystem and fisheries) impacts of red tide in coastal waters of Southwest Florida.
Team sampled two distinct blooms
During the cruise researchers surveyed two different blooms likely to be comprised of the harmful algae, Karenia brevis, that causes red tides. Off the coast of Charlotte Harbor near Sanibel Island scientists found a subsurface bloom deeper in the water column, about 10-15m below the surface. The water column sampled here was highly stratified, and the bloom was found at the boundary of colder, saltier (and therefore denser), low-oxygen water on the bottom and warmer, fresher, normal-oxygen surface water. Low dissolved oxygen, called hypoxia, as was seen in this area causes stress and can eventually kill fish and other marine life. Off the coast of Tampa Bay, they found a red-tide bloom near the surface where waters were less stratified and no low oxygen layer was present, but there were fish kills in the area which were not seen off of Charlotte Harbor.
NOAA takes action in response to stakeholder concerns
The catalyst for this cruise was a recent workshop held by NOAA fisheries scientists with fishermen in Pine Island Sound. It was through communication with these stakeholders that we were made aware of the serious impacts of this red tide on their local fisheries and economy. With the information they shared, AOML scientists were able to modify a planned cruise supporting South Florida Ecosystem Restoration. The red tide cruise was designed specifically to examine impacts on ecosystems around southwest Florida. Several modifications to the research plan were made to include collecting data for commercial fishing interests, adding camera surveys of fish, bringing on new participants with different backgrounds, broadening the phytoplankton ecology, and extending the area to collect a broader spatial dataset.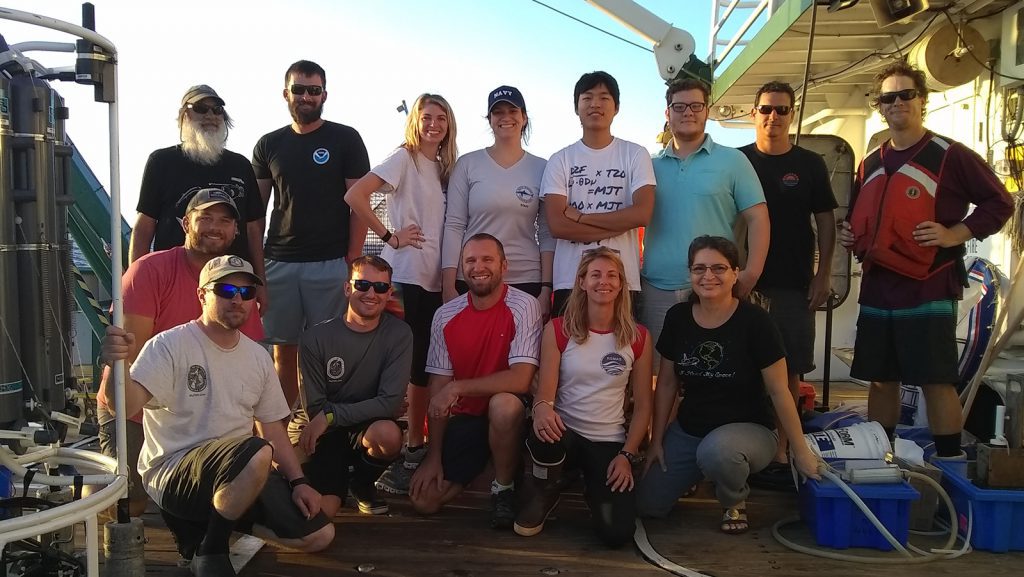 Red tide impacts extend beyond water quality. It affects the economy, recreation, and food sources. With data from these cruises, we can begin to characterize the causes and effects of these blooms. When combined with follow-on studies to understand and evaluate the socio-economic impacts on the affected community, including fisheries, tourism, and human health, we hope to paint a more complete picture of the causes, consequences, and potential solutions to mitigate the significant impacts of red tide in Southwest Florida.
Read more about this study and its impacts on the Red Tide Cruise Page.