Dive into oceans deep with AOML oceanographers.
Learn about what it is like to fly directly into hurricanes.
Explore coral reefs and see how our scientists are working to promote healthy coastal ecosystems.
Learn about a variety of different careers at NOAA from our career panelists and more — all from home!
AOML will be celebrating Earth Day this year with a week-long series of webinars on April 19th-23rd, 2021 from 6:00 p.m-7:00 p.m.
AOML's Virtual Open House will feature NOAA scientists talking about everything from hurricane research to oceanography to coral ecosystems to the new technologies being used to improve our understanding of the world around us. Participants will also get the chance to learn more about what it's like to be a scientist working with NOAA in the Ask AOML Q&A.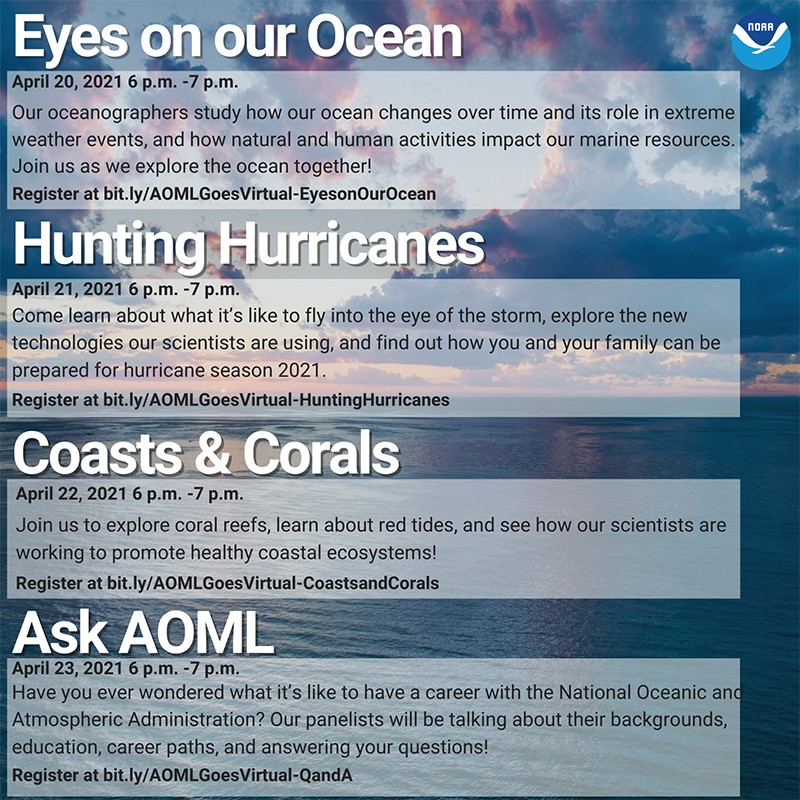 These free events are geared toward students grades 6 through 9, and they're perfect for classrooms and families.
*Registration is free, but space is limited. Click the links below to reserve your spot for the virtual webinar(s) you'd like to attend:
April 19: all day on Instagram.com/noaa_aoml and Twitter.com/noaa_aoml
We're kicking off the open house with a virtual tour! Follow AOML on our social media channels to follow along on a virtual lab tour and hear about our research from our scientists.
Don't forget to participate in our photo contest as well! We want to see your photos from the field. Submit your photos to aoml.communications@noaa.gov with the subject line "AOML Photo Contest" by April 23rd at 5 p.m. ET. The top three (3) submissions will be featured on our website and social media! Open for all ages. Must include your name and photo name.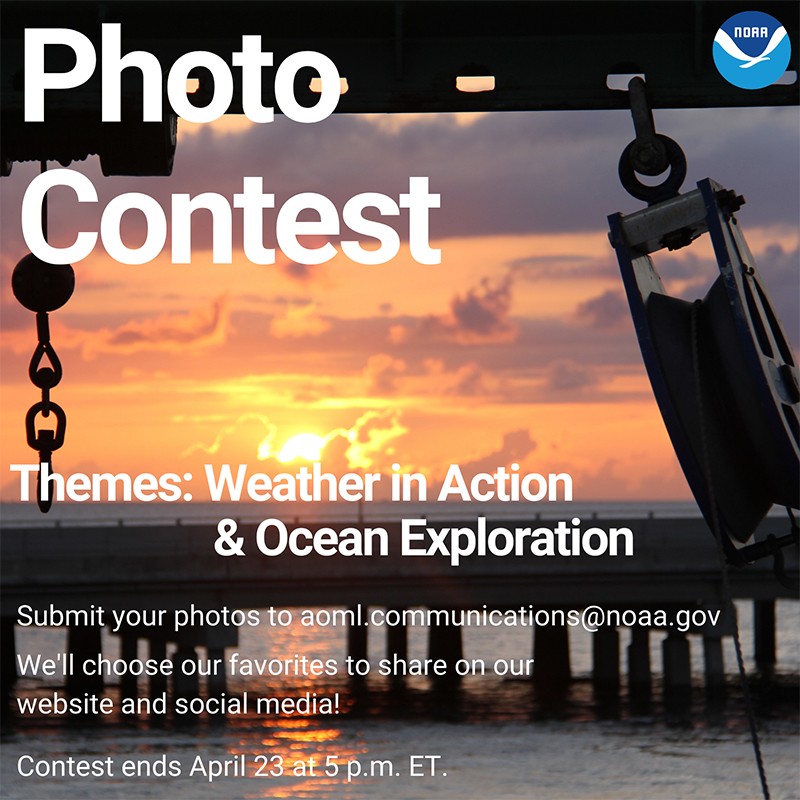 April 20: 6-7 p.m. ET
Our oceanographers study how our ocean changes over time and its role in extreme weather events, and how natural and human activities impact our marine resources. Join us as we explore the ocean together!
April 21: 6-7 p.m. ET
Prepare for takeoff! Hurricane scientists at AOML fly directly into storms to collect data which help improve forecasts. Come learn about what it's like to fly into the eye of the storm, explore the new technologies our scientists are using, and find out how you and your family can be prepared for hurricane season 2021.
April 22: 6-7 p.m. ET
Grab your snorkels because we're hitting the coasts! AOML scientists support NOAA's mission to understand our oceans and coasts and aid in conserving these valuable resources. Join us to explore coral reefs, learn about red tides, and see how our scientists are working to promote healthy coastal ecosystems!
April 23: 6-7 p.m. ET
Have you ever wondered what it's like to have a career with the National Oceanic and Atmospheric Administration? Join NOAA's Atlantic Oceanographic and Meteorological Laboratory to learn more about NOAA and the variety of careers the agency offers. Our panelists will be talking about their backgrounds, education, career paths, and answering your questions!
__________________________
Stay connected for event updatesFor the latest information, follow our AOML Instagram and Twitter accounts! You can also search under the hashtag #AOMLVirtualOpenHouse and #AOMLGoesVirtual…