Mission Summary
20121026H1 Aircraft 42RF
Tail Doppler Radar mission into Sandy

Aircraft Crew (42RF)

| | |
| --- | --- |
| Aircraft Commander | Harris Halverson |
| Co-pilot | Scott Price |
| Co-pilot | Justin Kibbey |
| Navigator | Devin Brakob |
| Flight Engineer | Ken Heystek |
| Flight Engineer | Paul Darby |
| Flight Director | Barry Damiano |
| Flight Director | Richard Henning |
| Data Technician | Joe Bosko |
| AVAPS | Charles Lynch |
| AVAPS | Jim Warnecke |
| Electronics Technician | Todd Richards |
Scientific Crew (42RF)

| | |
| --- | --- |
| Lead Scientist | Eric Uhlhorn (HRD) |
| Dropsonde Scientist | Kathryn Sellwood (HRD) |
| Radar Scientist | Lisa Bucci (HRD) |
| IWRAP Scientist | Joe Sapp (UMASS-Amherst) |
| Guest | Tom Fitz (media) |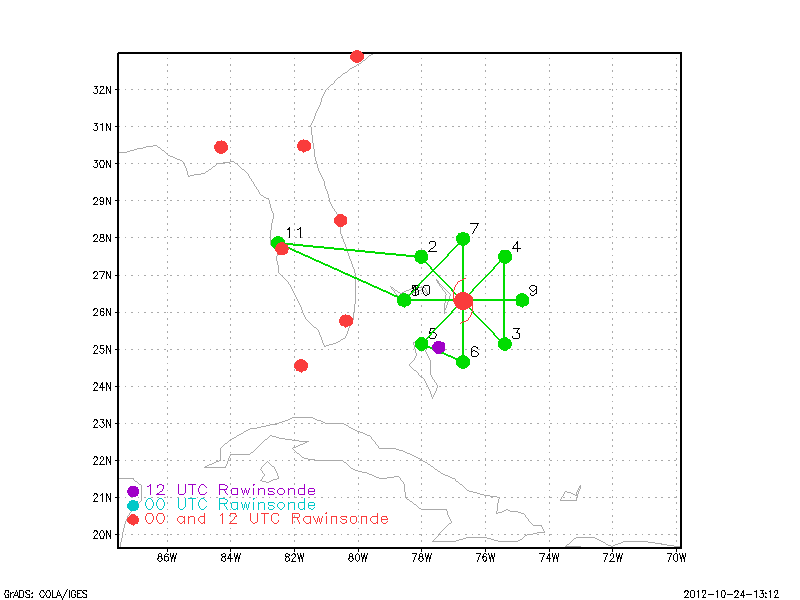 Proposed track
Mission Plan :
Fly a TDR mission into Hurricane Sandy as it emerges from the Cuban coast. Take off from MacDill AFB, FL at 08:00 UTC on Oct. 26th and recover at MacDill AFB, FL at 16:00 UTC.
Mission Summary :
Take off
Landing
MacDill AFB, FL
07:56 UTC
MacDill AFB, FL
15:44 UTC
Mission Evaluation:
Problems :
---
Mission Data :
Flight Director's manifest | LPS forms | Radar forms | Dropsonde forms
SFMR data | NetCDF file | 1 second data
---
Page last updated Feb. 06, 2013
Return to Mission page.