Mission Summary
20130822H1 Aircraft 42RF
Calibration flight

Aircraft Crew (42RF)

| | |
| --- | --- |
| Aircraft Commander | Mark Sweeney |
| Co-pilot | Justin Kibbey |
| Co-pilot | Scott Price |
| Navigator | Tim Gallagher |
| Flight Engineer | Joe Klippel |
| Flight Engineer | Ken Heystek |
| Flight Director | Richard Henning |
| Flight Director | Nick Morgan |
| Data Technician | John Hill |
| AVAPS | Todd Richards |
| El Tech | Jim Warnecke |
Scientific Crew (42RF)
None
Mission Plan :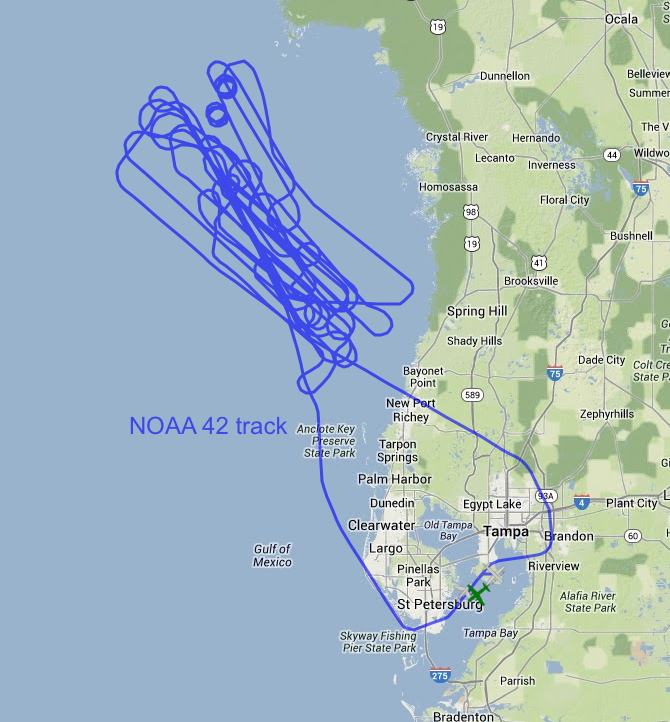 Actual track
NOAA 42RF will carry out an inter-comparison flight with NOAA 43RF over the eastern Gulf of Mexico. The P-3 will leave MacDill AFB, FL 1200 UTC and will recover at MacDill AFB, FL by 1800 UTC the same day.
Mission Summary :
Take off
Landing
MacDill AFB, FL
12:07 UTC
MacDill AFB, FL
18:57 UTC
NOAA 43RF's mission was scrubbed. So NOAA 42RF instead carried out a wind calibration and SFMR test flight.
Problems :
---
Mission Data :
<!a href=ftp://ftp.aoml.noaa.gov/hrd/pub/data/flightlevel/2013/$/20130822H1_RC.nc.gz NetCDF serial | Flight Director's log

---
Page last updated August 22, 2013
Return to Mission page.