Mission Summary
20120908H2 Aircraft 42RF
Hurricane Leslie TDR flight
Cancelled
Aircraft Crew (42RF)

| | |
| --- | --- |
| Aircraft Commander | Mark Nelson |
| Co-pilot | Mark Sweeny |
| Co-pilot | Chris Kerns |
| Navigator | Ryan Kidder |
| Flight Engineer | Klippel |
| Flight Director | Jack Parrish |
| Flight Director | Jess Williams |
| Data Technician | Terry Lynch |
| Electrical Technician | Newnam |
| Electrical Technician | Warnecke |
| Electrical Technician | Bobby Peek |
Scientific Crew (42RF)

| | |
| --- | --- |
| Lead Scientist | Eric Uhlhorn (HRD) |
| Radar Scientist | Sim ABerson(HRD) |
| Dropsonde Scientist | Bachir Anane(HRD) |
| Ocean Winds Scientist | Zorana Jelenack(NESDIS) |
| IWRAP Scientist | Joe Sapp(UMASS) |
| Observer | Ryan Torn(SUNY-Albany) |
| Observer | LT James Brinkley(NHC) |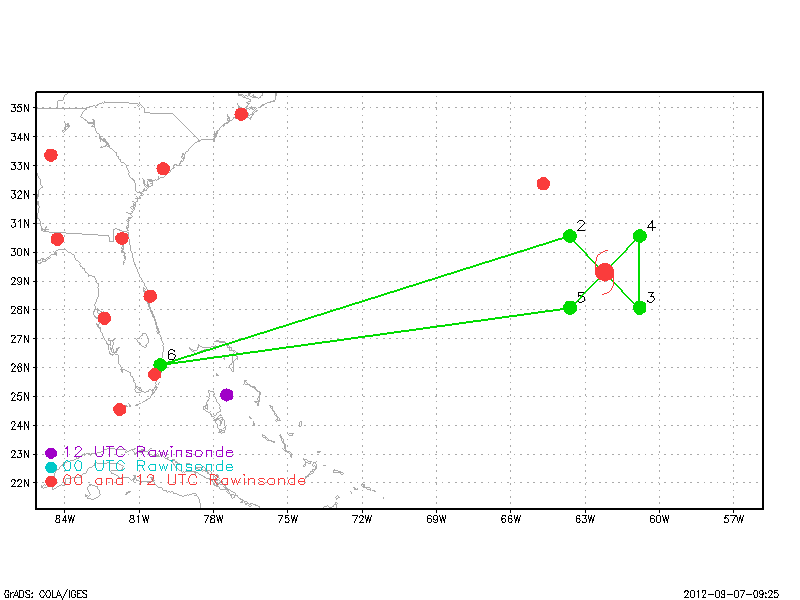 Proposed track
Mission Plan :
NOAA 42RF will fly a TDR mission into Hurricane Leslie to gather tail doppler data. The P-3 will leave Ft. Lauderdale, FL 2000 UTC and will recover at Ft. Lauderdale, FL by 0400 UTC the next day.
Mission Summary :
This mission was cancelled due to Leslie's suboptimal status.
Problems :
---
Mission Data :
---
Page last updated Sept. 10, 2012
Return to Mission page.