Mission Summary
20120907N1 Aircraft 49RF
TDR Mission Hurricane Leslie

Aircraft Crew (49RF)

| | |
| --- | --- |
| Aircraft Commander | Jeff Hagan |
| Co-pilot | Jason Mansour |
| Co-pilot | Ron Moyers |
| Flight Director | Barry Damiano |
| Flight Director | Nick Morgan |
| Data Technician | Gabe Defeo |
| Engineer | Al Goldstein |
| Dropsonde Operator | Dale Carpenter |
Scientific Crew (49RF)
None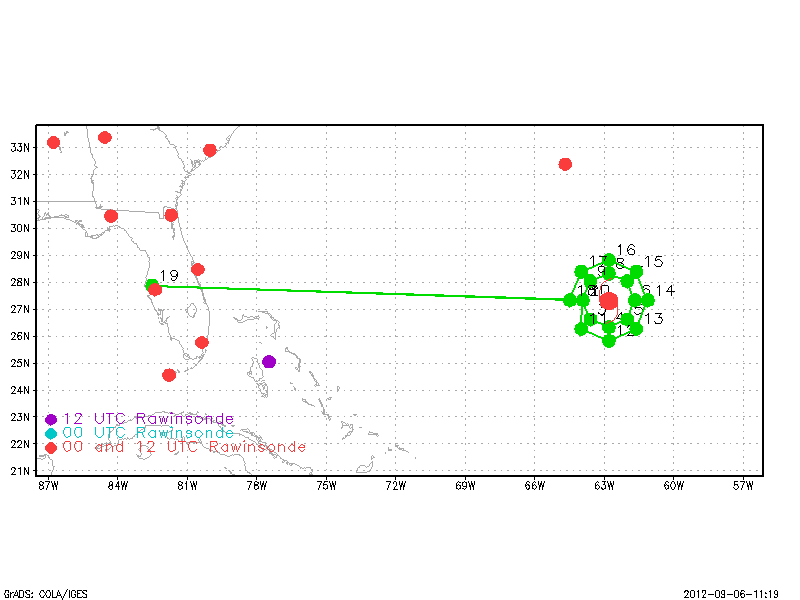 Proposed NOAA 49 track
Mission Plan :
NOAA 49RF will fly an HRD-tasked TDR support mission around Hurricane Leslie in conjunction with NOAA N42RF. The G-IV will leave MacDill AFB, FL 2100 UTC and will recover back at MacDill AFB, FL by 0500 UTC the next day.
Mission Synopsis :
Take off
Landing
MacDill AFB, FL
21:15 UTC
MacDill AFB, FL
03:59 UTC
Penetrations
@
Problems :
---
Mission Data :
Flight Director's log | Flight Director's manifest | Error log
---
Page last updated March 6, 2016
Return
to Mission page.