Mission Summary
20131005I1 Aircraft 43RF
TDR Tropical Storm Karen

Aircraft Crew (43RF)

| | |
| --- | --- |
| Aircraft Commander | Justin Kibbey |
| Co-pilot | Cathy Martin |
| Co-pilot | Pat Didier |
| Navigator | Tim Gallagher |
| Flight Engineer | Ken Heystek |
| Flight Engineer | Paul Darby |
| Flight Director | Ian Sears |
| Data Technician | Dana Naeher |
| AVAPS | Jeff Newman |
| Electronics Technician | Bobby Peek |
| Systems Engineer | Jeff Smith |
| | |
| --- | --- |
| LPS | Joe Cione |
| Radar | Lisa Bucci |
| IWRAP | Joe Sapp (UMass) |
| W-band radar | Dan Wolfe (ESRL) |
Mission Plan :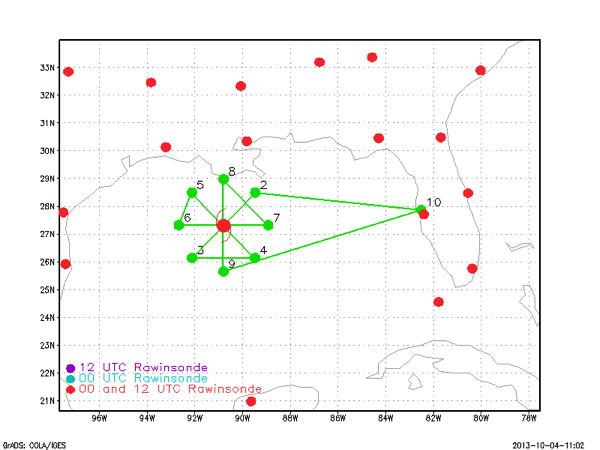 Proposed track
NOAA 43RF will carry out a TDR missions into Tropical Storm Karen. The P-3 will leave MacDill AFB, FL 0600 UTC and will recover at MacDill AFB FL by 1300 UTC the same day.
As of 10 p.m. CDT (0300 UTC) October 4, Tropical Storm Karen is located within 30 nautical miles of 26.1°N 90.5°W, about 205 mi (330 km) south-southwest of the mouth of the Mississippi River and about 230 mi (375 km) south of Morgan City, Louisiana. Maximum sustained winds are 35 knots (45 mph, 85 km/h), with stronger gusts. Minimum central pressure is 1002 mbar (hPa; 29.59 InHg), and the system is moving NNW 7 mph (11 km/h). Tropical storm force winds extend outward up to 140 mi (220 km) from the center of Karen, mainly to the north and east of the center.
Mission Summary :
Take off
Landing
MacDill AFB, FL
05:30 UTC
Corpus Christi, TX
13:26 UTC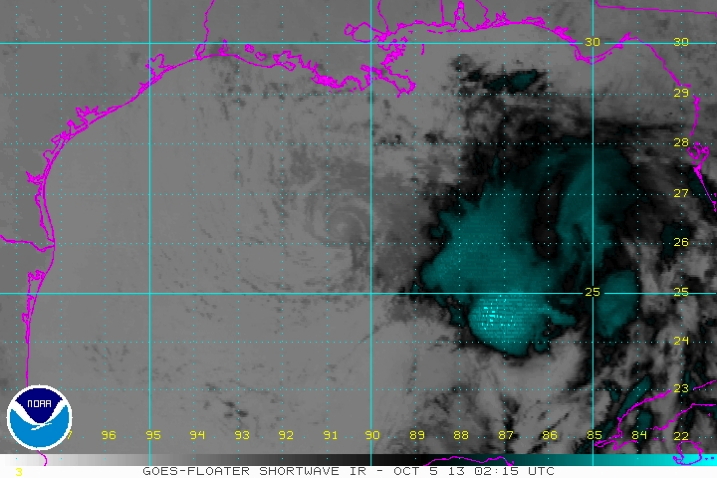 TS Karen: IR Satellite Imagery (OCT 5 0215Z )
This flight was a 8h duration, NOAA EMC tasked operational mission. Real time TDR analyses, 20 GPS drops and 9 AXBTs were all transmitted in near-real time. The mission was conducted at 8K feet and was fully successful.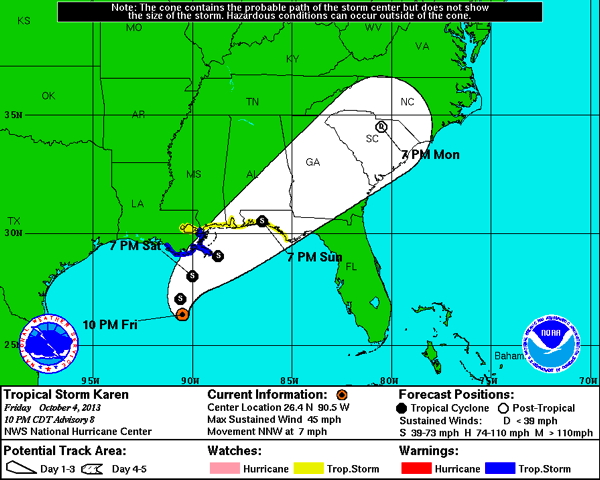 TS Karen NHC Forecast Track (5-day)
Expendables and drop points:
GPS: Drops at all 8 end points, midpoints (8) and center (4). 20 GPS drops in all.
AXBT: Endpoints (9) and one (1) at the center on leg 2-3. 9 AXBT drops in all.
Joe Cione
Oct. 5, 2013
---
Mission Data :
NetCDF file | SFMR data

Flight Director's manifest | LPS form | Radar form | Dropsonde form | AXBT form
---
Page last updated October 22, 2013
Return to Mission page.