Mission Summary
20131004I1 Aircraft 43RF
TDR Tropical Storm Karen

Aircraft Crew (43RF)

| | |
| --- | --- |
| Aircraft Commander | Justin Kibbey |
| Co-pilot | Cathy Martin |
| Co-pilot | Pat Didier |
| Navigator | Tim Gallagher |
| Flight Engineer | Ken Heystek |
| Flight Engineer | Paul Darby |
| Flight Director | Ian Sears |
| Data Technician | Dana Naeher |
| AVAPS | Jeff Newman |
| Electronics Technician | Bobby Peek |
| Systems Engineer | Jeff Smith |
Scientific Crew (43RF)

| | |
| --- | --- |
| LPS | Joe Cione |
| Radar | Lisa Bucci |
| IWRAP | Joe Sapp (UMass) |
| W-vand radar | Dan Wolfe (ESRL) |
| Observer | Kevin Doremus (AOC) |
Mission Plan :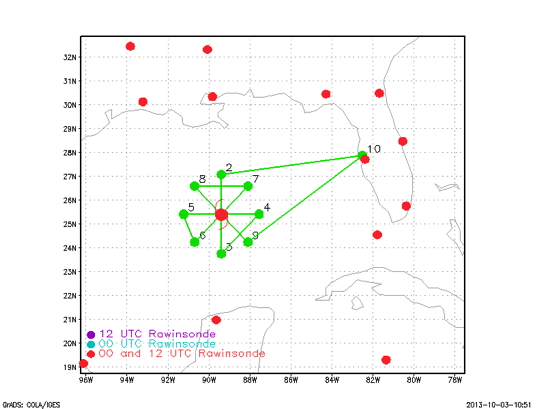 Proposed track
NOAA 43RF will carry out a TDR missions into Tropical Storm Karen. The P-3 will leave MacDill AFB, FL 0600 UTC and will recover at MacDill AFB, FL by 1300 UTC the same day. As of 7 p.m. CDT October 3 (0000 UTC October 4), Tropical Storm Karen is located within 20 nautical miles of 23.8°N 88.9°W, about 360 mi (580 km) south of the mouth of the Mississippi River. Maximum sustained winds are 55 knots (65 mph, 100 km/h), with stronger gusts. Minimum central pressure is 999 mbar (hPa; 29.50 InHg), and the system is moving to the north-northwest at 10 knots (12 mph, 19 km/h). Tropical storm force winds extend outward up to 140 mi (220 km) from the center of Karen.
Mission Summary :
Take off
Landing
MacDill AFB, FL
06:02 UTC
MacDill AFB, FL
13:38 UTC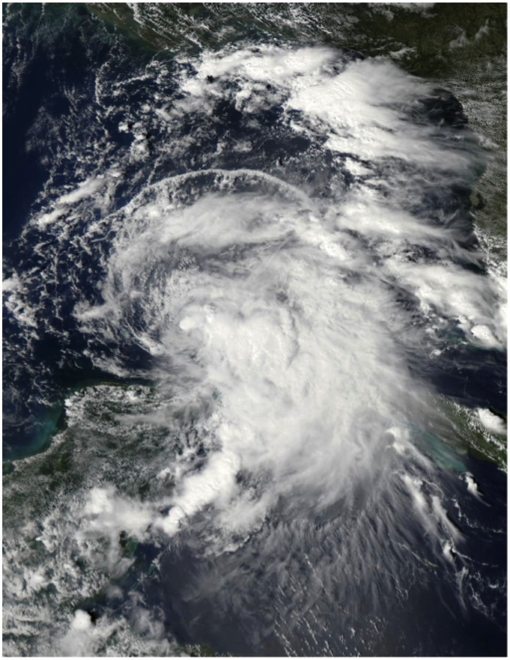 TS Karen: Visible Satellite Imagery (1845Z)
This flight was a 8h duration, NOAA EMC-tasked operational mission. Real time TDR analyses, 20 GPS drops and 9 AXBTs were all transmitted in near-real time. The mission was conducted at 8K feet and was fully successful.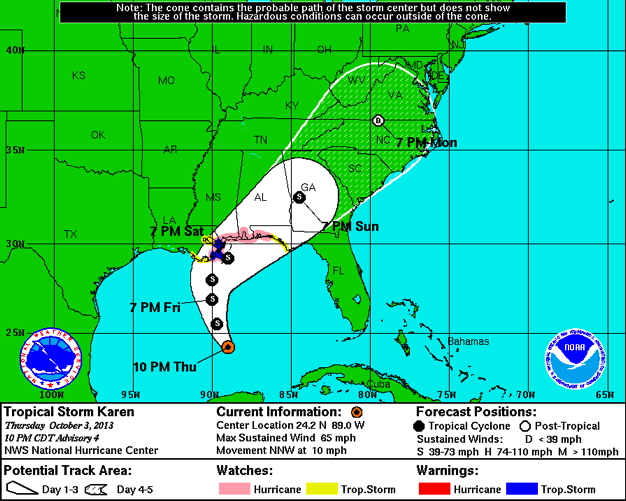 TS Karen NHC Forecast Track (5-day)
Expendables and drop points:
GPS: Drops at all 8 end points, midpoints (8) and center (4). 21 GPS drops in all.
AXBT: Endpoints (8) and one (1) at the center on leg 2-3. 9 AXBT drops in all.
Problems :
Joe Cione
Oct. 5, 2013
---
Mission Data :
Flight Director's manifest | LPS log | Radar log | Dropsonde log | AXBT log
---
Page last updated October 22, 2013
Return to Mission page.