Mission Summary
20140804N2 Aircraft 49RF
Ferry flight

Aircraft Crew (49RF)

| | |
| --- | --- |
| Aircraft Commander | Ron Moyers |
| Co-pilot | David Cowan |
| Co-pilot | Jason Mansour |
| Crew Chief | Angel Negron |
| Flight Director | Jack Parrish |
| Flight Director | Paul Flaherty |
| Data Technician | Charles Lynch |
| Electronic Technician | Mike Mascaro |
| Electronic Technician | James Warnecke |
| Electronic Engineer | John Hill |
Scientific Crew (49RF)
None
Mission Plan :
NOAA 49RF will ferry to Honolulu, HI, for a series of missions around Hurricanes Iselle and Julio. The G-IV will leave Long Beach, CA 1930 UTC on August 04th and will recover at Honolulu, HI by 0130 UTC the next day.
Mission Summary :
Take off
Landing
Long Beach, CA
19:28 UTC
Honolulu, HI
00:46 UTC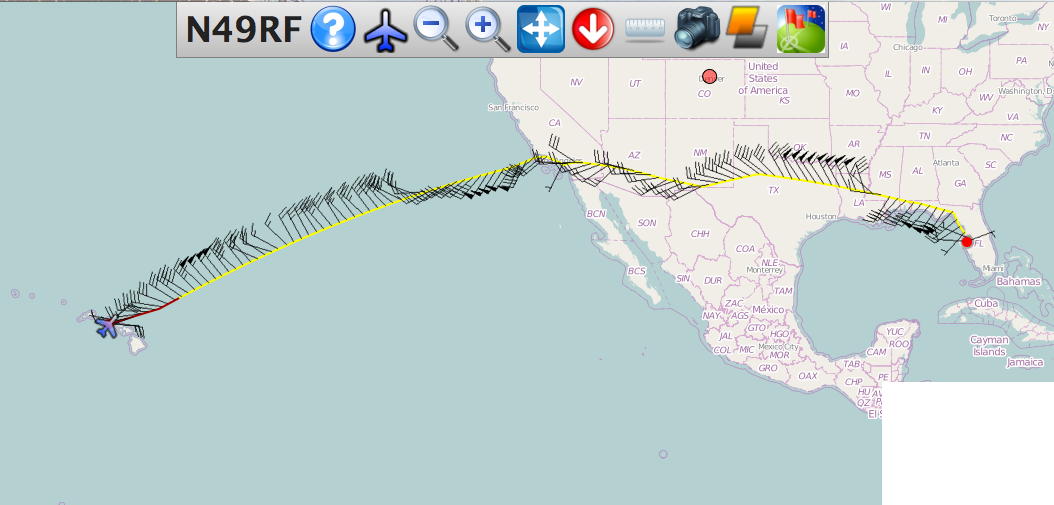 Final track
Problems :
---
Mission Data :
Flight Director's log | Flight Director's form | Error Summary
---
Page last updated November 13, 2014
Return
to Mission page.