Mission Summary
20120823H1 Aircraft 42RF
Tropical Storm Isaac TDR flight

Aircraft Crew (42RF)

| | |
| --- | --- |
| Aircraft Commander | Mark Nelson |
| Co-pilot | Mark Sweeny |
| Co-pilot | Chris Kerns |
| Navigator | Ryan Kidder |
| Flight Engineer | Paul Darby |
| Flight Engineer | Ken Heystek |
| Flight Director | Ian Sears |
| Data Technician | Joe Bosko |
| Engineer | Steven Paul |
| Engineer | Charles Lynch |
| Engineer | Carlos Quiles |
Scientific Crew (42RF)

| | |
| --- | --- |
| Lead Scientist | Jason Dunion (HRD) |
| Radar Scientist | Paul Reasor(HRD) |
| Dropsonde Scientist | Lisa Bucci(HRD) |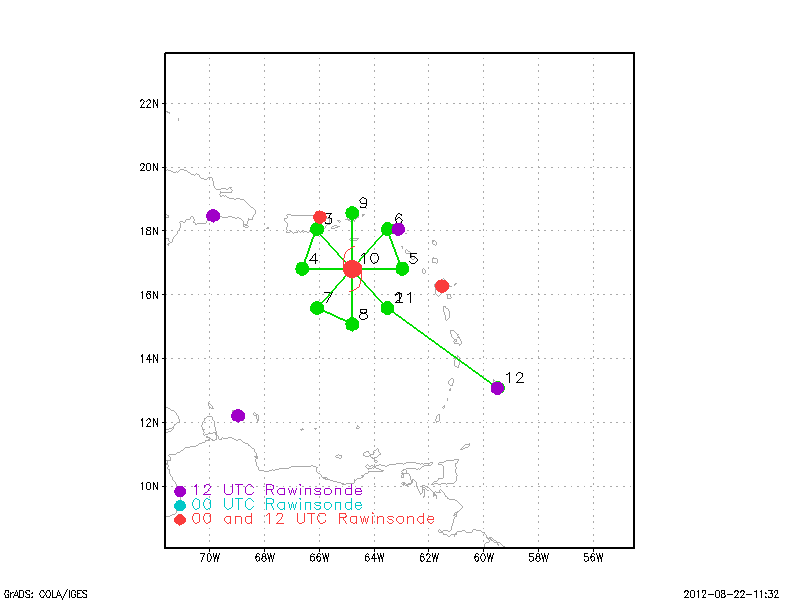 Proposed track
Mission Plan :
NOAA 42RF will fly a TDR mission into Tropical Storm Isaac to gather tail doppler data. The P-3 will leave Barbados 2000 UTC and will recover at Barbados by 0400 UTC the next day.
Mission Summary :
Take off
Landing
Barbados
08:02 UTC
Barbados
15:22 UTC
Problems :
---
Mission Data :
Flight Director log | Flight Director's manifest | LPS log | Radar log | Drop log
serial data | raw NetCDF file | SFMR file
---
Page last updated Feb. 20, 2013
Return to Mission page.