IFEX daily log
Saturday, September 17, 2005
The same three systems that were active in the Atlantic basin continue to be active today. A morning water vapor image (Fig. 151) shows that Ophelia has rapidly moved up the U.S. East coast and is now just off Cape Cod. The 95L Invest system, now upgraded to Tropical Depression #17, is located at around 12 N 55 W. The other area of interest, 96L Invest, is still located just north of Puerto Rico.
Tropical Storm Ophelia is finally nearly out of the picture for the United States, after nearly two weeks of being in close proximity to the U.S. East Coast. The system has been transitioning to an extratropical system for the past 24 h or so. The second of the two-day extratropical transition experiment is being flown today. The plan today (Fig. 152) calls for a pass through the core of the system from northwest to southeast, then a sampling of the environment, ending with a figure-4 through the system and returning to Portsmouth.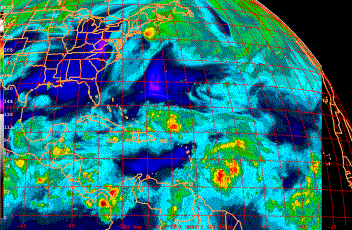 Figure 151. GOES-East water vapor image valid 1215 UTC September 17.
The Invest 95L system has developed into Tropical Depression #17. Visible satellite imagery (Fig. 153) shows a concentrated area of convection near 11 N 55 W where T.D. #17 is located. Deep convection within the system is evident in infrared imagery (Fig. 154), and a QuikScat overpass shows a well-defined closed circulation in this area. Many of the wind barbs are rain-flagged, but there are some barbs that are not flagged that indicated southwesterly winds of 40 kt. Wind shear remains light (Fig. 155), and track guidance brings the system just northeast of the Leeward Islands (Fig. 156). The Invest 96L also persists north of Puerto Rico. The water vapor image shown in Fig. 151 shows that the upper-level circulation has shifted a little further west, providing a somewhat more favorable environment for the development of this system.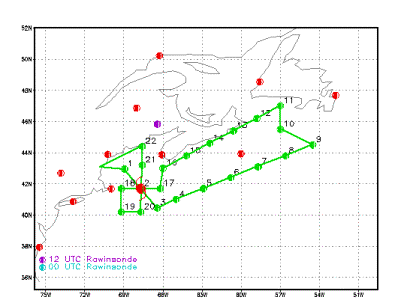 Figure 152. Proposed flight track for N42RF on September 17, 2005. Green line denotes flight track, green dots denote locations of GPS dropsondes, and red dots denote locations of rawinsonde observations.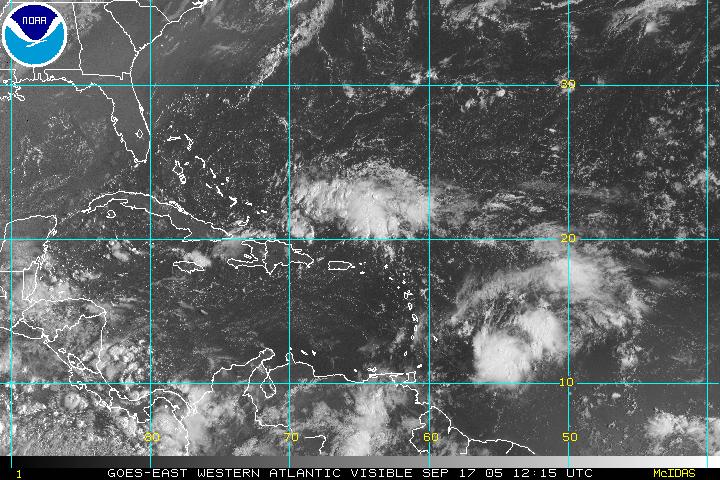 Figure 153. GOES-East visible image valid 1215 UTC September 17.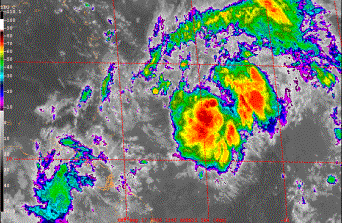 Figure 154. GOES-East infrared image valid 1245 UTC September 17.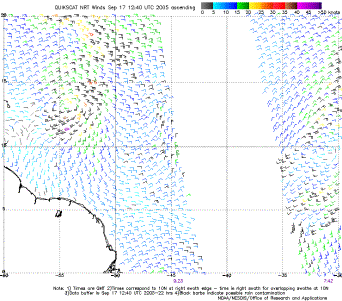 Figure 155. QuikScat overpass (barbs, kt) valid 1240 UTC September 17.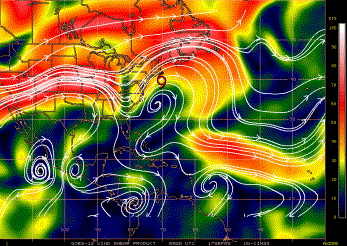 Figure 156. CIMSS-derived 850-200 hPa vertical shear (shaded, kt) valid 09 UTC September 17.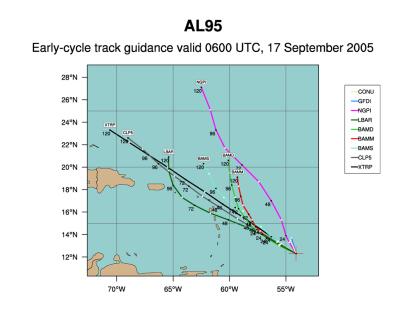 Figure 157. Track guidance for T.D. #17 valid 06 UTC September 17.
As a result of these opportunities, the plan calls for deploying N43RF down to St. Croix, USVI, on Sunday, along with the NRL P-3. A mission into T.D.#17 is anticipated for Monday, where it is expected that it will be Tropical Storm or possibly Hurricane Philippe by that time. N42RF would also fly down to St. Croix from Portsmouth on Sunday, and be ready to fly by Monday. All of this could, of course, change should 96L Invest develop and become a threat to the U.S., in which case a NOAA P-3 would be tasked.
Rob Rogers
HRD Field Program director
---