IFEX daily log
Monday, September 5, 2005
One of the two systems of interest, the one off the southeast Florida coast, shows widespread areas of deep convection but little organization (Fig. 85). Vertical shear (Fig. 86) is moderate over the system itself, but it increases to strong southwesterly shear north of the system. This shear is largely due to the presence of strong low-level northeasterly flow (Fig. 87) associated with a strong anticyclone behind the surface front off the U.S. East Coast. The low-level flow also indicates the possibility of the system, if it develops, moving over Florida and into the Gulf of Mexico. Track guidance (Fig. 88) indicates this possibility.
NHC has tasked a NOAA P-3, N42RF, to investigate this system, scheduled to arrive in the storm around 18 UTC Tuesday September 6. This could serve as an excellent opportunity for a frequent-monitoring mission, especially if N43RF were tasked for overnight missions and the associated 12-h staggering. However, the pattern for N42RF calls for an altitude of 1500 ft. While this is optimal for finding a low-level circulation center at flight-level, it is impractical to drop sondes from this altitude, since it is too close to the surface. One factor making this a more appealing candidate for a research tag-along is that RAINEX is interested in flying with N42RF. The purpose of this coordinated flight would be to document the evolution of the deep convection and its interaction with the larger-scale vortex. In this sense the proposed coordination would be very similar to the Convective Burst Module of the Tropical Cyclogenesis Experiment, one of the other experiments in the 2005 HRD Hurricane Field Program. For this reason it was decided that a research component would be piggy-backed onto the tasked mission the following day.
The other system of interest, further east along 65 W, also has widespread deep convection (Fig. 89). For this system the convection is more concentrated, suggesting better organization. Because of this improved organized this system was named Tropical Depression #15. Track guidance for this system (Fig. 90) indicates that it will likely track toward the northwest or north, well-removed from any possible targeting.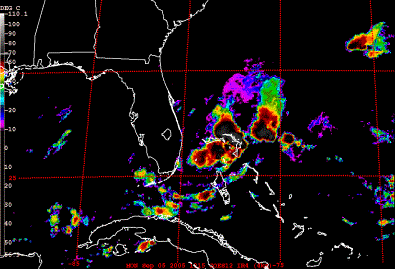 Figure 85. GOES-East Infrared image valid 1315 UTC September 5, 2005.

Figure 86. CIMSS-derived 850-200 hPa vertical shear (shaded, kt) valid 09 UTC September 5, 2005.

Figure 87. CIMSS-derived 700-850 hPa layer averaged flow (shaded, kt) valid 09 UTC September 5, 2005.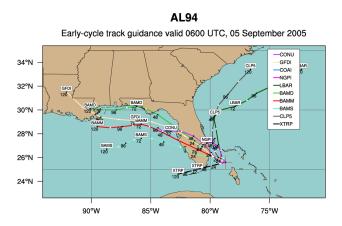 Figure 88. Track guidance for system off Florida coast valid 06 UTC September 5, 2005.

Figure 89. GOES-East Infrared image valid 1215 UTC September 5, 2005.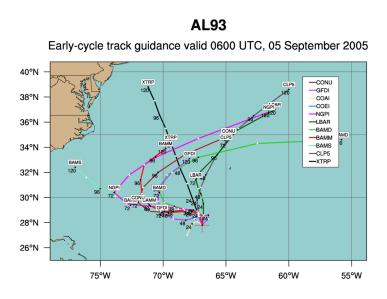 Figure 90. Track guidance for system north of Bahamas (eventual T.D. #15) valid 06 UTC September 5, 2005.
Rob Rogers
HRD Field Program director
---